Back to the list
Why One Analyst Thinks the Collapse of DeFi Will Fuel a Historic Ethereum Rally
www.newsbtc.com
23 June 2020 23:50, UTC
Reading time: ~3 m
---
Ethereum has been generating significant buzz across the crypto sphere over the past few days, primarily due to the explosive surge in the popularity of decentralized finance (DeFi).
Much of this popularity has been driven by an emerging trend called "yield farming," in which users can leverage different protocols in order to receive massive payouts, with some being as high as 200% APR.
This trend has led many DeFi-related tokens to see massive uptrends, with COMP rallying by several hundred percent while many other tokens also see parabolic rallies.
Analysts are now noting, however, that this DeFi bull market may soon come to a harsh end, potentially providing fuel for a major Ethereum rally.
One analyst is even noting that this could spark a fresh Ethereum bull run that breaks its multi-year downcycle and fans the flames that drive its next massive uptrend.
Ethereum Holds Steady as DeFi Sector Sees Explosive Growth
Ethereum's price action has remained closely correlated to that of Bitcoin and the aggregated crypto market over the past several days and weeks.
This stability has come about despite ETH being fundamentally strong due to its massive usership and utility.
At the time of writing, Ethereum is trading up over 2% at its current price of $238. This slight climb seen today has come about as Bitcoin attempts to break above $9,500.
Some investors have been scratching their heads as to why ETH's price action has not been influenced by the massive growth seen by the DeFi ecosystem that is largely built upon Ethereum.
One analyst is now noting, however, that ETH could see some upwards momentum once investors begin cycling profits out of DeFi tokens like COMP and into Ethereum and Bitcoin.
">$500 mln in market cap was created in the last 5 days for COMP. Given the negative funding rates on [FTX], I assume that these guys are not looking to HODL COMP but more towards locking in yields. Expect a small pump in ETH & BTC when it all comes crashing down," he said.
Will the End of the DeFi Hype Fuel a Historic ETH Bull Run?
Although the aforementioned analyst only thinks that fading DeFi hype will fuel a small Ethereum pump, another prominent analyst explained that he believes it could spark a historic bull run.
"Ethereum is about to break out of its freshman bear market, like Bitcoin did 9 years ago. Positive market sentiment is fertile soil for the future promise narratives that story assets like ETH thrive in. The recent DeFi bull market will implode shortly and feed into ETH," he said.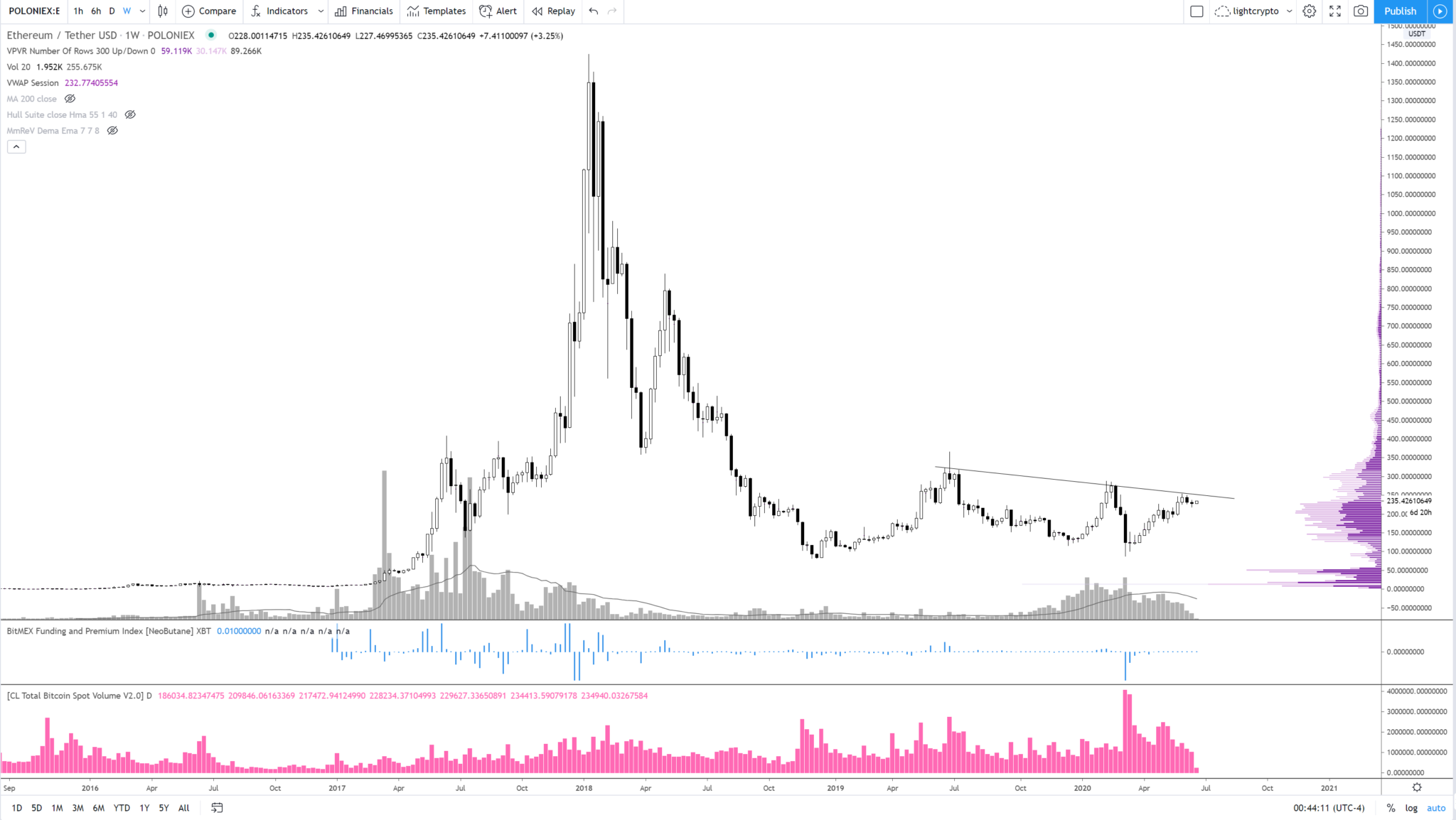 Image Courtesy of Light. Chart via TradingView
Watching for an inverse correlation between the price of popular DeFi tokens and Ethereum will be telling as to how influential the decline of these tokens will be on the crypto's price.
Featured image from Shutterstock.

Charts from TradingView.
---
Source
---
Back to the list