Back to the list
Total Market Cap Breaks Critical Resistance Level: Altcoin Season 2020 Incoming?
cryptopotato.com
03 June 2020 06:20, UTC
Reading time: ~2 m
---
Bitcoin surged above $10,000 for the first time since February, and it took the entire market with it. Altcoins are all flashing in green, as the total capitalization increased by more than $13 billion overnight.
Now, a popular cryptocurrency trader pointed out that the chart of the total market cap went through the same pattern it did back in 2017, months before altcoins shot off through the roof.
Altcoin Season 2020 Incoming?
Bitcoin is up 6% in the past 24 hours as it trades at around $10,100 for the first time since February. As the leading cryptocurrency makes its way above this coveted level, altcoins are also blossoming.
All of the large-cap projects are seeing notable gains. Ethereum is up more than 4%, Bitcoin Cash – more than 7.5%, Litecoin – 6.3%, and so forth.
The total market capitalization increased by as much as $13 billion during the past hours, and this has given a popular cryptocurrency trader reason to believe that it may be time for a new altcoin season.
Well-known crypto trader Kaleo thinks that we are on the brink of the next altcoin outburst.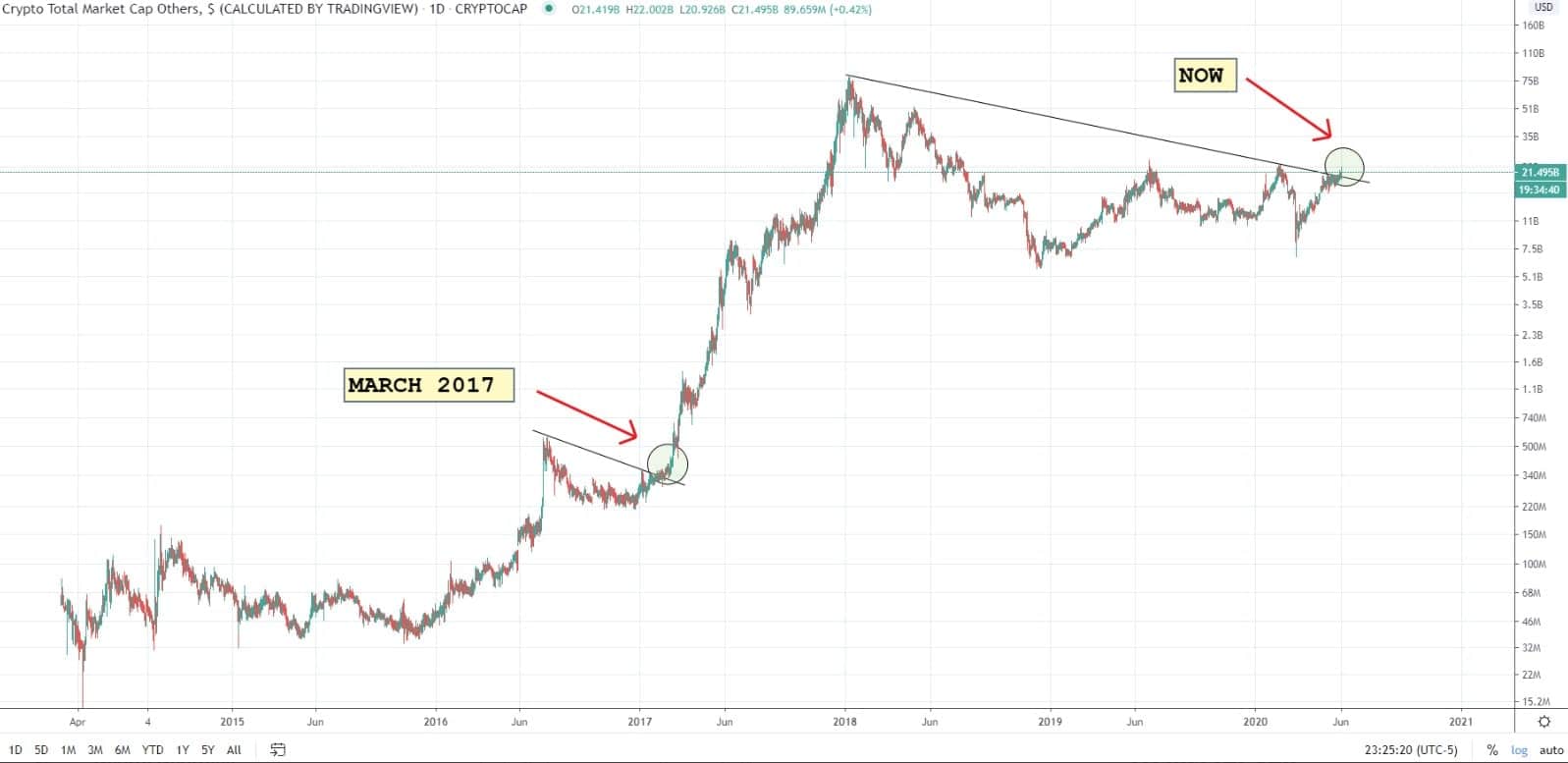 As seen in the above chart, the total market cap went through a similar pattern it did back in March 2017. Needless to say, in 2017, altcoins marked their all-time highs across the board while the total market cap exceeded $800 billion.
What's Different This Time?
When it comes to determining whether or not the market is in a state of the so-called "altcoin season," the key metric to look at is Bitcoin's dominance – its share of the cryptocurrency relative to the total market capitalization.
Back in March 2017, BTC's dominance was at a high point of around 85% – this is 20% more than what it currently stands at.
Going forward in 2017, Bitcoin's dominance continued to decrease while altcoins increased their share, as evident in the chart above.
In January 2018, which was arguably the peak of the parabolic altcoin season, BTC's dominance was at around 33%, while altcoins were surging.
If we are to see anything remotely close to what happened back then, Bitcoin would need to lose about 30% of its current market share. This doesn't mean that its price has to decline – it simply means that altcoins need to surpass its growth.
---
---
Source
---
Back to the list