Back to the list
Top Cryptocurrency Assets Trigger TD9 Sell On Weekly Price Charts
www.newsbtc.com
02 June 2020 20:00, UTC
Reading time: ~3 m
---
The cryptocurrency market has been on an upswing ever since Black Thursday cut the asset class down to its knees around mid-March. After several consecutive weeks of positive price action, the TD Sequential indicator has issued a "9" sell setup across Bitcoin, Ethereum, Chainlink, and other top performing crypto assets.
Total Cryptocurrency Market Cap Recovers 150% in 80 Days
Ever since the Black Friday market collapse brought Bitcoin back down to under $4,000 briefly and further crushed altcoins, the asset class of cryptocurrency has been steadily recovering.
Related Reading | Major Crypto Assets Are Preparing For Powerful Volatility Against Bitcoin 
Over the last 80 days, the total cryptocurrency market has grown 150% from lows and added over $160 billion in value.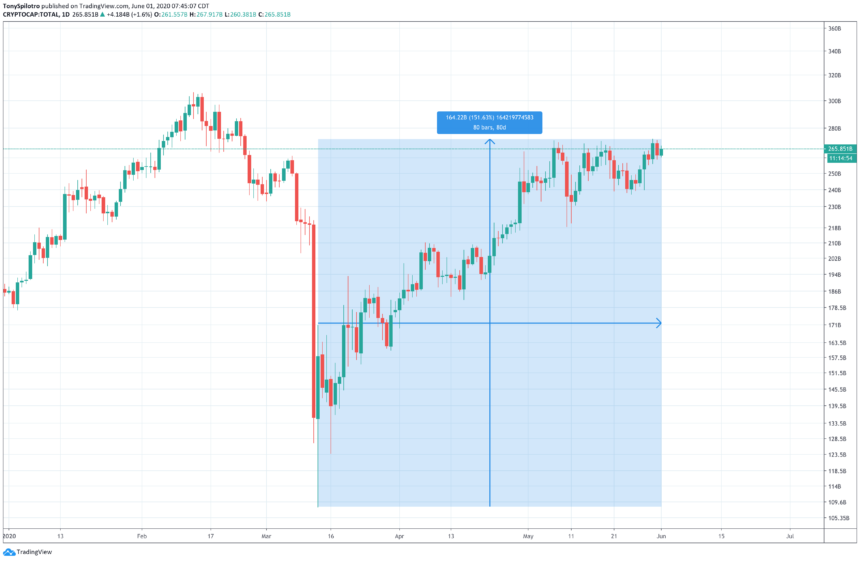 Despite the growth, Bitcoin has failed to break above $10,000 and top cryptocurrency altcoins like Ethereum, Chainlink, Cardano, and others are nowhere close to returning to previous highs.
After such a steady string of positive price action, a selloff may cause these assets to fall short of a full recovery from that fateful day.
Bitcoin, Ethereum, Chainlink, And More Signal Sell on TD Sequential
The TD Sequential indicator has triggered a "9" sell setup on the weekly price charts across top cryptocurrency assets. This includes Bitcoin, Ethereum, Chainlink, Cardano, and many others.
This indicator, designed by market timing expert Thomas Demark, has been highly accurate over the last several years of cryptocurrency price action.
Take Ethereum's weekly price chart, for example. In the image below, the 9 sell setup on the weekly timeframe marked the altcoin's top in early 2018, just as the ICO boom began to fizzle out.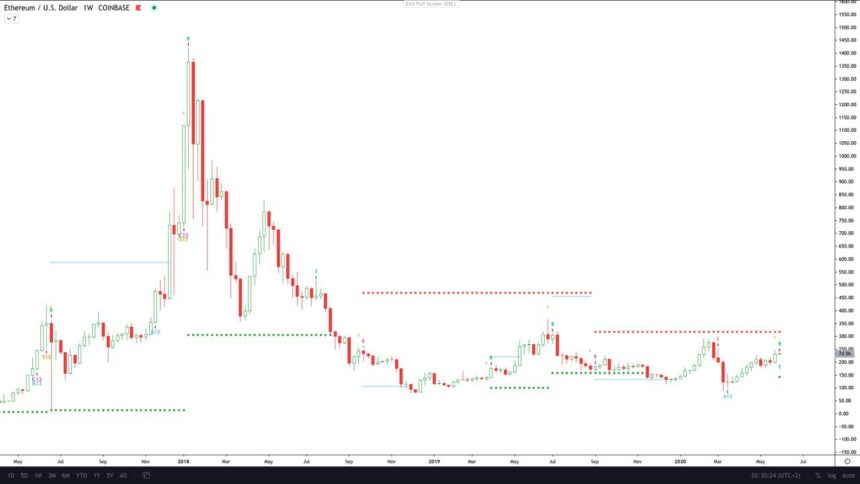 After that powerful weekly candle close, Ethereum began a downtrend that took the asset's valuation down by over 94% from peak to trough. And in less than one year.
The same signal proceeded Bitcoin's recent peak in February 2020, just before Black Thursday occurred. Less than 30 days later, the asset had dropped by more than 63%.
Chainlink, the cryptocurrency market's top performer triggered a 9 on the weekly just as it reached its all-time high at $5. From there, the volatility flash crashed the asset's price down to nearly zero on some exchanges.
This indicator's high level of accuracy is not a guarantee, and it doesn't tell you at what price level or when to sell. With the signal appearing on the weekly price charts of many assets, a top forming this week becomes more probable.
Related Reading | This Cryptocurrency Shows Clear Technical Breakout of 800-Day Downtrend 
Before that top is in, however, there's no telling how high these assets could run.
Using the aforementioned January 2018 Ethereum top example, the asset exploded another 25% and over $250 in value setting an all-time high record.
Selling just because the signal has triggered, isn't the wisest choice. There are also instances where the 9 sell setup has appeared, but price action didn't follow as expected.
However, given the indicator's accuracy, it is worth getting prepared for a larger cryptocurrency market correction.
---
Source
---
Back to the list