Back to the list
This Eerily Accurate Fractal Predicts Bitcoin Will Rocket to $20,000 in 2020
www.newsbtc.com
30 May 2020 16:00, UTC
Reading time: ~3 m
---
While Bitcoin is up 5% over the past two days, the crypto-asset market remains in consolidation.
After hitting $10,100 in late April, the cryptocurrency has stagnated under that key level. It has since traded in a relatively tight consolidation pattern from $8,500 to $9,500, failing to move decisively out of this range.
Though a popular trader says that Bitcoin is currently showing signs it will soon rocket higher. The sign cited is a fractal the asset has tracked for the past three years.
Bitcoin Is Preparing to Rally to $20,000: Fractal
Markets seemingly move without rhyme or reason, but this isn't always the case.
Due to the psychology of investors, there are technical formations called fractals that show price action can repeat at different times and for different assets. As Investopedia explains:
"Fractals also refer to a recurring pattern that occurs amid larger more chaotic price movements"
A prominent trader in 2019 identified that Bitcoin's price action since early-2017 looks much like the stock of Amazon did from the Dotcom Boom to the recovery after the Great Recession. In other words, BTC may be following an Amazon fractal.
While this pattern was identified in late-2019, it has held up until today. The fractal predicted that Bitcoin would top early on this year, along with the capitulation event that took place in March.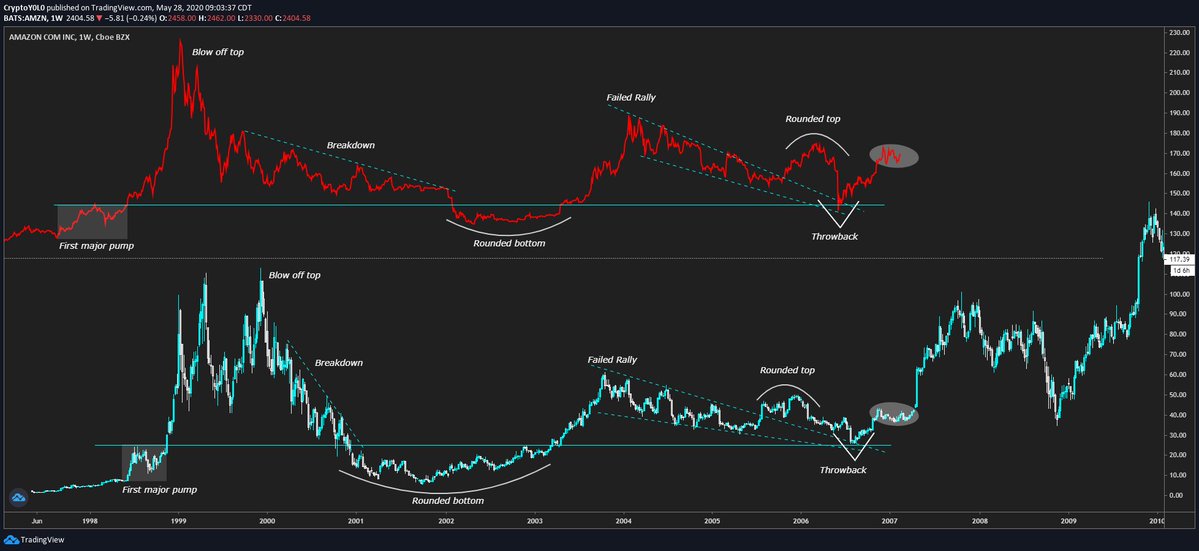 Bitcoin and Amazon fractal chart from a popular crypto trader "Mr. Chief" (@HaloCrypto on Twitter).
Should the fractal play out in full, Bitcoin will soon surge back towards the $20,000 highs as the chart above indicates.
The fractal also predicts that by early 2021, the leading cryptocurrency will have established a new all-time high, likely at $25,000 and beyond.
Not the Only Bullish Factor
The fractal isn't the only factor that has analysts bullish on Bitcoin.
As reported by NewsBTC, the crypto market could soon surge as the Chinese yuan continues to slide against the U.S. dollar.
The recent tensions in Hong Kong and the subsequent global response have weakened the Chinese currency against other currencies.
Against the dollar, the yuan is at lows not seen since the peak of 2019's trade war. This is due to the sanctions the U.S. intends to place on Chinese companies in the near future, along with potentially similar moves from other global powers.
Analysts say that this trend of the yuan devaluing could act as a boost to Bitcoin. Chris Burniske, a partner at Placeholder Capital, remarked on the matter:
"If China's CNY continues to weaken against USD, then we could have a 2015 and 2016 repeat, where BTC strength coincided with yuan weakness."
If China's $CNY continues to weaken against $USD, then we could have a 2015 and 2016 repeat (pictured below), where $BTC strength coincided with yuan weakness. https://t.co/ISVJAZMX5O pic.twitter.com/VApfxe1SFw

— Chris Burniske (@cburniske) May 22, 2020
Featured Image from Shutterstock
---
Source
---
Back to the list