Back to the list
Wall Street is Coming to Bitcoin: Here's Why Crypto's Institutional Market Just Saw a Massive Turning Point
www.newsbtc.com
15 May 2020 21:50, UTC
Reading time: ~3 m
---
Things ramped up a gear today as Bitcoin derivatives platform, Deribit announced full integration of the ClearLoop custody and settlement solution for institutions.
ClearLoop is the brainchild of London-based Copper, headed by CEO, Dmitry Tokarev, who commented:
"ClearLoop, the fruit of this collaboration, allows investors to settle trades instantly, keeps their assets secure and insured in third-party custody, removing concerns about self-custody, all the while eliminating counterparty risk and the associated limitations with volume."
No doubt, a secure and frictionless off-chain custody solution represents a massive turning point for institutional investors.
Previously, asset managers had to transfer crypto from their secure cold storage wallets into the exchange's hot wallets to settle and trade. Not only can this be time-consuming, but in doing so, the level of risk is heightened as a result.
ClearLoop and Cooper's external custody solution makes settlement in seconds. This has the potential to revolutionize the market structure of crypto derivatives, thus driving greater institutional adoption.
Institutional Money is Dominating Bitcoin Volume
Like it or not, institutional money forms a significant portion of the volume in the Bitcoin market. This trend is only set to increase as crypto assets begin to cross into the investment mainstream.

Analysis of data from Blockware Solutions shows that CME volume on December 17 was negligible in comparison to retail traders via Coinbase and Bitfinex.
However, CME volumes have progressively increased over time. So much so that CME volume eclipsed that of Bitfinex and Coinbase for the first time in February 2019.
Blockware Solutions put this down to the 2019 lows with crypto markets, which saw Bitcoin at $3.2k, representing a strong buy signal for institutional money.
This trend continued for a further three consecutive months, until May 19. But June 19, which saw retail investors FOMO in on $14k Bitcoin, creating a spike in retail volume.
All the same, data for the last three months to January 2020 shows CME volume overtake that of both Bitfinex and Coinbase. With January 2020 being significantly dominant over retail traders.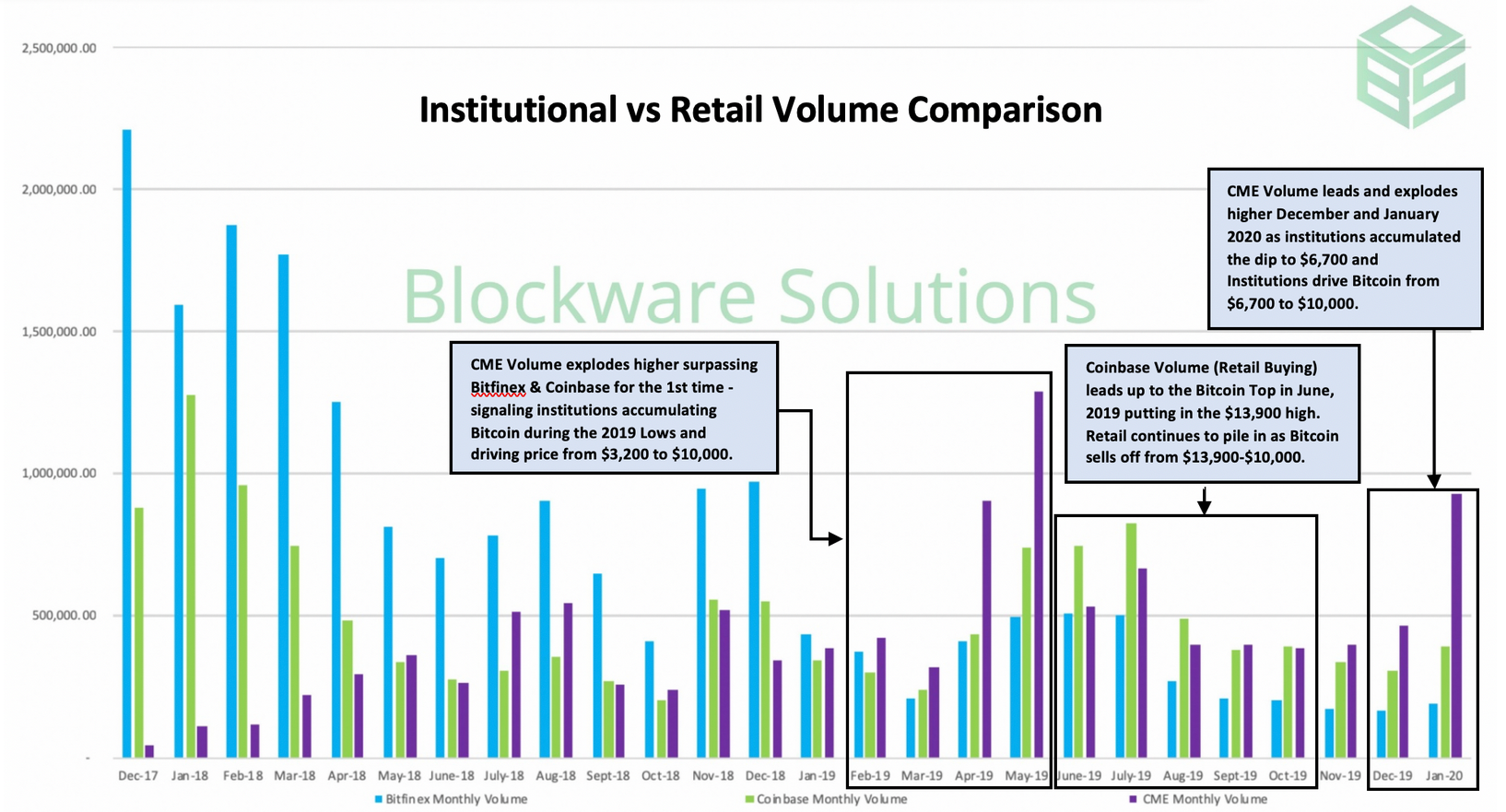 Source: blockwaresolutions.com
It's Only a Matter of Time
This, of course, only represents data for three platforms. There is still a general aversion from institutions when it comes to investing in Bitcoin.
The reasons for this are numerous. But a lot has to do with the fact that institutional investors vary widely. The category includes family offices, foundations, pension funds, sovereign wealth funds, banks, and insurance companies. All of which have different attitudes towards risk, not least risk within a volatile and nascent asset class.
The Co-founder of decentralized exchange, Vite Labs, Richard Yan explains that prerequisites such as crypto custody and insurance serve as a sticking point for many institutional investors.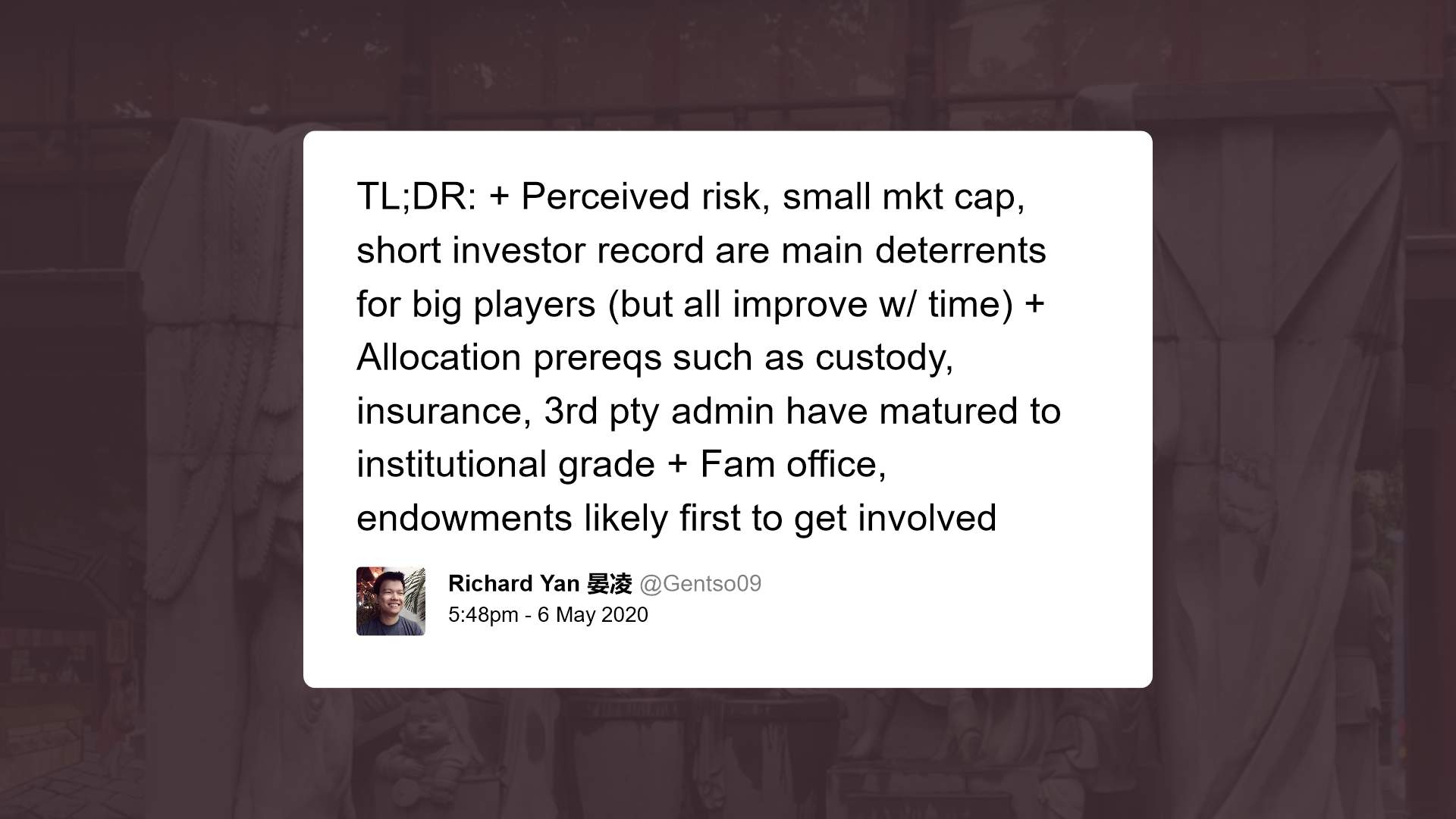 Source: twitter.com
But thanks to Deribit and Copper, the infrastructure that directly addresses these concerns is now available for institutions.
As much as the die-hard crypto purists dislike this fact, it's only a matter of time before institutional volumes will consistently outperform that of retail traders.
---
Source
---
Back to the list