Back to the list
Research: 90% of Crypto Market Volume in 2020 Centered on 3 Coins
newslogical.com
15 May 2020 01:50, UTC
Reading time: ~3 m
---
The slight growth in the cryptocurrency market in the year 2020 brings enlivens  the ecosystem.
Nevertheless, record obtained from trading activities performed in the year shows that the market is gradually focusing on three coins.
The Bitcoin dominance as reflected in the newspaper headlines and the total crypto market cap continues to speak for BTC as it was listed among the crypto assets championing the ecosystem in terms of trading volume in the year 2020.
However, the leading cryptocurrency seems to be getting competitions from another two prominent crypto assets.
According to a research, 90% of trading volumes in the year 2020 has been centered on Bitcoin, Tether and Ethereum. The three cryptocurrency accounted for most of the trading activities performed in the ecosystem, leaving only 10% of the trading volume for the year to other cryptocurrencies.
Although, there has been hype surrounding some other cryptocurrencies aside these three in terms of the transactions executed on their network but the latest result took the lid off, standing as a whistle blower against the usual bogus data revealed in the ecosystem just to confuse people.
According to a researcher at Messari Crypto, Wilson Withiam, cryptocurrency market trading volume this year is all about Bitcoin, Tether and Ethererum.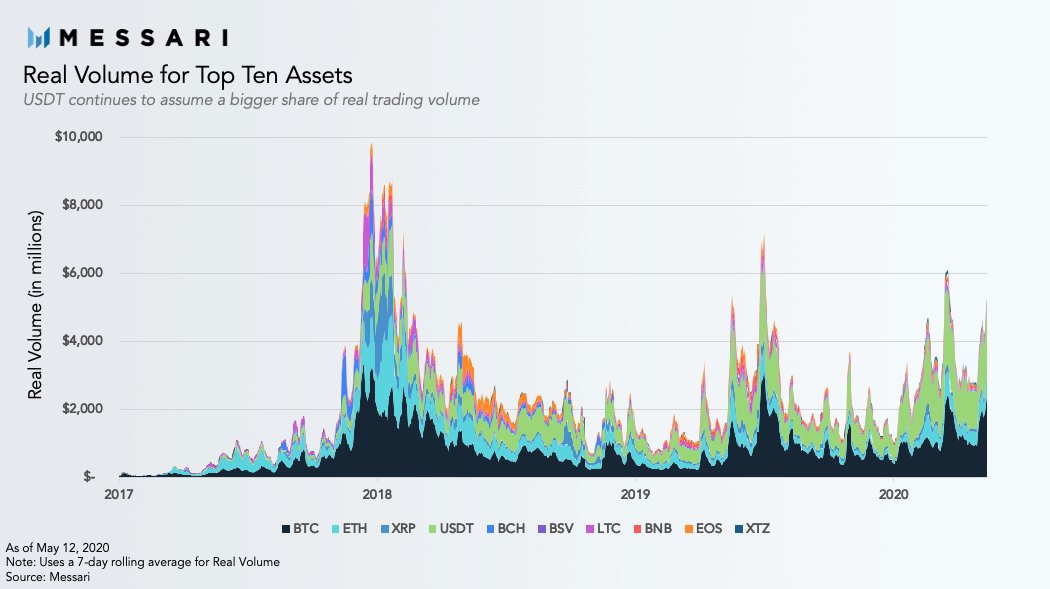 Image Credit: Messari Crypto
Compared to the past year, there has been a surged of about 15% in the amount of trading volume the three cryptocurrencies account for.
According to the research, a year ago the three assets accounted for 75% of the trading volumes in the market. However, this year saw a surge of 90%.
Wilson furthered that Tether witnessed significant growth but this is not surprising due to the adoptions the cryptocurrency is getting in recent times especially in time of crisis.
The research indicates that as the world still sees USD as a safe means of storing value, the crypto industry is rapidly dollarizing, hence opening USDT to more adoption.
The researcher further explained that this brings Ethereum Bitcoin and Tether a favorable environment that will enhance their growth and adoption in the market.
Bitcoin Price and Dominance in the Market
At press time, Bitcoin value has witnessed significant surge, moving from the $8,900 it registered yesterday to $9,700, adding more than 7% to its value against the US Dollar in the last 24 hours.
The market continues to dwell around with the influence of Bitcoin fractal, bringing altcoins on the upside trend too as they also add values significantly.
Despite this, Bitcoin continues to maintain its dominance in the market, and in recent time (circa 1 month) there has been a steady growth in Bitcoin dominance.
Bitcoin surged from 64% dominance 1 month ago to about 68% today.
---
Source
---
Back to the list
Similar news