Back to the list
Chainlink price movement: how has LINK's value evolved and how can it perform?
invezz.com
19 January 2022 16:58, UTC
Reading time: ~2 m
---
Chainlink LINK/USD is an open-source, decentralized oracle network intended to provide real-world data to smart contracts within the blockchain. 
In this network, smart contracts are pre-specified agreements that evaluate information that automatically executes when given conditions are met.
LINK is the native cryptocurrency token that is used for the payment of the services within the network.
Various Chainlink developments as catalysts for growth
On January 17, 2022, we covered how BitDAO Sponsored the launch of the Chainlink Price Feeds. This integration led to the oracle network to facilitate optimization of BIT trading.
On January 18, 2022, WEYU integrated Chainlink VRF to bring verifiable randomness to its NFT ecosystem.
Additionally, Minimax Finance also integrated Chainlink price feeds as a means of verifying stop-loss and take-profit events, and the Liquify Protocol also started using Chainlink price feeds as a means of securing $2.7 billion in total value locked (TVL).
All of these developments have contributed to the growth of the Chainlink ecosystem and, as such, can lead to an increase in the value of the LINK token.
Should you buy Chainlink (LINK)?
On January 19, Chainlink (LINK) had a value of $21.49.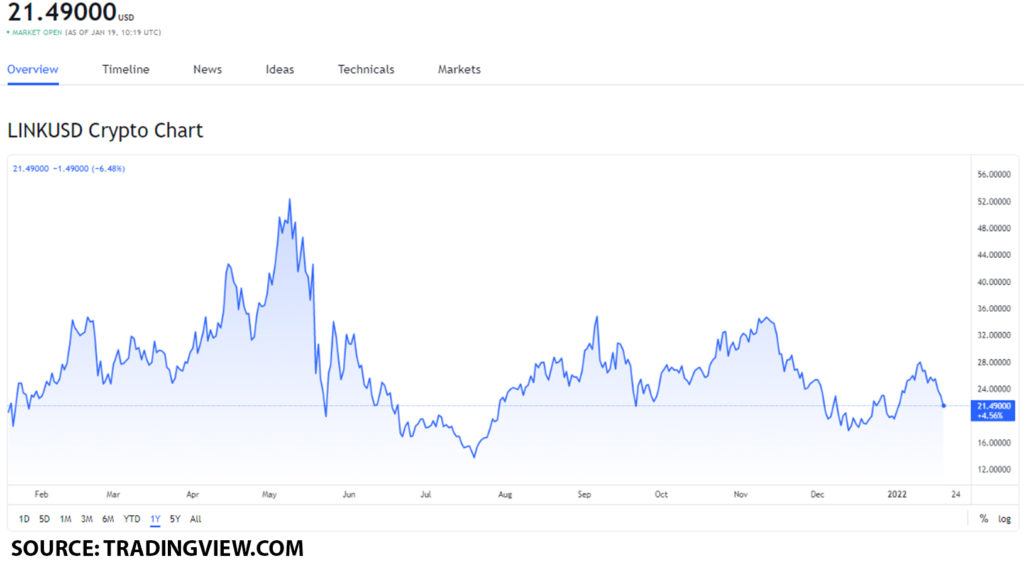 As a means of figuring out exactly what this value point means for the LINK token, we will be comparing it to its performance throughout December, alongside its all-time high point.
The all-time high value of the Chainlink (LINK) token was on May 10, 2021, when the token reached a value of $52.70.
This gives us an indication that at its all-time high value, the LINK token was $31.21 higher in value, or by 145%.
When we go over the performance of the Chainlink (LINK) token throughout the previous month, we can see that on December 1, the token had its highest point of value at $26.76.
However, when we go over the lowest value point of the token, we can see it on December 15, when it decreased in value to $17.33.
What this essentially means is that the token decreased in value by $9.43 or by 35% from December 1 to December 15. However, from December 15 to January 19, the token increased in value by $4.16 or by 24%. 
With this increase in mind, we can expect the LINK token to reach $25 by the end of January 2022, making it a solid token to buy.
---
Source
---
Back to the list