Back to the list
ATOM Technical Analysis: Wedge Fallout Struggles to Find Bearish Momentum
cryptoknowmics.com
18 January 2022 10:56, UTC
Reading time: ~3 m
---
ATOM coin price gives a bearish fallout of the rising expanding wedge pattern. But lack of follow-through halts the downfall. Cosmos utilizes a proof-of-stake consensus algorithm. Validator nodes who stake greater amounts of ATOM tokens have a higher chance of being selected to verify transactions and receive rewards. Nodes discovered to be dishonest are penalized and may lose the tokens they have to stake. Cosmos compares its native token with ASICs which are utilized in mining Bitcoin. In a technical paper composed by members of the Tendermint team, it was stated: "It is a piece of virtualized hardware (economic capital) that you need to obtain in order to participate as a keeper in the network." Let us move ahead to read about Cosmos technical analysis.
Past Performance of ATOM
The ATOM coin price struggles to rise above the high selling pressure at $45 resulting in a downfall. The price action shows a free fall of more than 10% in the past 24 hours. The free fall leads to the formation of a bearish engulfing candle in the daily chart. However, the lack of bearish commitment evident by the fall in trading volume questions the dominance of bearish powers.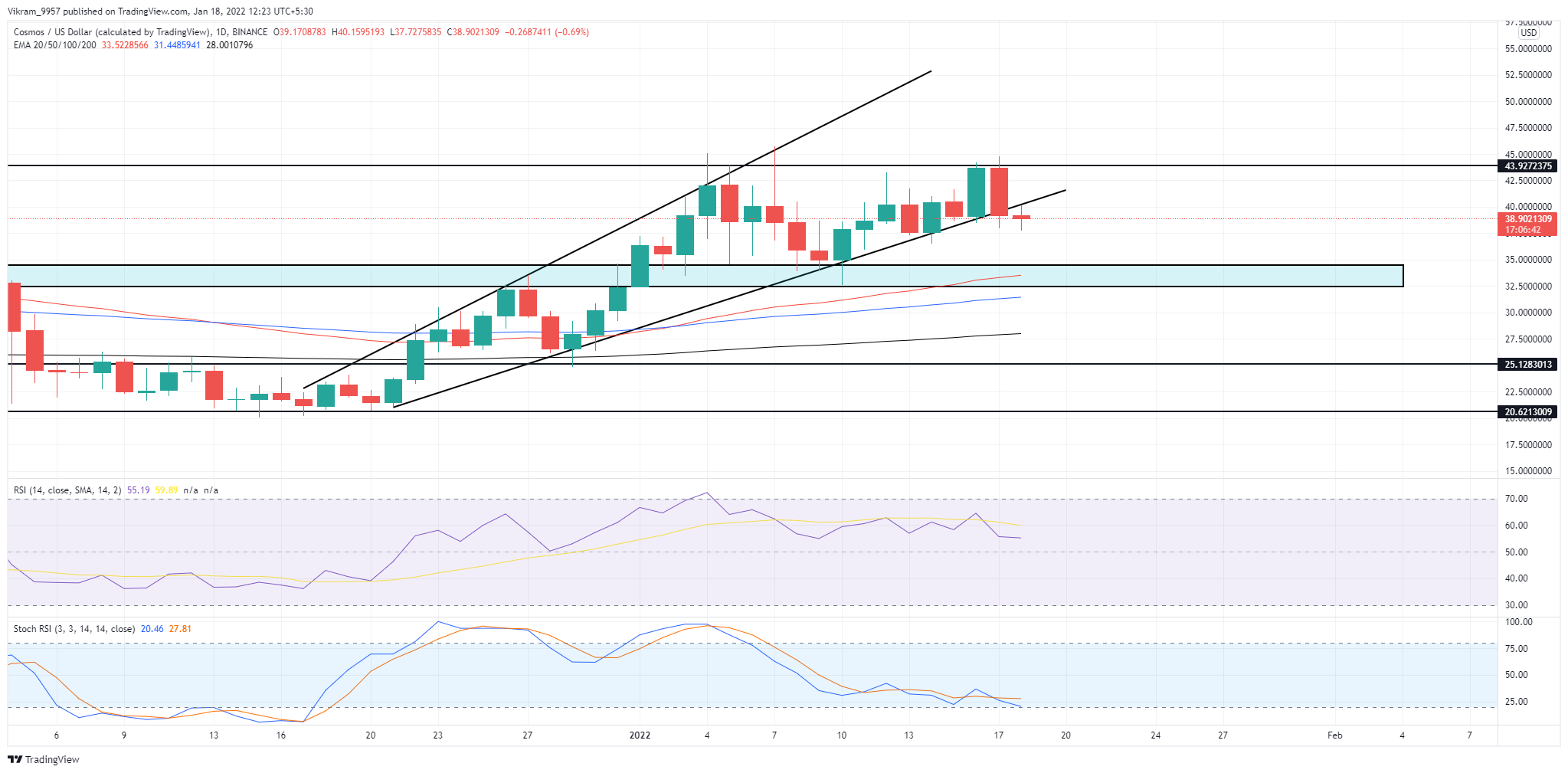 ATOM/USD Daily Chart
ATOM Technical Analysis
The ATOM coin price action shows a bearish fallout of an ascending broadening wedge pattern in the daily chart. However, the high demand zone between $32 and $35 can result in a bullish reversal, driving the price back above the support trendline.  Moreover, the support at the demand zone will result in a double bottom pattern in the daily chart. Therefore, a buying opportunity can arise at the support zone. Crucial EMAs (50, 100, and 200) rise higher in a bullish alignment in the daily chart. Moreover, the 50-day EMA stands strong near the $32 support zone and is ready to provide support to the downfall.  The RSI indicator at 55% shows the slope creeping lower to the central line in the daily chart after the recent bearish crossover with the 14-day SMA. However, both the lines remain in the nearly overbought zone, suggesting the bulls are still influential. The Stochastic RSI indicator shows the K and D intermingled slightly above the oversold zone in the daily chart. However, the recent bearish crossover indicates a rise in selling pressure. From a technical perspective, the indicators maintain a slightly bearish consensus for the ATOM coin. However, the price action showcases a reversal possibility near the support zone. 
Upcoming Trend
The bearish fallout of the wedge pattern in the daily chart increases the bearish attention for ATOM coin price. However, selling at current prices has a small target between $35 and $32 due to the support zone.  Therefore, the fallout of the support zone can bring high selling pressure. However, the reversal from the zone can drive the prices higher above $45. The ATOM coin price chart suggests the next support levels at the zone between $32 and $35. And, if the bulls take over trend control, prices can find resistance at $45 and $60. At the time of writing, the technical analysis by tradingview reflects a rise in bullish sentiment as it gives a "BUY" signal. Technical Analysis for ATOMUSD by TradingView
---
Source
---
Back to the list