Back to the list
GALA Technical Analysis: Bullish Reversal Strives To Change Trend Direction
cryptoknowmics.com
12 January 2022 13:01, UTC
Reading time: ~2 m
---
The GALA coin price shows a bullish reversal from the support trendline of the flag pattern. Will this reversal change the upcoming trend direction?
Gala Games is aiming to change the game industry in a new direction by giving players control over their gaming. Its mission is to create "blockchain games you'll actually want to play." 
The initiative aims to change the way that players invest hundreds of pounds for in-game assets, as well as countless hours playing the game that could be taken from them at the click of an icon.
Let us move ahead to read about GALA technical analysis.
Past Performance of GALA
GALA coin price shows a decline of more than 50% since last December resulting in the flag pattern formation in the daily chart. However, the recent reversal from the descending support trendline helps in a 15% price jump. But the lack of growth in the intraday trading volume decreases the chances of a bull run to the resistance trendline. 
Nonetheless, the price action shows reversal and if the prices sustain above $0.30, a price jump to $0.50 is possible.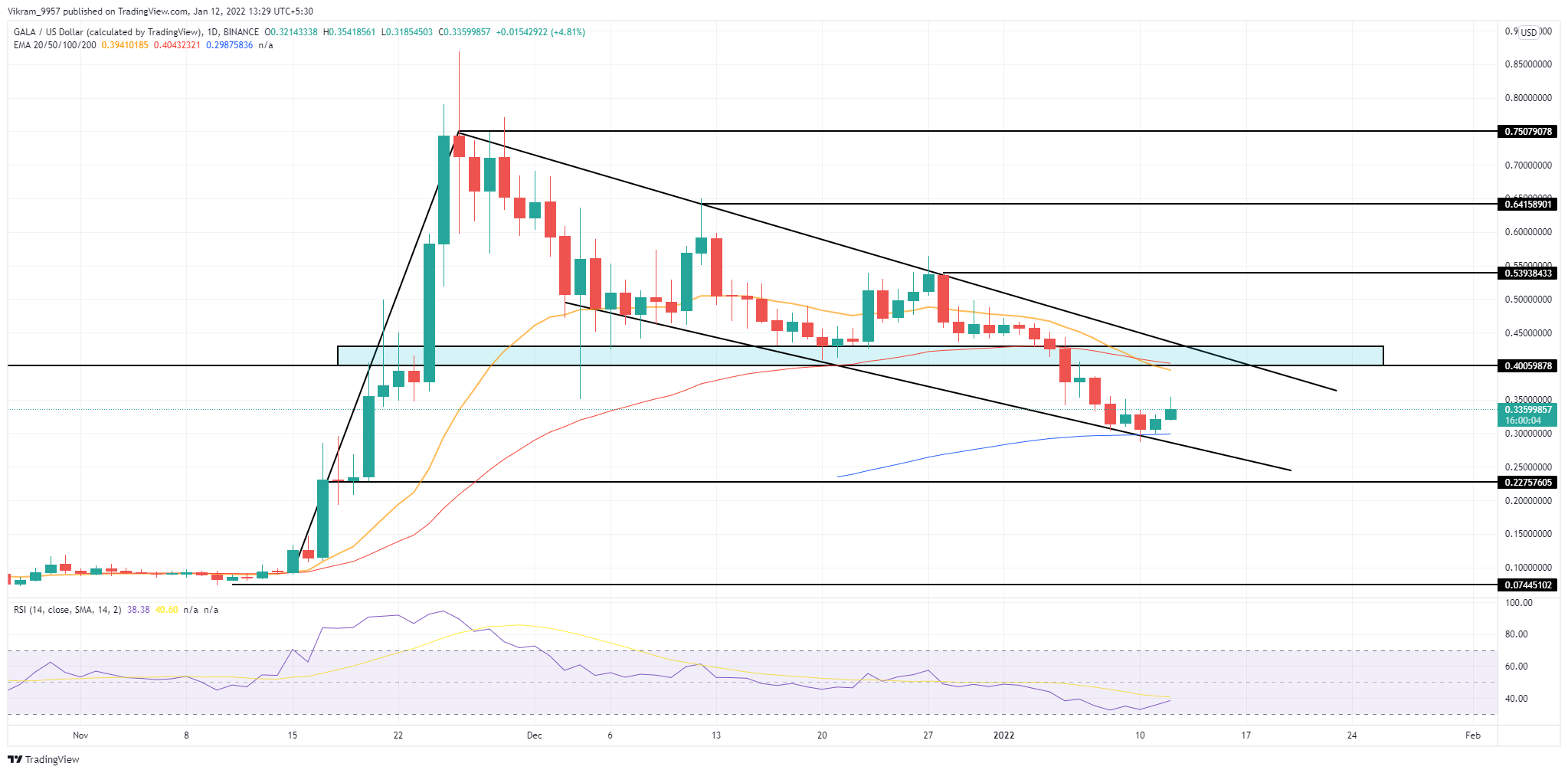 GALA Technical Analysis
The GALA technical analysis shows a revolt in the underlying bullishness evident by the rounding reversal with lower price rejection from $0.30. Therefore, a bull run is possible with the breakout of $0.35 which remains a key horizontal level.
The crucial 100-day EMA supports the falling GALA coin prices near $0.30 and pushes the price higher. That is why despite the bearish crossover of 20 and 50-day EMA, the prices continue to rise higher.
The RSI indicator at 38% shows a sudden spark in the slope as it rises higher from the oversold zone's boundary. Furthermore, the double bottom breakout increases the chances of a crossover with the 14-day SMA.
The MACD indicator shows a rise in the MACD line as the signal line maintains a falling slope. That is why after a downfall from the positive zone to the depths below zero line, the chances of a bullish crossover arise.
Upcoming Trend
The bullish reversal from the support trendline finds the support of technical indicators and the price action. Therefore, despite the fall in trading volume, there is a significant possibility of a bull run to $0.50.
Therefore, traders can find buying opportunities for the GALA coin upon $0.35 breakout. 
---
Source
---
Back to the list