Back to the list
AMP Technical Analysis: Highs and Lows Since Two Months, Expect New Resistances
cryptoknowmics.com
09 December 2021 13:52, UTC
Reading time: ~2 m
---
Amp is described as the new digital collateral token offering instant and verifiable assurances for any kind of value transfer. Using Amp, networks like Flexa can quickly and irreversibly secure transactions for a wide variety of asset-related use cases. Amp supports a wide variety of use cases for collateralization. It also introduces the concept of predefined partition strategies, which can enable special capabilities such as collateral models through which tokens can be staked without ever leaving their original address.
Let us look at the technical analysis of AMP.
Past Performance of AMP
AMP price experienced a high of $0.07696 during the last 30 days, but the price condensed between narrowing highs and lows in November 2021. The current price is $0.058 with a total trading volume of $96,460,970.59. The coin is up 7% in the last 24 hours, with a live market cap of $2,362,927,158.13. The highest closing price in the last 7 days has been $0.06183, a -54% under its all-time high of $0.1211.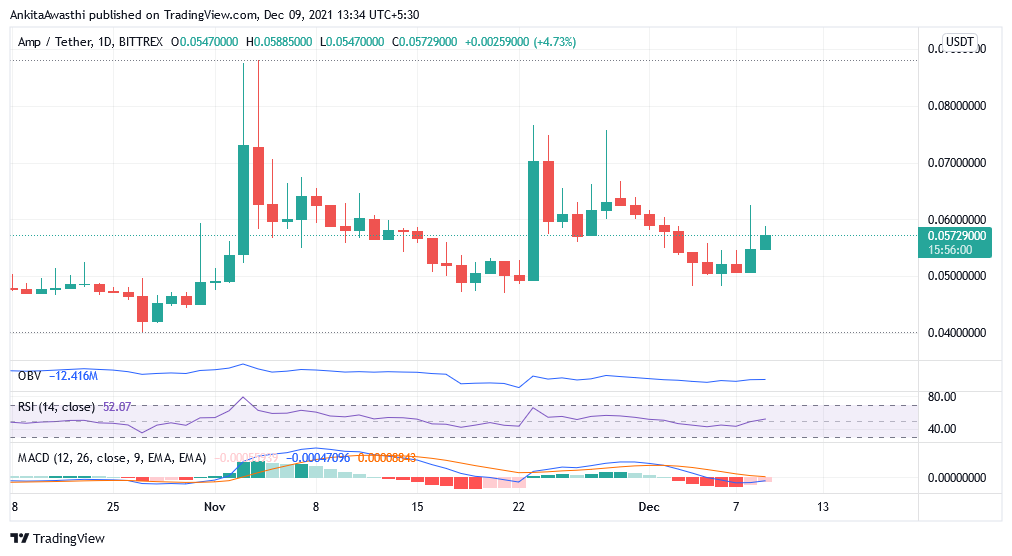 Source: https://www.tradingview.com/x/FZlRUaqv/
AMP Technical Analysis
The On-balance Volume is at -12.40 million, showing a change in volumes as per the fall in price. This shows a bearish mood might set in.
RSI is at 52% in a slightly upward direction in the overbought direction. This would show the prices can be gaining strength with an overall increase in prices for some time.
The MACD and signal lines are converging a little upwards, indicating the price which has now turned bullish will stay for the near future till a change in trend through the fast line occurs. For now, one can expect further increase with breach of new resistances.
Price Trends for the Day-Ahead and Tomorrow
The last high from November 28 at $0.070 was 13.35% over the resistance of $0.060 and could be broken through. Support is currently at the $0.040 support line and is holding with 63.66% confidence.
---
Source
---
Back to the list