Back to the list
BAT Technical Analysis: Bullish Till Today, Trend Reversal in the Offing
cryptoknowmics.com
08 December 2021 08:52, UTC
Reading time: ~2 m
---
Basic Attention Token, or BAT, is the token that powers a new blockchain-based digital advertising platform designed to fairly reward users for their attention while providing advertisers with a better return on their ad spend.
The Basic Attention Token itself is the unit of reward in this advertising ecosystem and is exchanged between advertisers, publishers, and users. Advertisers pay for their advertising campaigns in BAT tokens. Out of this budget, a small portion is distributed to advertisers, while 70% is distributed to users — whereas the intermediaries that typically drive up advertising costs are cut out of the equation to improve cost-efficiency.
Let us see the technical analysis of BAT.
Past Performance of BAT
Basic Attention Token price today is $1.35 with a total trading volume of $641,371,045.00. The token is up 12.43% in the last 24 hours. The current ranking is #78, with a live market cap of $2,025,887,621.00. It has a circulating supply of 1,492,976,103 BAT coins. The highest closing price in the current month of December was at a price of $1.85 and thus -2.39% under its all-time high of 28.11.2021 at $1.90.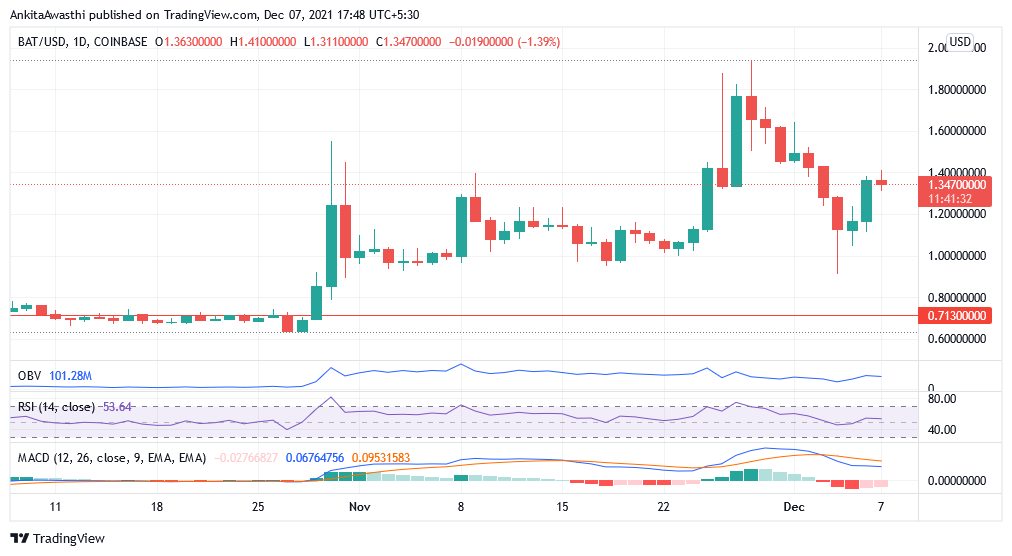 Source: https://www.tradingview.com/x/voACQ5qa/
BAT Technical Analysis
The current market trend for BAT is currently bullish. The last Doji Star indicator for a trend change was on December 1, 2021, and was quoted at a price of $1.47. This indicator could be interpreted as an upwards trend change.
The On-balance Volume is at 101.27 million, increasing at a good pace. This is in line with the price changes, thus one can see the prices to stay positive.
RSI is at 53% in a slightly downward direction in the oversold direction. This would show the prices can be a little unsteady with the strength dropping in the bullishness.
The MA trend and signal lines are diverging upwards with the slow line (signal) above the fast line (MA line), showing a steadiness in price movement. The divergence shows the price movement will stay for the foreseeable 8 hours or so.
Price Trends for the Day-Ahead and Tomorrow
The last high from November 28, at $1.85 was 60.82% above the resistance of $1.15 and could be broken through. Support is currently received by the Basic Attention Token (BAT) price at the $0.740 support line and is holding 149.83% above this.
---
Source
---
Back to the list