Back to the list
LINK Technical Analysis: Bearish Signals, Watch for Support at $22.132
cryptoknowmics.com
06 December 2021 12:44, UTC
Reading time: ~2 m
---
Chainlink is one of the first networks to allow the integration of off-chain data into smart contracts. With many trusted partners, Chainlink is one of the major players in the data processing field. Due to the integration of off-chain data, Chainlink has attracted the attention of numerous trusted data providers, including Brave New Coin, Alpha Vantage, and Huobi. Data providers can sell access to data directly to Chainlink, thus monetizing the information they have.
As a decentralized network, Chainlink allows users to become node operators and earn revenue by running critical data infrastructure required for blockchains' success.
Let us see the technical analysis of LINK
Past Performance of LINK
The current market trend for Chainlink (LINK) is currently bearish. The last Doji Star indicator for a trend change was on today and was quoted at a price of $19.17. This indicator could be interpreted for a downwards trend change.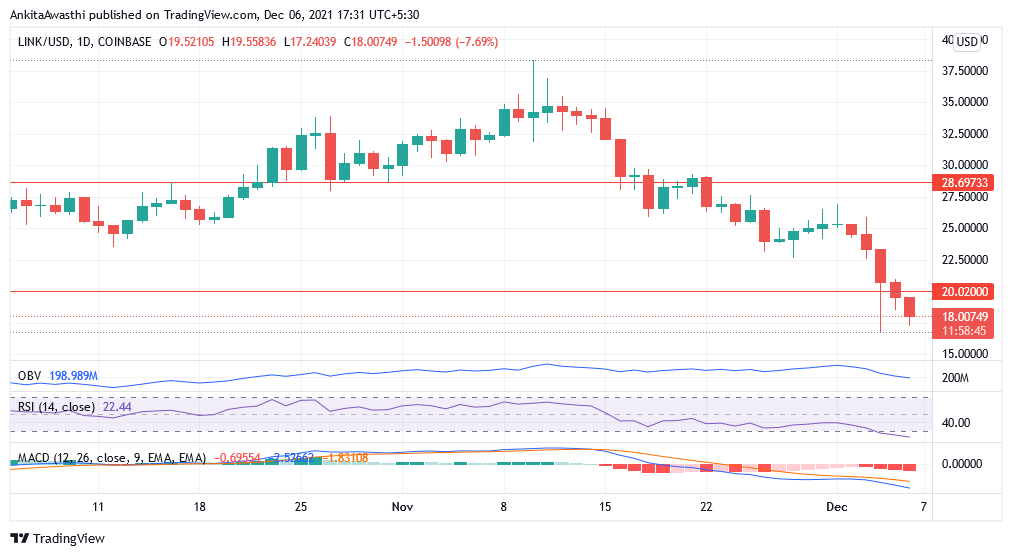 Source: https://www.tradingview.com/x/fcep4FVI/
LINK Technical Analysis
Chainlink network's valuation is based on its utility and integration rather than a supply squeeze through staking. In the event of a supply squeeze, there is a drop in circulating LINK tokens, driving prices higher.
The currently quoted LINK price is at $17.71 under the exponential moving average and can be considered a bearish signal. Both an important buy signal and sell signal pattern have been identified.
The buy signal pattern was detected on November 20, 2021, at a price of $26.39 could be determined. The sell signal pattern could be determined on November 18, 2021, at a price of $30.46.
This is supported by RSI which has dipped to 23 percent levels and is in the oversold region. One can see this as a sign of a steady -state being created for future gains.
The MACD and trend line have fallen below the histogram giving a strong signal of low stability.
Price Trends for the Day-Ahead and Tomorrow
The price is giving STRONG SELL indicators through its oscillators and indicators. This is because the highest prices are already breaching the support levels. The last high from November 22,2021 at $29.27 was with -7.96 percent under the resistance of $31.80 and could not be broken through. Support is currently received by the LINK price at the $23.28 support line and is holding with 25.76% above this.
---
Source
---
Back to the list