Back to the list
HBAR Technical Analysis: Stable Prices, Indicators on a SELL, Watch and Make Your Move
cryptoknowmics.com
01 December 2021 11:17, UTC
Reading time: ~2 m
---
Unlike most other cryptocurrency platforms, Hedera Hashgraph isn't built on top of a conventional blockchain. Instead, it introduces a completely novel type of distributed ledger technology known as a Hashgraph.
This technology allows it to improve upon many blockchain-based alternatives in several key areas, including speed, cost, and scalability. Hedera transactions have an average transaction fee of just $0.0001 and typically reach finality in under five seconds. Overall, Hedera Hashgraph claims it can handle more than 10,000 transactions per second (TPS) — compared to around 5-20 for most popular proof-of-work (PoW)-based blockchains.
Let us see the technical analysis of HBAR.
Past Performance of HBAR
HBAR around two months ago was predicted to touch and cross its Fibonacci Levels of $1.07. It broke out of the $0.43 horizontal resistance area and touched a high of $0.579 on September 15, 2021 but has dropped to a dismal$0.325 few weeks later and is now at $0.430.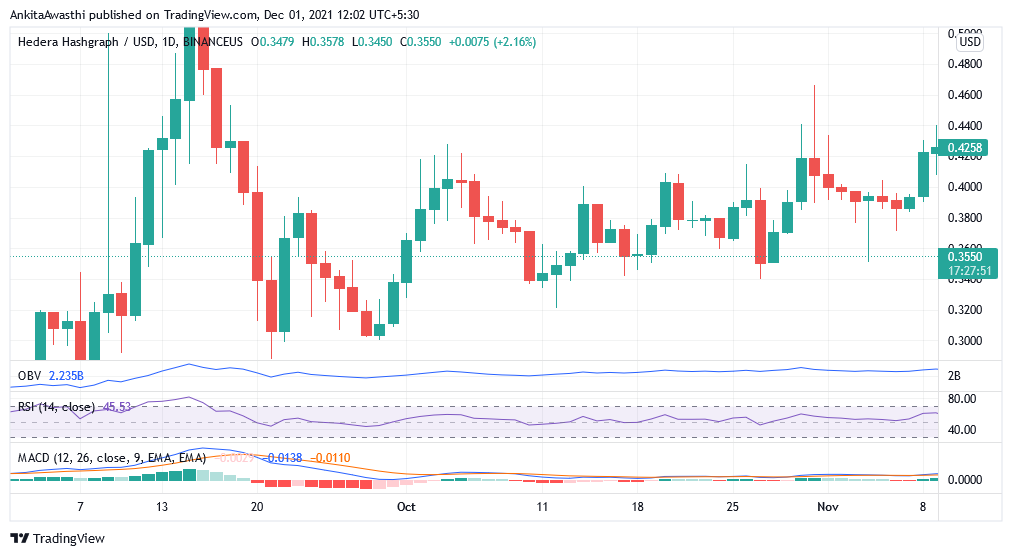 Source: https://www.tradingview.com/x/2CB5LWGn/
HBAR Technical Analysis
HBAR is on a positive stream of stability of prices. The weekly chart shows that HBAR has reclaimed the $0.365 area after firstly deviating below it. This is supposed to be part of a wave trend that will be completed in five waves.
The On-balance Volume is at 2.235 billion which has stayed flat for most of the past two months. This shows the prices are not expected to pick up drastically due to any volume-based reasons.
RSI has been also revolving around the 45-50 percent showing an undecided direction of prices which can go either way.
The MACD line has been converging along the histogram and shows low stability of prices.
Price Trends for the Day-Ahead and Tomorrow
HBAR is receiving STRONG SELL signals as per oscillators and indicators. The sentiment is down owing to low to no new developments. It is trading near its moving averages and a pivot of $0.3793. Expect it to fall to the support level of $0.3062. Watch out for further support levels of $0.2972.
---
Source
---
Back to the list