Back to the list
Solana ($SOL) Investment Products Outperformed $BTC-Based Ones in November: Report
www.cryptoglobe.com
29 November 2021 22:49, UTC
Reading time: ~2 m
---
Solana ($SOL) investment products have, along with Litecoin-based products, outperformed bitcoin-based cryptocurrency investment products, with 21Shares' ASOL fund and Grayscale's LTCN returning investor 22% and 14.9% last month, respectively.
According to CryptoCompare's latest Digital Asset Management Review report, 21Shares' Solana investment product also experienced the largest percentage increase in trading volume, growing 171% to $6.3 million.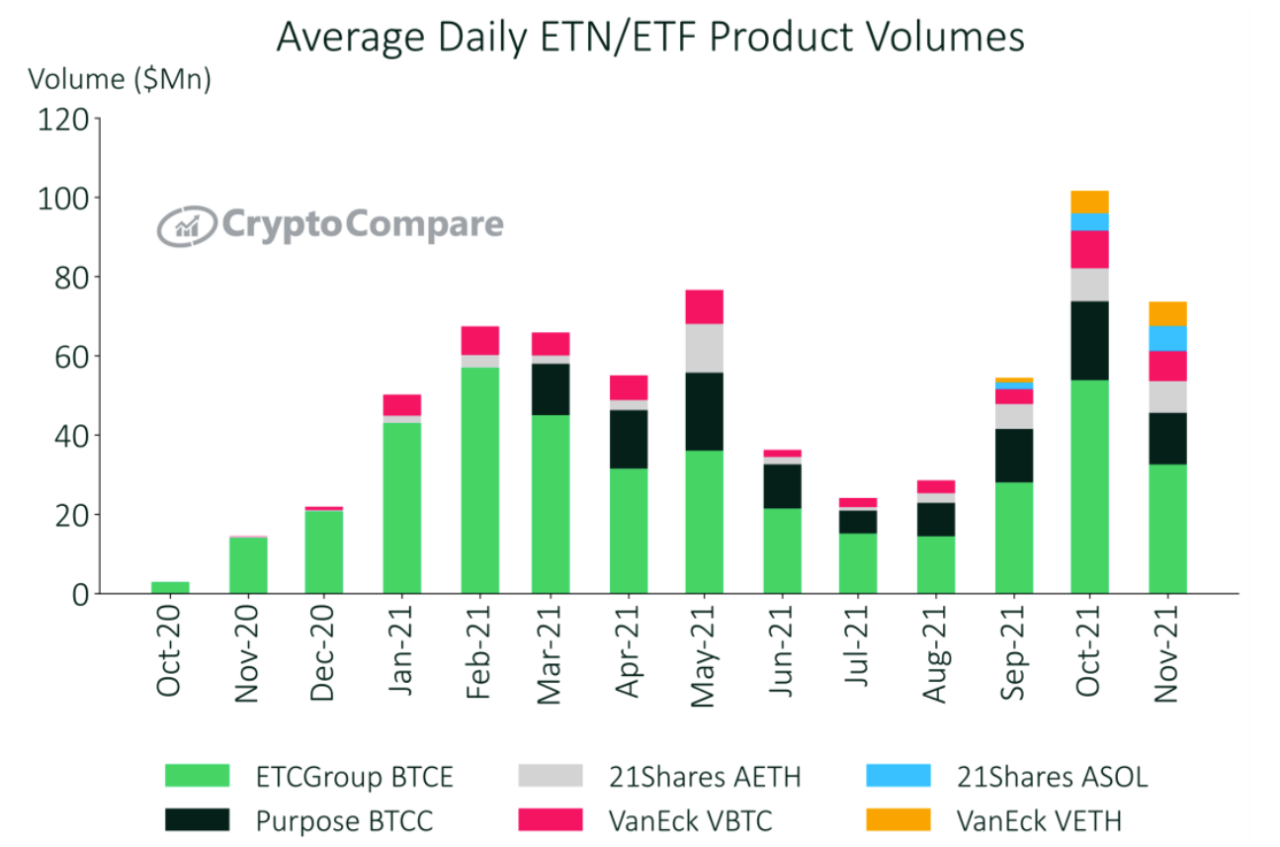 Source: CryptoCompare
The report details that the total assets under management of BTC-based investment products fell 9.5% to $48.7 billion in November, recording their largest month-on-month decline since July. Ethereum and other cryptocurrency investment products, meanwhile, saw their assets under management go up 5.4% to $16.6 billion and 10.4% to $2.6 billion respectively.
CryptoCompare also details that aggregate daily volumes across all cryptocurrency investment product types fell by an average of 13% from October to November, with average volumes now standing at $732 million. In January of this year, in comparison, volumes were around $1.5 billion.
Grayscale's investment products notably still represent the vast majority of assets under management at $53 billion, accounting for 76.8% of the total. They're followed by XBT Provider's $5 billion, which represent 7.2% of the total assets under management.
As CryptoGlobe reported, over 77% of Solana's $SOL tokens are being staked on the cryptocurrency's network and earning their holders yield, so much so that staked value on the network surpassed $84 billion, according to data from Staking Rewards.
The network's staking rewards have as such been making Solana a top choice for investors looking to earn interest in their cryptocurrency holdings. Staking allows users to earn interest in their crypto by helping secure the underlying network.
According to CryptoCompare, staking on-chain is possible with cryptocurrencies using a Proof-of-Stake (PoS) consensus mechanism. PoS networks are often more energy-efficient than PoW networks and maintain a certain degree of decentralization.
Solana itself is a high-performance blockchain founded by former Qualcomm, Intel, and Dropbox engineers that uses a delegated Proof-of-Stake (dPoS) consensus algorithm. The network uses a unique method of ordering transactions to significantly improve its speed and throughput.
Staking on Solana has been surging along with the number of daily active wallets on it, which recently surpassed 200,000. In mid-September, the network had around 67,000 active wallets per day.
Earlier, a panel of experts has suggested that the price of $SOL could surpass the $5,000 mark by 2030 and hit $1,17 this year.
---
Source
---
Back to the list