Back to the list
BAT Technical Analysis: Crossing Resistance Levels, Expect New Highs Across $1.9
cryptoknowmics.com
26 November 2021 12:51, UTC
Reading time: ~2 m
---
Basic Attention Token, or BAT, powers a new blockchain-based digital advertising platform designed to fairly reward users for their attention, while providing advertisers with a better return on their advertising spend. The Basic Attention Token itself is the unit of reward in this advertising ecosystem and is exchanged between advertisers, publishers, and users. Advertisers pay for their advertising campaigns in BAT tokens. Out of this budget, a small portion is distributed to advertisers, while 70% is distributed to users — whereas the intermediaries that typically drive up advertising costs are cut out of the equation to improve cost-efficiency.
BAT has been showing some interesting technical analysis moves.
Past Performance of BAT
Basic Attention Token climbed roughly 20% this week, following the news of Brave browser's integration with Solana.
On November 25, 2021, BAT opened at $1.420 and closed at $1.704. It had crossed a high of $1.880 while touching a low of $1.40 in that time. Overall, it gave a massive gain of $20% during the last 24 hours.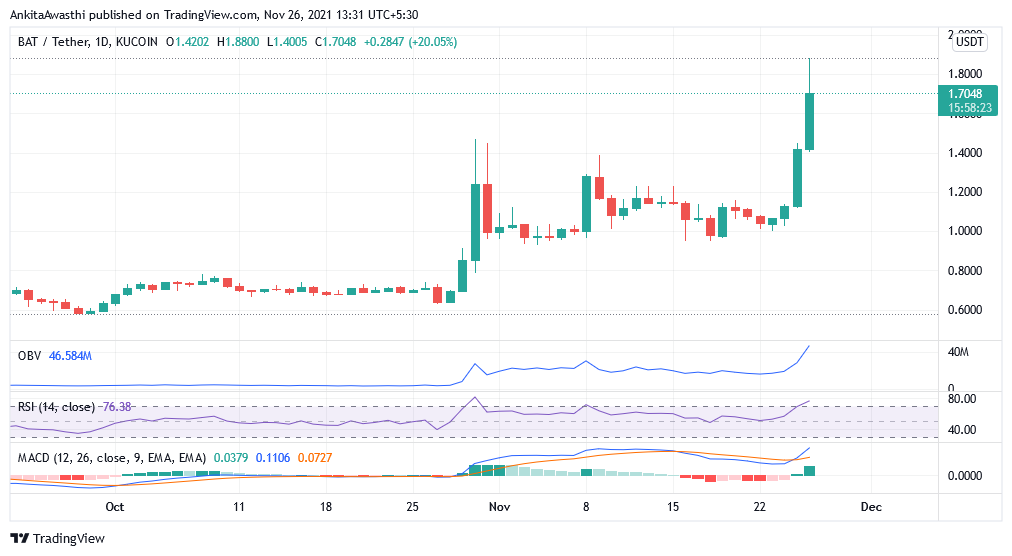 Source: https://www.tradingview.com/x/qciinKpA/
BAT Technical Analysis
BAT has been decreasing alongside a descending resistance line since April 10, when it had reached an all-time high price of $1.69. So far, it has been rejected by the line four times. It seems to be in the process of making another breakout attempt.
Since the line also coincides with the $1.40 resistance area, a breakout above it could trigger an acceleration of the upward movement.
The On-balance Volume is at 748 million, which is above the average volumes it has surpassed so far.
RSI has crossed the 70% region and is now clearly in the overbought zone. It will stabilize the prices in the highs for a few days.
Under the MACD, the signal line had been above the MA trend line. Thus showing the indication of an upcoming rise. The MA trend line is on an upward trajectory. We can be confident of the price to stay this way.
Technical indicators show a strong reason for the currency to stay upwards.
Price Trends for the Day-Ahead and Tomorrow
BAT is a STRONG BUY as per overall sentiment. The oscillators expect it to be neutral as of now, whereas the moving average indicator gives a BUY signal.
It has already crossed the expected resistances of $1.411, remains to be crossed at the second resistance of $1.629 and $1.98. These rises in prices are seen as part of waves of various price movements over a period of time.
---
Source
---
Back to the list