Back to the list
LUNA Technical Analysis: Price Likely to Fall in the Coming Days, Indicators Bearish
cryptoknowmics.com
25 November 2021 11:45, UTC
Reading time: ~2 m
---
Terra is a blockchain protocol that uses fiat-pegged stablecoins to power price-stable global payments systems. According to its white paper, Terra (LUNA) combines the price stability and wide adoption of fiat currencies with the censorship-resistance of Bitcoin (BTC) to offer fast and affordable settlements.
Let us see the technical analysis of LUNA.
Past Performance
Since July, the LUNA price is increasing gradually, with occasional uptrends and downtrends. Despite being volatile, the price has shown a general uptrend. However, during the last week, the price trend had reversed.
On November 18, 2021, the LUNA opened at $43.24. After a decrease of 10.73% in the week, it closed on November 24, 2021, at $38.60. Whereas in the last 24 hours, LUNA made a high and low of $41.56 and $37.92, respectively.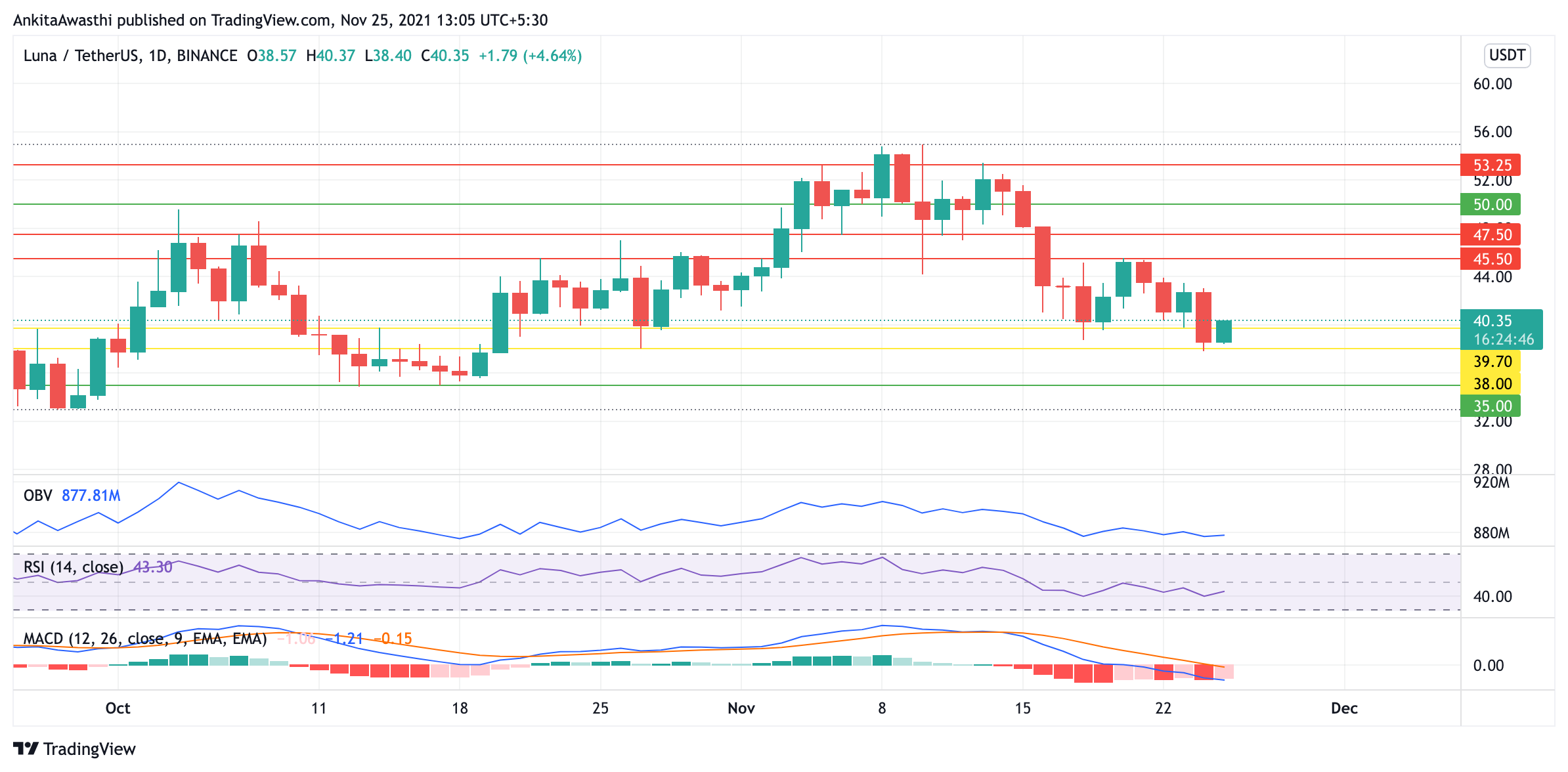 Source: https://www.tradingview.com/x/bFmYmW10/
LUNA Technical Analysis
The LUNA coin's chart shows the start of a downtrend, suggesting a price decrease in the coming days. However, let us first look at what the oscillators have to show us.
The OBV is following a pattern similar to the price chart. Thus, the selling volumes are higher and putting pressure on the price to move downwards.
The RSI is showing that the bulls are taking control of the price today. However, the general downtrend suggests that this is only for a short period.
A downtrend is again being predicted by the MACD graph. This can be seen as both the fast and slow lines are moving in the negative direction.
Terra, a smart contract-enabled algorithmic stablecoin project, passed a pair of proposals to burn $4.5 billion worth of LUNA, its native token, from community pools. The burn will occur every 800 blocks produced. Its purpose is to adapt the structure of the currency for the new Columbus 5 upgrade, which changed the way USDT is produced.
Price Trends for the Day-Ahead and Tomorrow
LUNA coin has been behaving bullishly this past year and analysts predict the trend will continue. However, the token has proven volatile, but such peaks and troughs could be attributed to external factors such as the crypto market crash.
Looking at the Fib numbers, we see that the price is currently being tested at the last Fib level at $38.75.
If the price falls below the first support at $39.7 and the second support at $38, the traders may exit the market by placing a stop-loss at $35. However, if the trend reverses from these levels, the target should be at $50.
---
Source
---
Back to the list