Back to the list
ADA Technical Analysis: Price Decline May Continue Owing to Trading Limits
cryptoknowmics.com
25 November 2021 09:40, UTC
Reading time: ~2 m
---
Cardano (ADA) is a third-generation decentralized proof-of-stake (PoS) blockchain platform designed to be a more efficient alternative to a proof-of-work (PoW) network. Scalability, interoperability, and sustainability on PoW networks like Ethereum are limited by the infrastructure burden of growing costs, energy use, and slow transaction times.
Let us look at the technical analysis of ADA.
Past Performance of Cardano
The last three months have been very disheartening for the ADA investors as the price has seen a continuous downtrend. The price has declined 38.82% during this period. To date, the downtrend continues.
On November 18, 2021, ADA opened at $1.88. On November 24, 2021, it closed at $1.67. This was a weekly change of -11.17%. In the last 24 hours, the highest trading price was $1.71, while the lowest trading price was $1.59.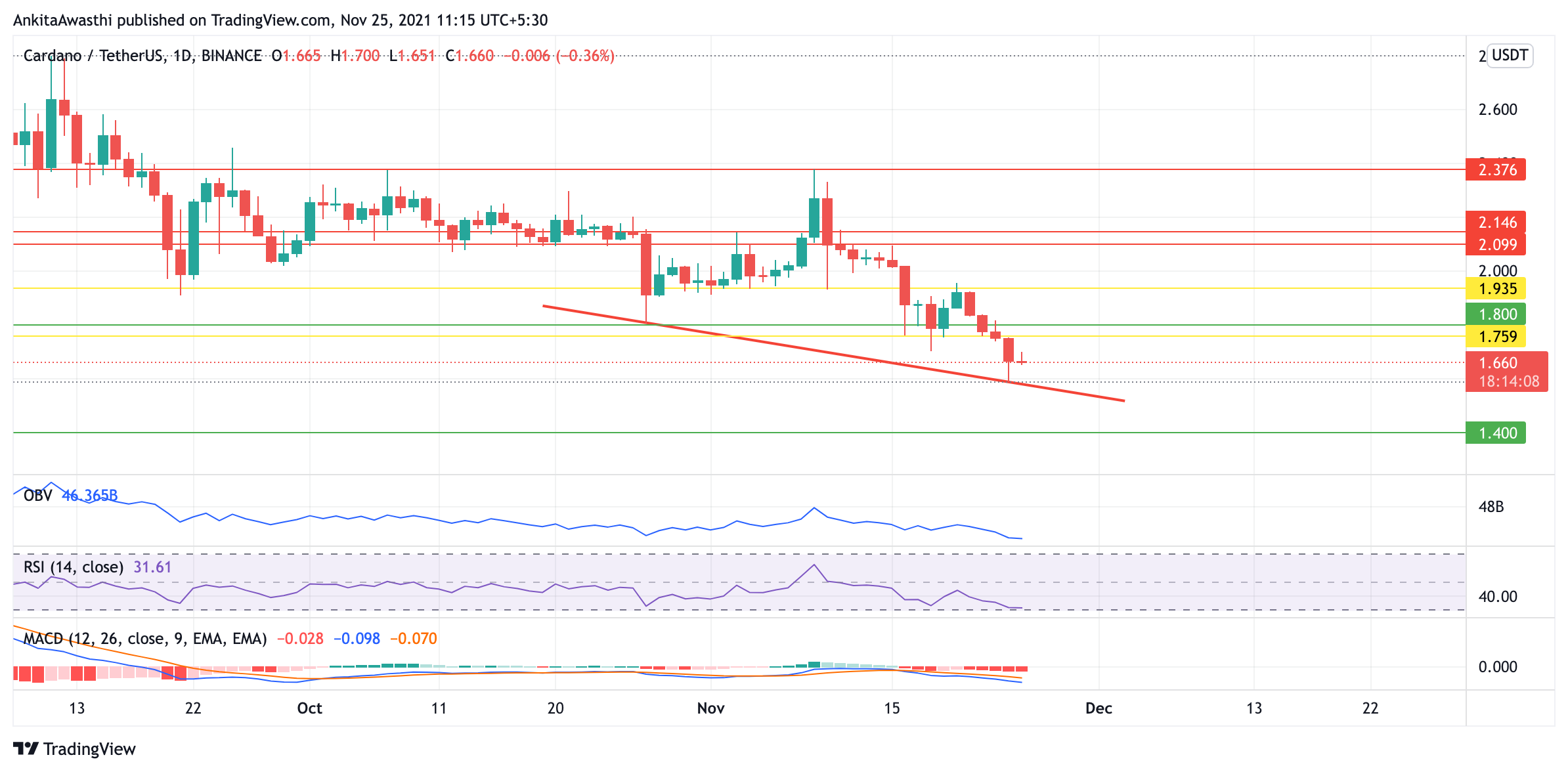 Source: https://www.tradingview.com/x/pbBzETun/
ADA Technical and Fundamental Analysis
As the ongoing downtrend is not showing any sign of reversing itself, it is expected to continue in the coming days. Even currently, the ADA is discount trading at $1.662, which is 0.24% lower than yesterday's close.
In the OBV graph, we can see that the selling pressure is quite high as compared to the buying pressure, which is pushing the price downwards.
Currently, at 31.57%, the RSI graph is about to hit the oversold region. This was expected as the bulls are losing strength because of the downtrend.
The MACD graph is again giving a negative signal. The MACD line and the Signal line both are much below the equilibrium line and are moving in the negative direction as well.
Recently, eToro announced on November 23, 2021, that it would be curbing Cardano and Tron cryptocurrency tokens trading. The trading platform didn't get deep into the details of why it was making the move, but it cited "business-related considerations in the evolving regulatory environment" as the major motivating factor. This may lead to a further decline in the prices of ADA.
Price Momentum for the Day-Ahead and Tomorrow
Cardano is without a doubt one of the more promising applications in the blockchain space today, with strong fundamentals and a lot of momentum behind the project. However, the ongoing downtrend may be dangerous for short-term traders.
The indicators are signaling a further decline in the ADA price in the coming days. This prediction is supported by the negative news from eToro. Thus, traders may exit the market till the price starts to rebound. We also suggest keeping a stop-loss at $1.4.
In addition, owing to the ongoing decline in the price, the price chart has crossed the last Fib level at $1.7 yesterday.
---
Source
---
Back to the list