Back to the list
XDC Technical Analysis: Price Has Finally Started to Move Upwards After a Downtrend of 3 Months
cryptoknowmics.com
25 November 2021 08:17, UTC
Reading time: ~2 m
---
XinFin is an enterprise-ready hybrid blockchain technology company optimized for international trade and finance. The XinFin Network is powered by the native coin called XDC. The XDC protocol is architected to support smart contracts, 2000TPS, and KYC to Masternodes (Validator Nodes).
Let us look at the technical analysis of XDC.
Past Performance
The XDC price chart was on a downtrend for the last 3 months. After that, the price stabilized for a few days. Recently, the trend has reversed, and the price has started moving upwards.
On November 18, 2021, XDC opened at $0.08991. The following week witnessed a trend reversal, after which it closed on November 24, 2021, at $0.1035. This was a weekly change of +15.11%.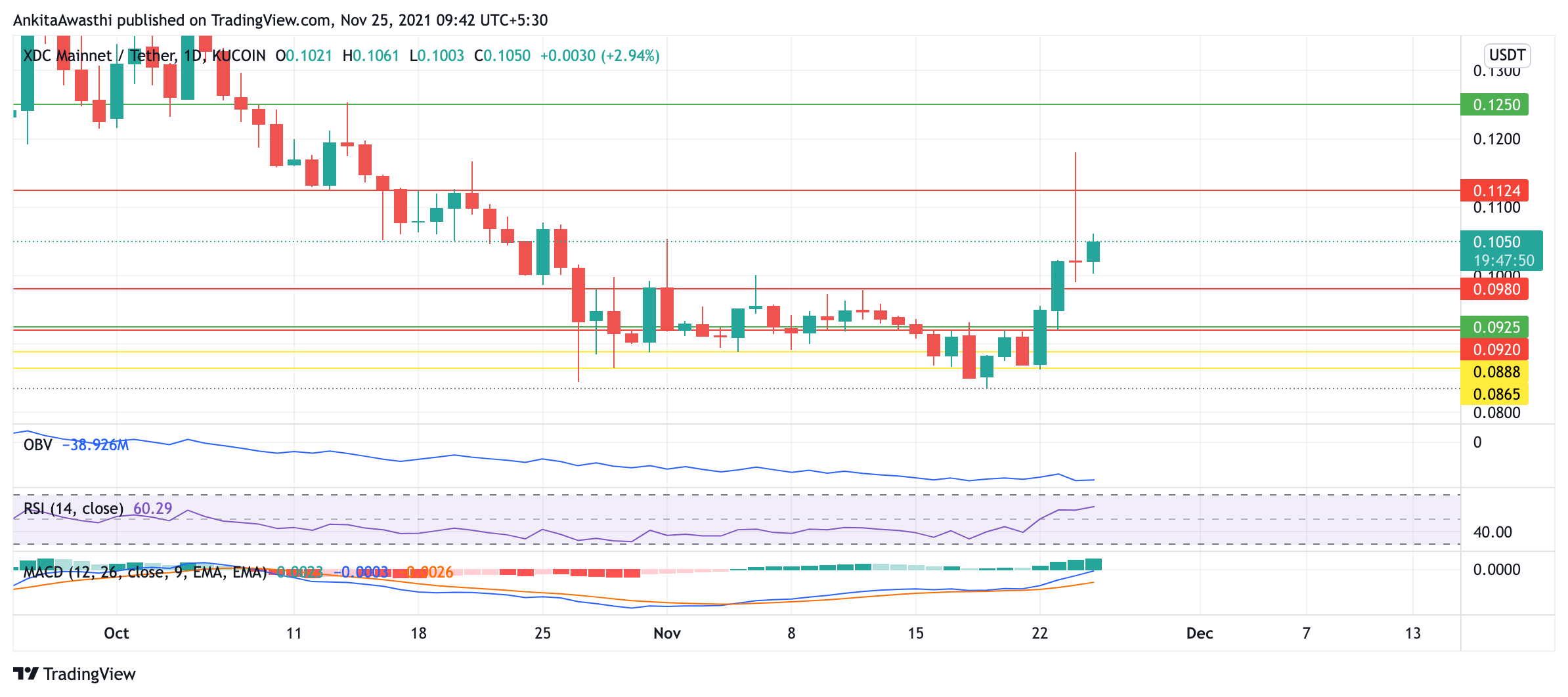 Source: https://www.tradingview.com/x/pc3uFsrD/
XDC Technical Analysis
After a period of downtrends, the XDC price has finally started to move upwards. The price has picked up the necessary momentum to move upwards, and it is likely to continue in the upcoming days. Currently, XDC is trading at $0.1044, which is 2.35% higher than the previous day's close.
The OBV graph is showing a long declining line, with an incline at the end. This is a signal that the buying volumes have started to dominate the selling volumes, thus pushing the price upwards.
As a result of the previous week's uptrend, the bulls have gained strength. This can be seen as the RSI graph is moving upwards, and is currently at 60.29%.
In the MACD graph, the fast line and the slow line, both are now moving in a positive direction, but they are still below the equilibrium due to the long downtrend. The height of the histogram is increasing, which is a positive signal.
XSWAP is the first decentralized exchange (DEX) that utilizes an automated market maker (AMM) system on the XinFin Network (XDC). Its vision is to grow the XinFin network by enabling emerging projects to enter the market directly after the completion of their development period. It allows and facilitates the swap and exchange of XRC-20 tokens thereafter. XSWAP was released on November 6, 2021.
Day-Ahead and Tomorrow
Looking at the FIB numbers, we see that the price has crossed the FIB level at $0.1 the day before yesterday. Next, it is heading towards the Fib level at $0.11.
Thus, the indicators are in support of XDC as they predict a positive future for the price chart. The traders may take a long position for a target of $0.125. However, if the trend reverses and the prices start falling, traders should place a stop-loss at $0.0925.
---
Source
---
Back to the list