Back to the list
SCRT Technical Analysis: Downtrend Against the $7 Support Level
cryptoknowmics.com
22 November 2021 08:09, UTC
Reading time: ~2 m
---
SCRT coin price is in under short-term downtrend, but the collapse of the $7 support level can turn into a fatal downfall. Will the downtrend continue?
Secret Network is an open-source, permissionless, and open-source blockchain that was built on privacy research and papers written initially at MIT in 2015. This includes "Decentralizing Privacy," which is now one of the most essential papers in the blockchain space with over 2,000 academic citations.
Let us now learn about the technical analysis of the Secret token.
Past Performance of SCRT
The SCRT coin price fell 30% lower to the $7 support level after facing rejection near the $10 mark in the daily chart. However, the downtrend struggles to break below the horizontal level. Hence, the chances of a bullish reversal are still on the table.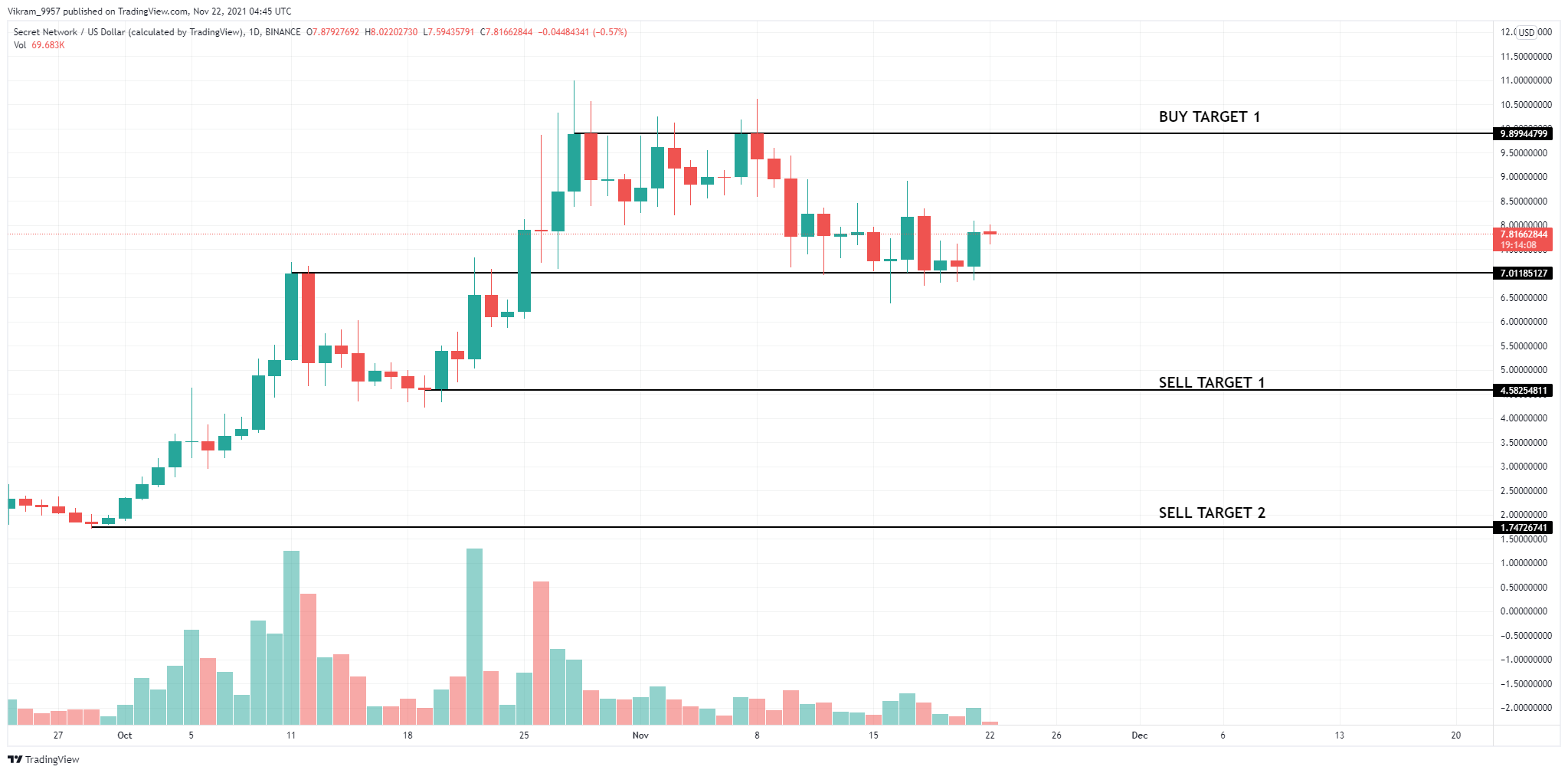 SCRT Technical Analysis
The increased volume aligns with the bullish retracement indicating a possible bullish reversal. Hence, the breakout of the $8.2 mark can be an excellent entry spot for buyers.
However, the bull run can struggle to rise above the $10 level as it has pushed the uptrend lower twice before. Furthermore, the failure of price to sustain above the $7 mark can drive the prices more down to the $4.5 mark or even the $1.75 mark. 
The RSI slope moves sideways near the 50% line in the daily chart. Furthermore, the price action and the slope show no signs of divergence. Hence, the RSI indicator gives a neutral signal.
Daily EMAs (50, 100, and 200) maintain a bullish alignment as the 50-day EMA provides support to the retracement in SCRT coin price. Hence, fallout below the 50-day EMA can be a bearish entry spot.
Upcoming Trend
Secret Network is a blockchain with data privacy by default for smart contracts. It allows you to create and use applications that are both privacy-preserving and permissionless. This functionality protects users, secures applications, and unlocks hundreds of never-before-possible use cases for Web3.
SCRT coin price shows increased chances of a bullish reversal from the $7 mark. Hence, traders can find buying entry spots upon $8.2 breakout with a short-term target of $10 mark.
However, a fallout below the $7 mark can be more profitable for traders as they will get more extended targets at $4.5 or even $1.75 mark.
---
Source
---
Back to the list