XRP price, like many of its peers in the top ten, rolled back the gains accrued from late last week as investors capitalized on the first Ethereum futures ETFs approvals in the United States. The fourth-largest cryptocurrency climbed from support at $0.49 and briefly touched highs at $0.55 before the uptrend faded into an ongoing correction, with XRP price trading at $0.5125.
Can XRP Price Save The Uptrend To $1
The XRP community has been waiting with bated breath for the time the cross-border money remittance token will hit highs above the psychological $1. While XRP rallied following Ripple's partial win against the US Securities and Exchange Commission (SEC) in July, the uptrend only made it to $0.93 before declines overwhelmed the bulls, leading to a sell-off back to the June levels.
Many believed that XRP price would rally significantly over the weekend on account of Ripple's celebratory event in New York – dubbed the "Proper Party." However, apart from a jubilant crowd and memorable speeches from keynote speakers including Brad Garlinghouse, Ripple's CEO key announcements speculated by the community over the last few weeks never came to be.
Outside of Ripple, investors focused on the launch of the first Ethereum futures ETFs which started trading on Monday. Perhaps the hype around the new investment products and the lack of key price catalysts from the Proper Party denied XRP price an immediate pump toward $1.
However, from a micro perspective, XRP could still start the climb to $1 if it breaks out of a symmetrical triangle pattern.
Bulls must start by upholding support at $0.5 to confirm to other investors that XRP price is not unlikely to drop further but is inclined to ascend to higher levels. This support will also help them build the required momentum for a rally following a breakout above the triangle.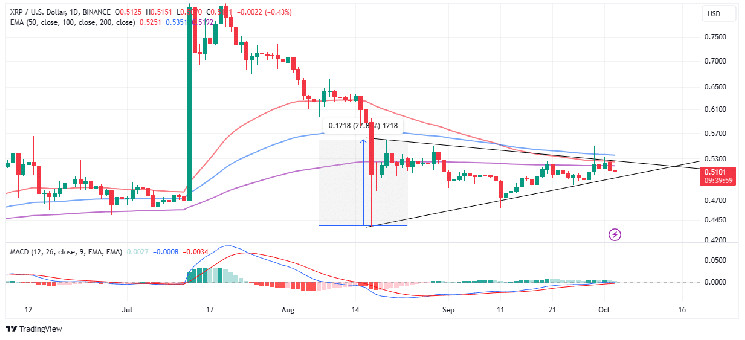 XRP/USD daily chart | Tradingview
The Moving Average Convergence Divergence (MACD) indicator is propping up the bullish outlook with a buy signal. If liquidity above $0.5 support soars and the MACD flips above the neutral zone (0.00), XRP price could easily reverse the uptrend.
A triangle breakout would mean that XRP is looking forward to a 27% rally to $0.67 – a move likely to trigger gains to $0.85 and $1, respectively.
Crypto analyst @DefenderDark believes that as long as support at $0.5 stands, XRP price could rally to $0.66 this week. In his opinion, XRP "broke the initial resistance & back-tested it."
Hi there.#XRP in the daily chart broke the initial resistance & back-tested it.

We had a similar move on 13-Jul-23.
The next Fibonacci level stands at exactly $0.6649.

If we don't see XRP below $0.50 support, we expect to hit $0.66 this week.

Cheers!#Ripple #XRPCommunity… pic.twitter.com/GSuMx4LxFr

— Dark Defender (@DefendDark) October 2, 2023
Traders should keep in mind that a symmetrical triangle pattern is neutral. In other words, if support at $0.55 breaks, we could be looking at a significant sell-off possibly to $0.36.
Related Articles
Ethereum Price Prediction As Ether Futures ETFs Perform Dismally, Sell-Off On The Horizon?
Shiba Inu Admin Alerts Community For Satoshi's Tweet
Ripple CTO Reveals Major Legal Feature In XRP Ledger (XRPL)