The rise trend of Chainlink (LINK) slowed down over the weekend. The introduction of Cross-Chain Interoperability Protocol (CCIP) on BNB chain was seen as a positive development for the ecosystem. Will the recent developments have an impact on LINK token?
Will Bulls Dominate LINK?
After the announcement, it was possible that holders might be encouraged to profit as LINK price closed in on the resistance zone in a higher time frame. LINK has dropped below $8 in the last few hours. Can bulls maintain their momentum?
The $7.96 to $8.45 zone represents a downward order block in the 12-hour timeframe. The price action on July 20th observed the development of this resistance zone and the first real retest after 71 days showed a slight downward trend. However, the market structure continued its rise on the H4 chart. A move below $7.67 may be necessary to change this trend into a downward trend. Therefore, investors can monitor this level and plan their trades accordingly.
The Relative Strength Index (RSI) was at 52 at the time of writing. This indicates that the upward trend is still intact but the momentum is weak. Similarly, On-Balance Volume (OBV) has been in a strong upward trend since September 19th but has slowed down over the weekend.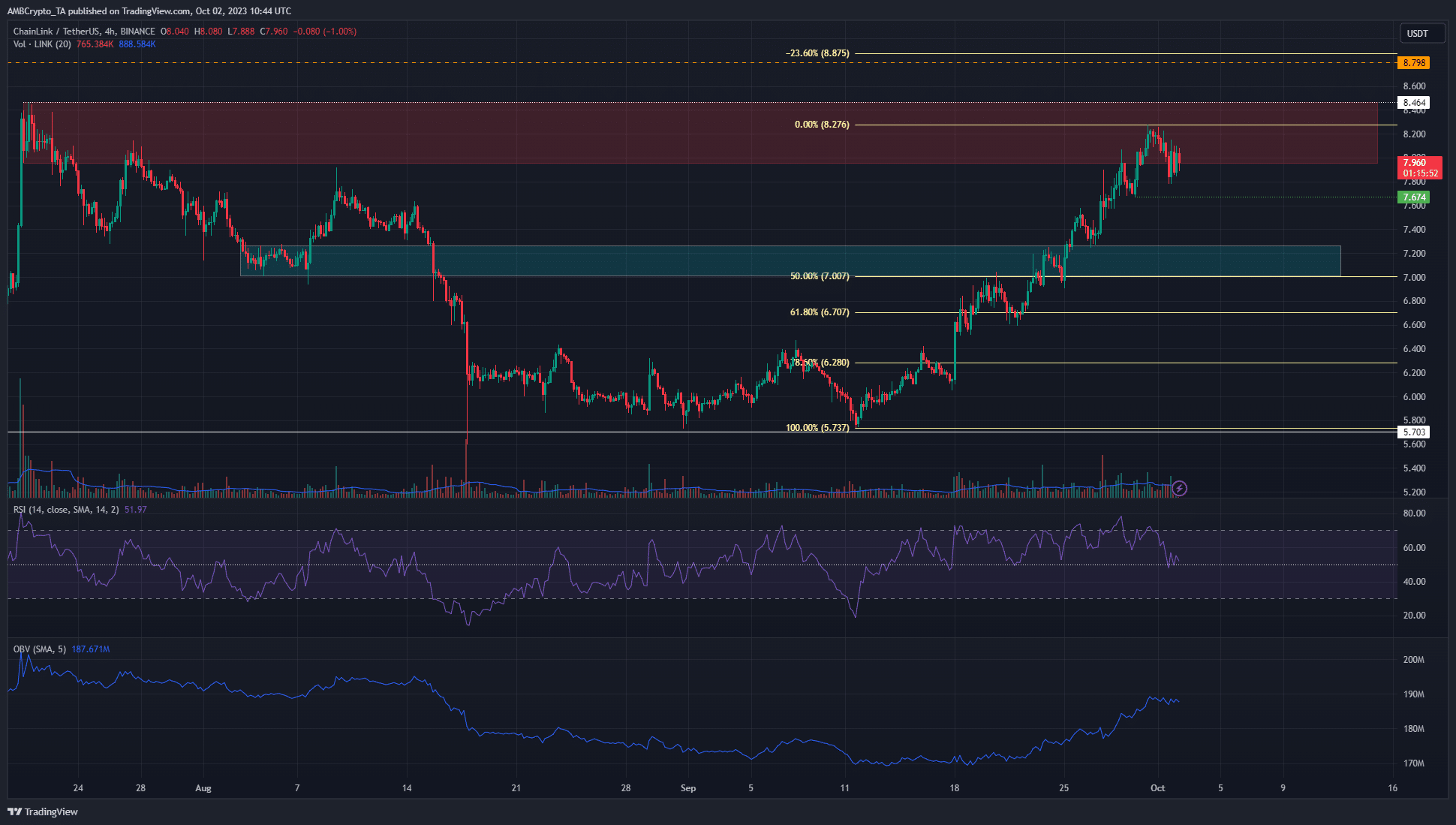 Current Data on LINK!
Furthermore, a move below $7.67 could see a downward retracement towards $6.28, which is the 78.6% Fibonacci retracement level. Additionally, a move above $8.5 could potentially lead to LINK rising to $8.8-$8.9 before encountering major resistance.
Over the weekend, the open positions remained steady due to the gradual decline in price from the $8.2 region. More concerning is the downward movement in Cumulative Volume Delta (CVD). This indicates that selling volume has dominated the spot markets in the past two days. Therefore, according to experts, it was possible for Chainlink to drop to $7.67 or even lower. Holding LINK in the $8 zone for an extended period may not be a good idea. Additionally, investors looking to short can wait for a break in the H4 market structure.