Sandbox (SAND) price currently sits at $0.30, its lowest since August 2021. On-chain analysis explores how recent spikes in SAND network demand could impact price action in the coming weeks.
Like most metaverse tokens, Sandbox price performance in H2 2023 has been underwhelming. Can Facebook's recent Artificial intelligence (AI) powered glasses spark sustained market demand across the SAND ecosystem?
Network Demand Spike After Facebook's Recent Product Launch
Sandbox witnessed a noticeable spike in new users as Facebook launched AI-powered Ray Ban smart glasses. Indicatively, on-chain data from Santiment shows that 278 new wallet addresses were created on September 27.
Notably, the last time the Sandbox ecosystem witnessed this level of Network Growth was on July 24.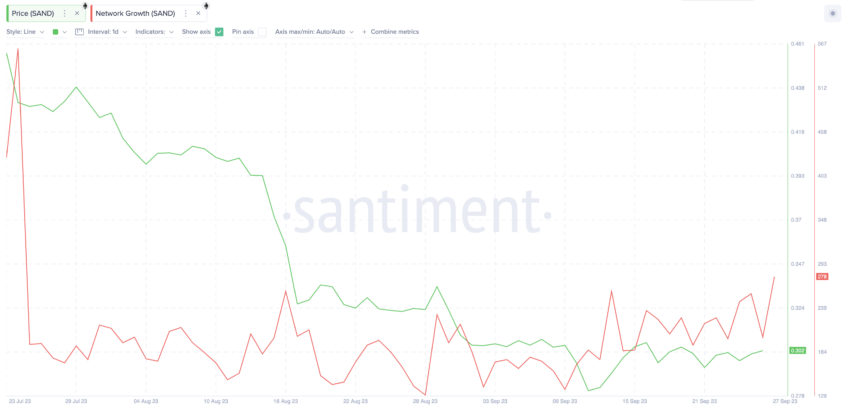 Sandbox Network Growth vs. Price. Source: Santiment
Network Growth tracks the daily number of fresh wallet addresses created on a blockchain. This gives a rough estimate of new users joining the network.
Typically, this uptick in Sandbox user acquisition means that the underlying SAND token is attracting fresh demand.
Also, the timing of the Network Growth implies that the Facebook smart glasses launch may have sparked some interest in the metaverse project. If it is sustained, SAND holders can anticipate some price upside.
New Joiners Have Been Conducting Economic Transactions
Further confirming that the Facebook product launch could be bullish for Sandbox, on-chain data reveals that the new joiners have been conducting economic transactions.
As seen in the chart below, SAND's daily active addresses also hit a monthly peak of 697 on September 27.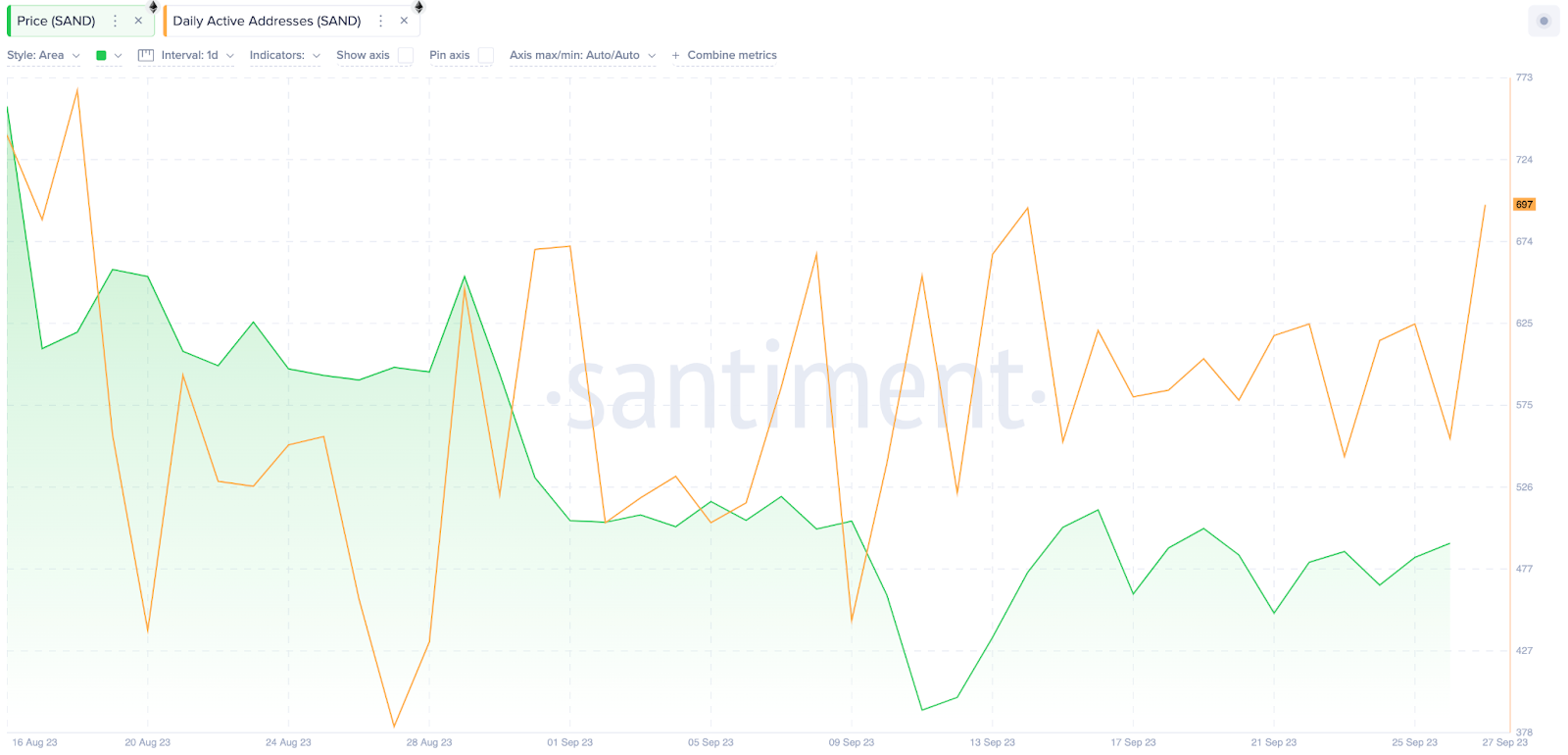 Sandbox (SAND) Daily Active Addresses vs. Price. Source: Santiment
The Daily Active Addresses metric tracks the participation rate of existing users on a blockchain network. It is derived by aggregating the number of unique addresses carrying out transactions daily.
As observed above, Sandbox DAA has mirrored the Network Growth spike to as network demand rose to a new monthly peak.
When Network Growth coincides with an increase in Daily Active Addresses, it suggests that new participants are actively initiating transactions.
If the Sandbox ecosystem can sustain this spike in user engagement, it could evolve into a bullish price momentum in the coming weeks.
SAND Price Prediction: The Bulls are Eyeing $0.45
The on-chain indicators highlighted point towards a possible bullish reversal toward the $0.45 territory.
The Global In/Out of Money Around Price (GIOM) data, which depicts the entry price distribution of current SAND holders, also lends credence to this prediction.
It shows that if Sandbox can clear the initial resistance at $0.40, the heightened network traction could trigger a bounce toward $0.45.
As shown below, the 17,160 addresses bought 339.3 million SAND at an average price of $0.40. If they close their positions, they could impede bullish momentum.
But if the user engagement rate remains steady the next SAND bull rally could reclaim the $0.45 mark.

Sandbox (SAND) GIOM data. Source: IntoTheBlock
Conversely, the bears could invalidate the bullish narrative prediction if Sandbox's price wobbles below $0.25.
However, the chart depicts that 3,440 addresses had bought 793.4 million SAND at the maximum price of $0.29. If these address HODL, they will likely avert the bearish downswing.
But if the SAND loses that vital support level, it could trigger a prolonged downswing toward $0.20.