The cryptocurrency trader and analyst Altcoin Sherpa predicted in an X post earlier today that Terra Luna (LUNA) may recover back to above $100 in the coming few weeks. In the post, he stated that it is "time to make it all back in 1 trade," including a screenshot of the 3-day chart for LUNA/USDT.
Time to make it all back in 1 trade$LUNA pic.twitter.com/uBTAe48fz8

— Altcoin Sherpa (@AltcoinSherpa) September 28, 2023
Should this far-fetched bullish outlook ensue, it will constitute an increase of over 20,550% in the altcoin's value from its current price, which stood at $0.5171 at press time. According to CoinMarketCap data, the altcoin recorded a 19.97% uptick in price just over the past 24 hours alone.
Along with the surge in price, LUNA also recorded a substantial increase in its 24-hour trading volume. At press time, LUNA's trading volume was up more than 460% – propelling the total to around $316.4 million as a result.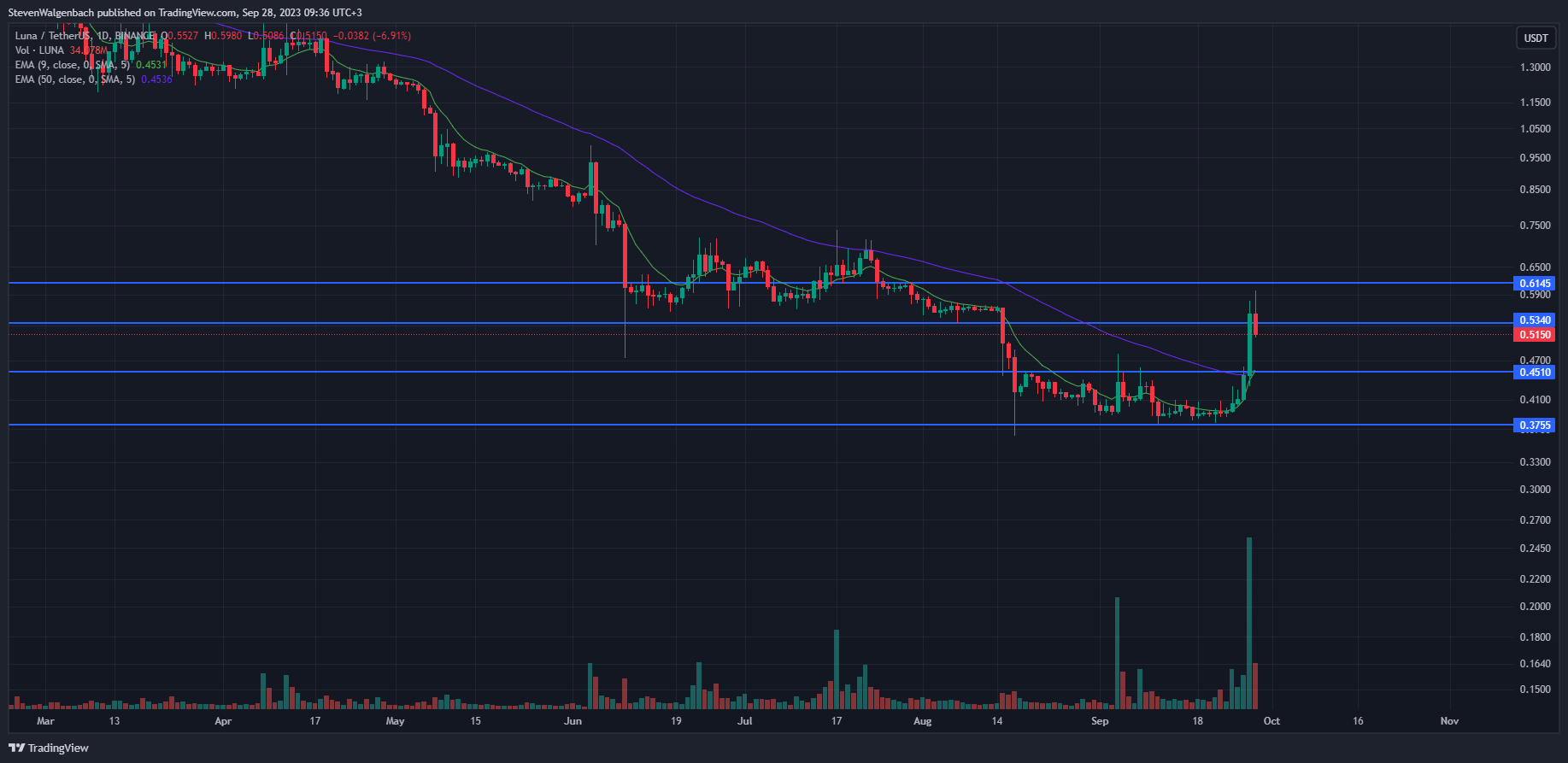 Daily chart for LUNA/USDT (Source: TradingView)
Looking at the daily chart for LUNA/USDT, the cryptocurrency's price had broken above the $0.5340 barrier earlier in today's trading session. Since then, however, it has retraced to trade back below this significant price point at press time.
If LUNA closes today's daily candle below this price point, then it may be at risk of pulling back to the immediate support level at $0.4510 in the following 24-48 hours. Thereafter, continued sell pressure could force LUNA's price below this point – potentially bringing it down to the critical mark at $0.3755.
A recently-triggered bullish technical flag may invalidate this bearish thesis. Over the past 48 hours, the 9-day EMA line crossed above the 50-day EMA line. This suggested that the previous 9 days were a more bullish period compared to the past 50 days, which may indicate that LUNA's momentum was undergoing a positive shift.
If this bullish momentum continues, then LUNA's price may flip the aforementioned $0.5340 resistance level into support. Subsequently, the cryptocurrency's price could climb to $0.6145 in the proceeding couple of days.
Disclaimer: The views and opinions, as well as all the information shared in this price analysis, are published in good faith. Readers must do their own research and due diligence. Any action taken by the reader is strictly at their own risk. Coin Edition and its affiliates will not be held liable for any direct or indirect damage or loss.