Prominent cryptocurrency analyst Benjamin Cowen has voiced a cautious perspective on the journey ahead for many altcoins. In a recent video shared with his vast YouTube audience of over 787K, Cowen alluded to an impending "altcoin reckoning." This downturn, he believed, might leave numerous digital assets in the dust, with scant chances of rebounding soon.
Cowen harbored a nuanced stance on the altcoin market's potential revival. He acknowledged the possibility of a market upswing, albeit without many current altcoins aboard. He suggested a few may touch new peaks, yet a significant chunk may plummet or stagnate.
Moreover, he envisioned a scenario where the altcoin market might linger around the $323.5 billion mark before dipping to near $290 billion, proceeding into a harsher "depression phase" that could remain until 2024.
Additionally, Cowen delved into the Federal Reserve's monetary policies' role in sculpting the altcoin market's fate. He predicted a potential "renaissance" for altcoins, albeit after a shift in these monetary stances. However, even if such policy alterations occur this year, Cowen remains skeptical about a swift market recovery.
The ETH/BTC Pair and a Broader Market Shuffle
In a dialog with Crypto Banter's Ran Neuner last month, Cowen propounded a bearish outlook for the ETH/BTC trading pair. Stemming from his analysis of a bearish double-top formation on its monthly chart, he expects a sharp descent, potentially to a low of 0.03 BTC, or around $871. Historical data supports this prognosis, as the ETH/BTC pair has often seen a dip from June to December.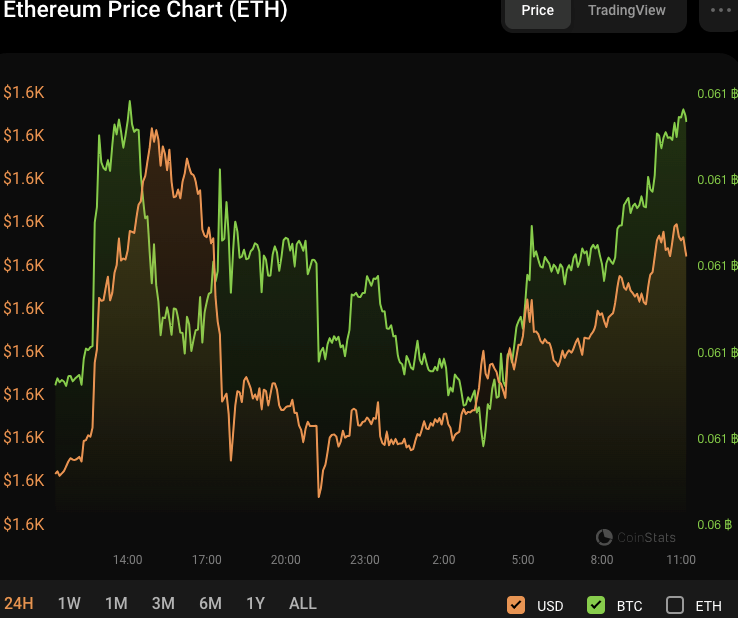 ETH/BTC 24-hour price chart (source: CoinStats)
Besides, Cowen hints at a stock market pullback being a potential catalyst for this downturn. A reminiscent scenario unfolded in late 2017 and 2018, marking an end to many altcoins' decline. A parallel sequence may be brewing, with a possible further dip to 0.049 BTC. Consequently, even this low might not signify the downturn's end, suggesting a bleak near future for many altcoins.
Furthermore, Cowen casts a wary eye on Bitcoin's future, hinting at a possible descent to $23,000. His analysis, entrenched in historical patterns, sheds light on Bitcoin's tepid performance leading up to halving events, symbolic of broader market turbulence. However, contrasting views from Fundstrat and Standard Chartered paint a more optimistic picture, forecasting a stark surge for Bitcoin before its next halving in April 2024.
In conclusion, the crypto realm navigates through a sea of uncertainties, especially within the altcoin ambit. The juxtaposition of Cowen's conservative forecast against other bullish anticipations underscores the multifaceted views regarding Bitcoin and altcoins' trajectory. As the clock ticks, only time will delineate which narrative holds water in the unpredictable cryptocurrency market landscape.
Disclaimer: The views, opinions, and information shared in this price prediction are published in good faith. Readers must do their research and due diligence. Any action taken by the reader is strictly at their own risk. Coin Edition and its affiliates will not be liable for direct or indirect damage or loss.