The dynamic volatility embodied by the digital currency ecosystem is currently at play, with momentary price growth from some of the top players in the digital currency ecosystem. With a specific focus on XRP, the coin is poised to be one of the top beneficiaries of the current market moves as more funds are beginning to make their way into its ecosystem, as marked by its trading volume outlook, according to data from CoinMarketCap.
At the time of writing, XRP is changing hands at a price of $0.505 after surging as high as 4% in the past 24 hours. The growth of XRP, though resilient at this time, has also been monetary in that it has been haphazard, as shown in its daily chart, below.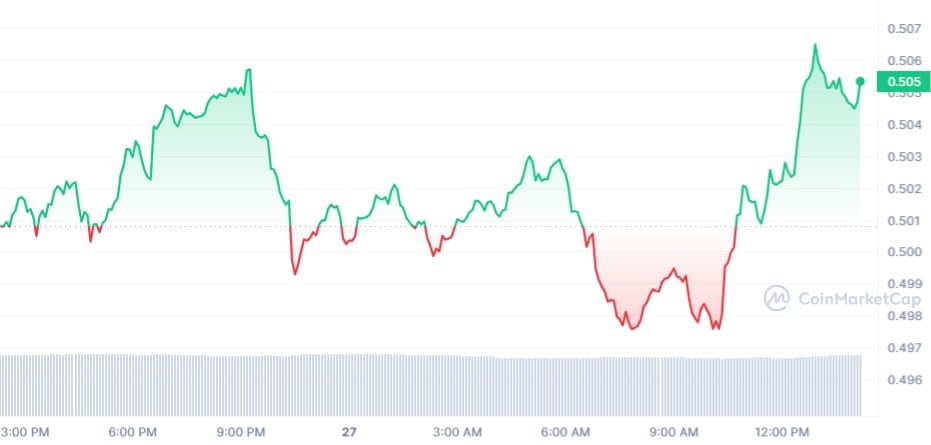 The charm of the XRP coin lies in its sudden accumulation, which has seen the protocol's trading volume, as measured by CoinMarketCap, jump 8% with more than $771 million traded on spot exchanges. Should the ongoing accumulation be sustained, it can notably help trigger a massive run in the price of XRP, drawing on its ready and enthusiastic community.
Favorable fundamentals abound
While such monetary growth as the market is experiencing at this time can often be unreliable in determining both the long- and short-term performances of a coin, XRP boasts a number of positive fundamentals that are likely to help it stay resilient in its bid to close the week positively.
One of these fundamentals is positive updates on XRPL, and its associated smart contract network is designed to help usher in useful applications that can be adopted in the real world. XRPL promises also align with the confidence within the XRP ecosystem regarding the ongoing Ripple v. SEC lawsuit that has seen Judge Analisa Torres leaning in favor of the coin.