In a surprising turn of events, Shiba Inu (SHIB) is witnessing a surge in large transactions. On Sept. 22, the total volume of these hefty trades reached a staggering $38 million. This is not a one-off event; a similar surge was observed on Sept. 11, with the volume of large transactions hitting the same $38 million mark. Today, the number of such transactions even surpassed the seven-day average, clocking in at 39.
Pricewise, Shiba Inu is currently trading at $0.00000724, according to the latest data. While the price might seem minuscule, the uptick in large transactions indicates that something is brewing in the Shiba Inu ecosystem.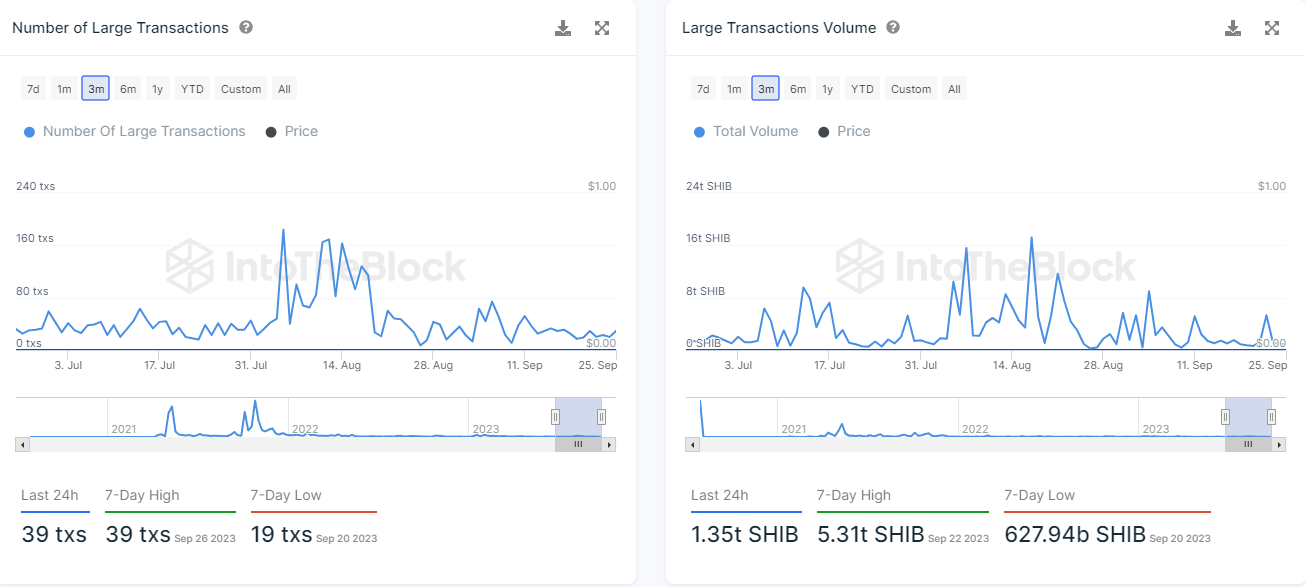 What does this mean for the average investor or trader? Large transactions, often referred to as "whale activity," can significantly impact the price and volatility of an asset. Whales are typically large holders who can buy or sell large quantities of assets at will, essentially setting market trends. The recent surge in large transactions could mean potential price volatility or even a new direction for Shiba Inu's price.
Unfortunately, the rising activity of whales did not bring any positivity to the Shiba Inu market. The most recent price performance hints at the potential acceleration of the downtrend of SHIB, as the token fell below the local trendline support level, which paves the way toward the new local low for Shiba Inu at around $0.000007.
However, it is crucial to approach this information with caution. While large transactions can indicate a bullish or bearish trend, they are not a guaranteed predictor of future price movements. Always do your own research and consider multiple factors before making any investment decisions.