On September 27, it was revealed on X (formerly Twitter) that Bone ShibaSwap (BONE) had been renounced. Following the announcement, the price of the governance token ended up surging as a result, reaching a high price of $0.9264 over the past 24 hours of trading.
The deed is done, $BONE is now renounced via the TopDog contracthttps://t.co/ct3QFQMlhV

We will continue to build decentralized, permissionless systems for the benefit of the community.

— Kaal (@kaaldhairya) September 26, 2023
When a smart contract is renounced, it signifies that the original creator of the contract is relinquishing control over it. This action could provide investors with a sense of reassurance because it means the contract cannot be altered or modified anymore, safeguarding it from potential manipulation by the contract's creator.
This seems to be the case with BONE currently, as trader confidence probably received a boost when developers confirmed that the deployer contract for BONE tokens had been completely renounced. Data from CoinMarketCap indicated that BONE saw its price rise by 5.78% over the past day.
As a result, BONE was worth about $0.9007 at press time. The 24-hour trading volume for BONE reached $8,257,691, marking a significant surge of over 56% compared to the previous day.
Meanwhile, BONE's latest price success also propelled its weekly performance into positive territory, with a gain of over 10% over the past 7 days. Furthermore, the meme coin's market capitalization of $207,143,149 positioned it as the 134th largest cryptocurrency in terms of market cap.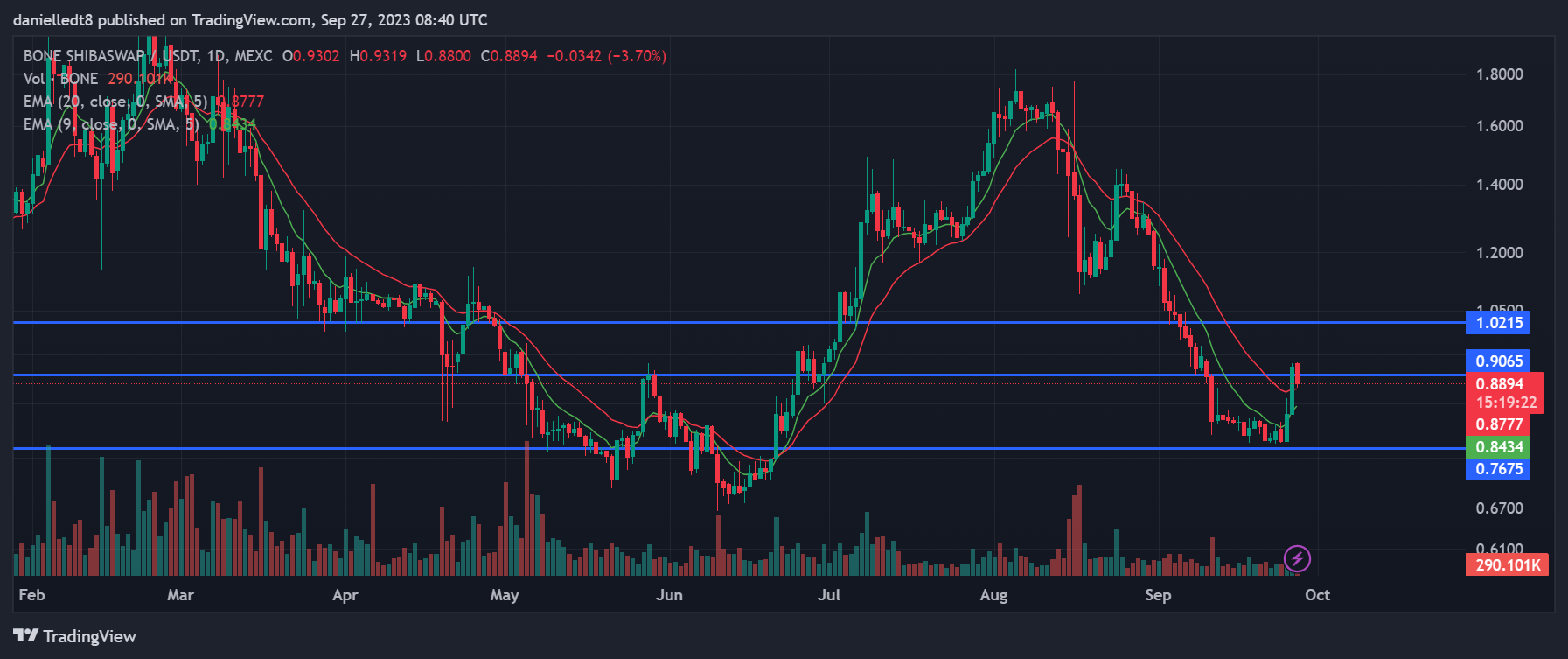 Daily chart for BONE/USDT (Source: TradingView)
From a technical perspective, the positive development enabled BONE's price to briefly break above the $0.9065 resistance level during the past trading day. Since then, however, it has pulled back to trade below this significant benchmark at press time.
Nonetheless, BONE still had the support of both the 9-day and 20-day EMA lines. Subsequently, the altcoin may have the foundation needed to close a daily candle above the $0.9065 price point within the coming couple of days. This may be followed by BONE continuing to climb to $1.0215 within the following week if the buy support persists.
On the other hand, BONE failing to close a daily candle above $0.9065 or breaking below the 20-day EMA line at around $0.8777 through the course of the next 48 hours could invalidate the bullish thesis. Consequently, BONE may drop to the key support level of $0.7675.
Disclaimer: The views and opinions, as well as all the information shared in this price analysis, are published in good faith. Readers must do their own research and due diligence. Any action taken by the reader is strictly at their own risk. Coin Edition and its affiliates will not be held liable for any direct or indirect damage or loss.