The bears are gaining strength for both crypto and stock markets, as the major US indexes now confirming downtrends. Furthermore, October is usually a red month for markets, so there may be more pains before gains.
US stock markets have been in decline for the past two months, and the move is likely to continue into October.
Will Crypto Markets Follow?
The Nasdaq has fallen below its previous low in August, forming a new lower low this week. The downtrend, which has been confirmed according to crypto analyst "Cold Blooded Shiller," began in mid-July.
Since then, the tech-heavy Nasdaq Composite Index has dropped 9% to 13,063, where it settled at the close of trading on September 26.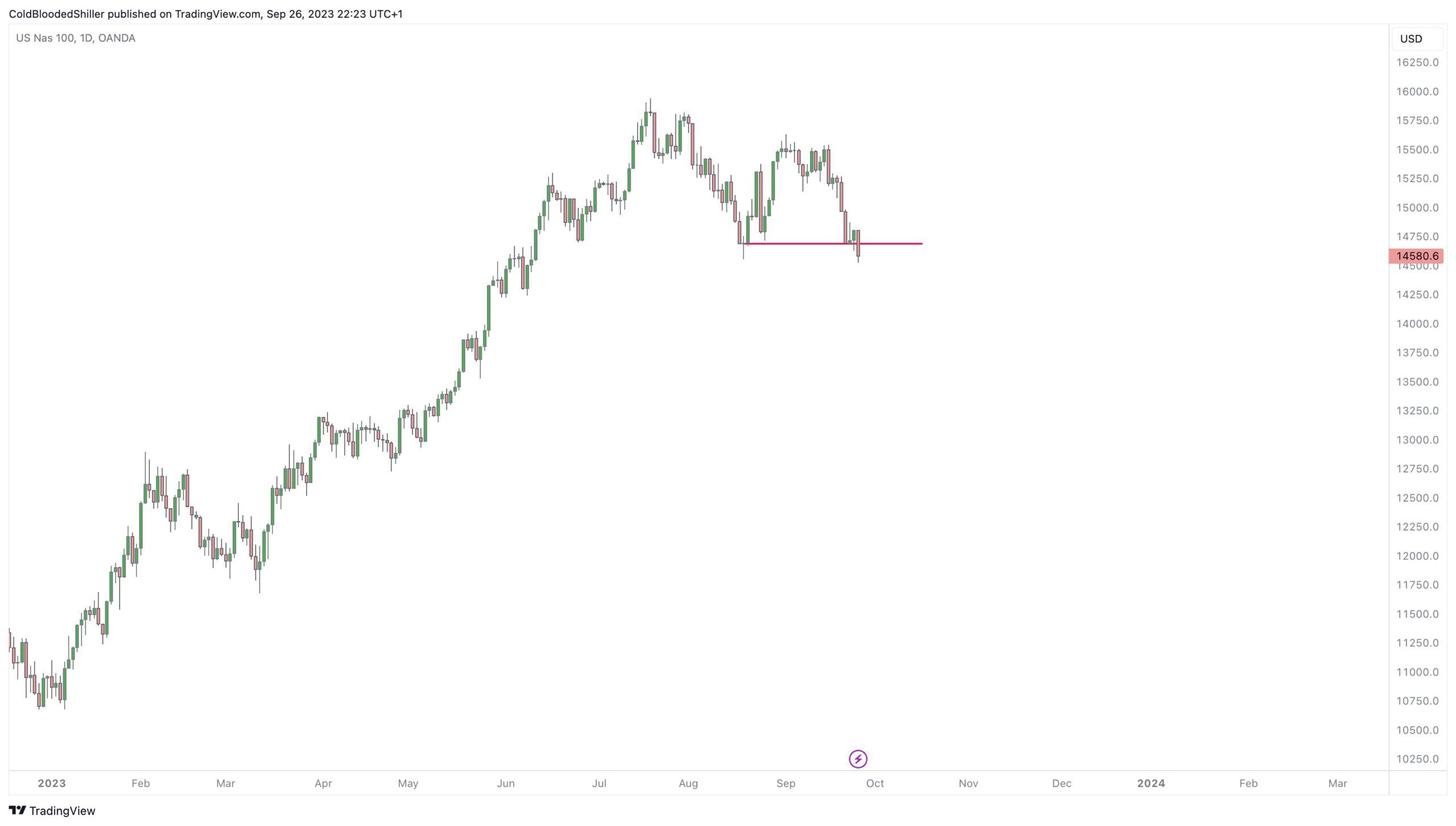 Nasdaq 2023 performance. Source: X/@ColdBloodShill
Additionally, the Dow Jones Industrial Average has fallen by 5.6% since the beginning of August.
Furthermore, the broader S&P 500 Index has mirrored the moves. It has fallen almost 7% since the downtrend began at the beginning of July to 4,273 after the bell on Tuesday.
Moreover, the S&P 500 is now down 340 points since the Fed removed "recession" from their forecast, according to the Kobeissi Letter.
It added that the Fed marked the exact high in the S&P 500, which just hit its lowest level since June:
"Since then, rate cut expectations were pushed out by a year and corporate bankruptcies hit their highest levels since the pandemic."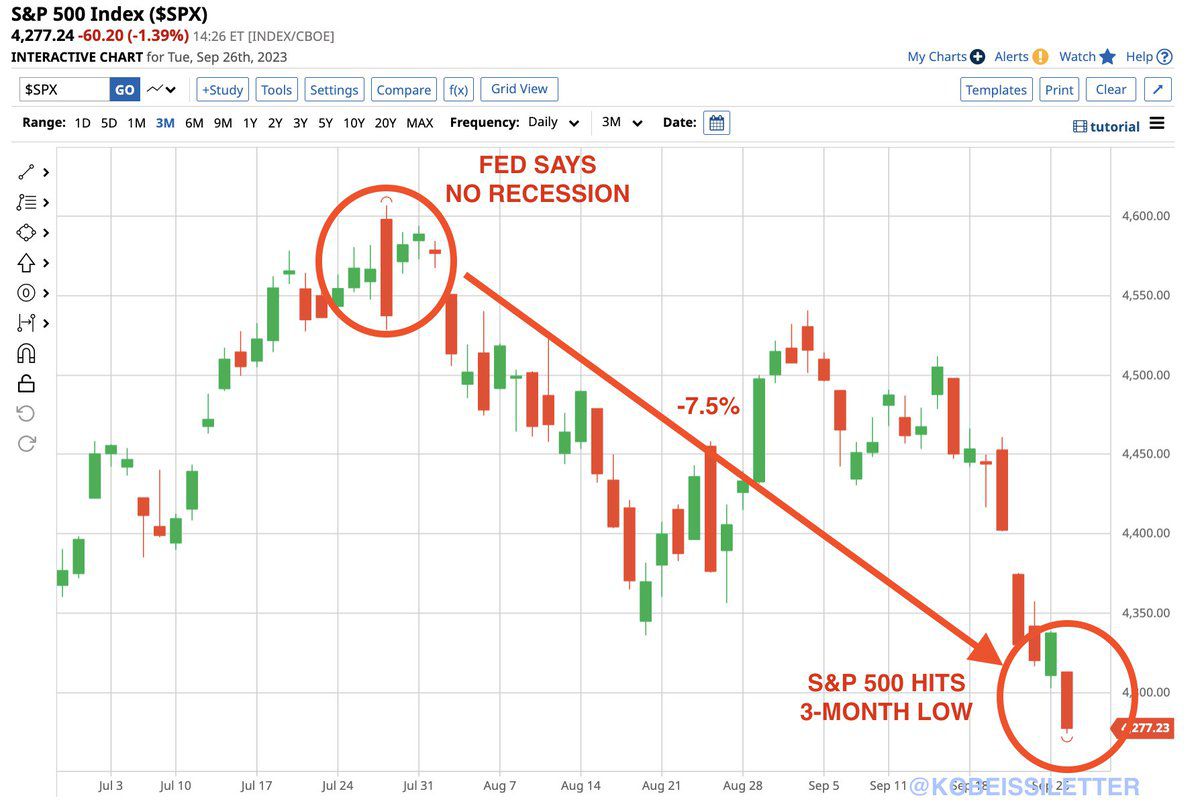 S&P 500 3 months. Source: X/@KobeissiLetter
A number of high-profile banks aped the Fed in dropping their recession predictions, yet the markets appear to be defiant.
Crypto markets have been slightly correlated with tech stocks this year but have remained in consolidation for most of it.
Following an initial spurt of growth in the first quarter, crypto markets have been flat since mid-March. Moreover, they have dropped 19% since their 2023 high in mid-April, also exhibiting a downtrend.
Read more: Top 19 Crypto Launchpads To Jump on Right Now
A Red October?
October is historically the most volatile month of the year for US and global markets. With a downtrend already confirmed, things will likely slide deeper into the red next month, including crypto.
October's record of market crashes makes it the most feared month on the financial calendar. The Bank Panic of 1907, the Stock Market Crash of 1929, and Black Monday 1987 all happened during the month of October.
In the 2022 bear market, crypto markets were flat for most of October, gaining marginally towards the end of the month. The bull market of 2021 saw large gains for crypto in October, but 2020 was similar to 2022.
2019 saw a brief pump at the end of October, but all gains were lost the following month. The bear market of 2018 was another flat October.
If history rhymes, crypto markets will remain flat next month, but be aware that November is usually much more volatile for this asset class.