With the crypto ecosystem experiencing very pronounced volatility today, many altcoins are gradually losing their gains, with a handful of others maintaining consolidation. XRP is one of the coins in the consolidation lane, with data from CoinMarketCap showing it is changing hands at a price of $0.5009, up by 1.33% at the time of writing.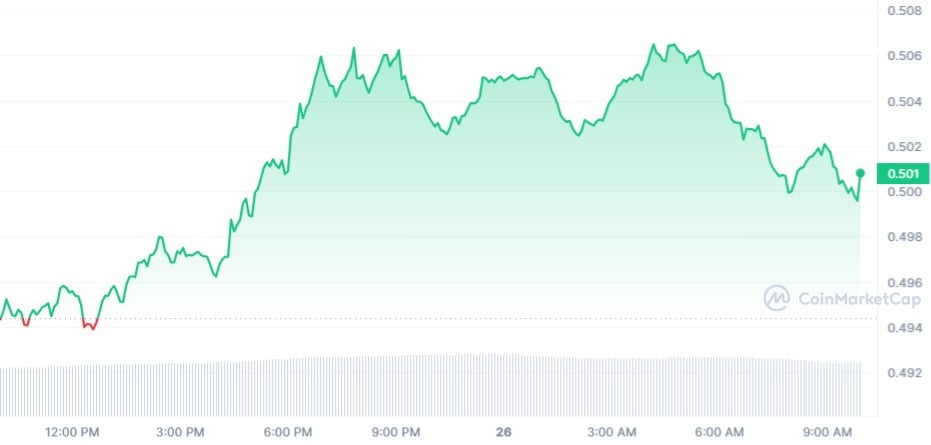 The growth of XRP from the lows it started at this week has been fueled exclusively by the sudden bullish trigger in its trading volume.
According to current data, $767,660,053 XRP coins have been traded overnight, representing a 10.27% growth rate. This massive accumulation is a clear sign of huge demand for XRP on spot exchanges, on XRPL and among institutional investors across the board.
The end goal for this massive trigger is to help boost the resilience in the price of XRP, which remains one of the most-watched coins after the duo of Bitcoin (BTC) and Ethereum (ETH). Over the trailing week, XRP has been able to solidify its stance and pared off its losses across the board.
XRP sustaining bullish fundamentals
Consistent documentation reveals that XRP is maintaining healthy fundamentals within its ecosystem, ranging from its growing utility on XRPL to active usage as marked by large transfers on exchanges.
As reported earlier by U.Today, there was a massive movement of XRP that sparked controversy earlier this week. While critics attempted to focus on XRP, the fact that Bitcoin and Ethereum were also featured in the transfers somehow doused tensions that some sinister agenda might be at play by some whales.
Overall, XRP occupies a very promising position on the XRPL and in the broader evolution of the digital currency ecosystem, specifically, the decentralized finance (DeFi) and payment ecosystem.