The price of Cardano (ADA) has increased since completing a bullish pattern on Sept. 11. It broke out from a diagonal resistance line two days later.
While the ADA price is likely to increase against the dollar, the ADA trend against Bitcoin (BTC) remains firmly bearish.
Cardano Price Bounces After Double Bottom Pattern
The daily timeframe technical analysis shows that ADA has broken out from a descending resistance line which has been in place since July 14.
While following the line, Cardano fell to a low of $0.24 on Aug. 17. After returning to the same level on Sept. 11, the price bounced, effectively creating a double bottom. The double bottom is considered a bullish pattern, meaning that it leads to upward movements most of the time.
Crypto investing, simplified. Get ADA price predictions here.
The pattern gains even more significance because of the RSI readings. When evaluating market conditions, traders use the RSI as a momentum indicator to determine if a market is overbought or oversold, and to decide whether to accumulate or sell an asset.
If the RSI reading is above 50 and the trend is upward, bulls still have an advantage, but if the reading is below 50, the opposite is true.
The indicator is increasing and has nearly moved above 50. Furthermore, it has generated a significant amount of bullish divergence (green line). This is an occurrence where a price decrease is accompanied by a momentum increase. It often coincides with local bottoms and precedes upward movements.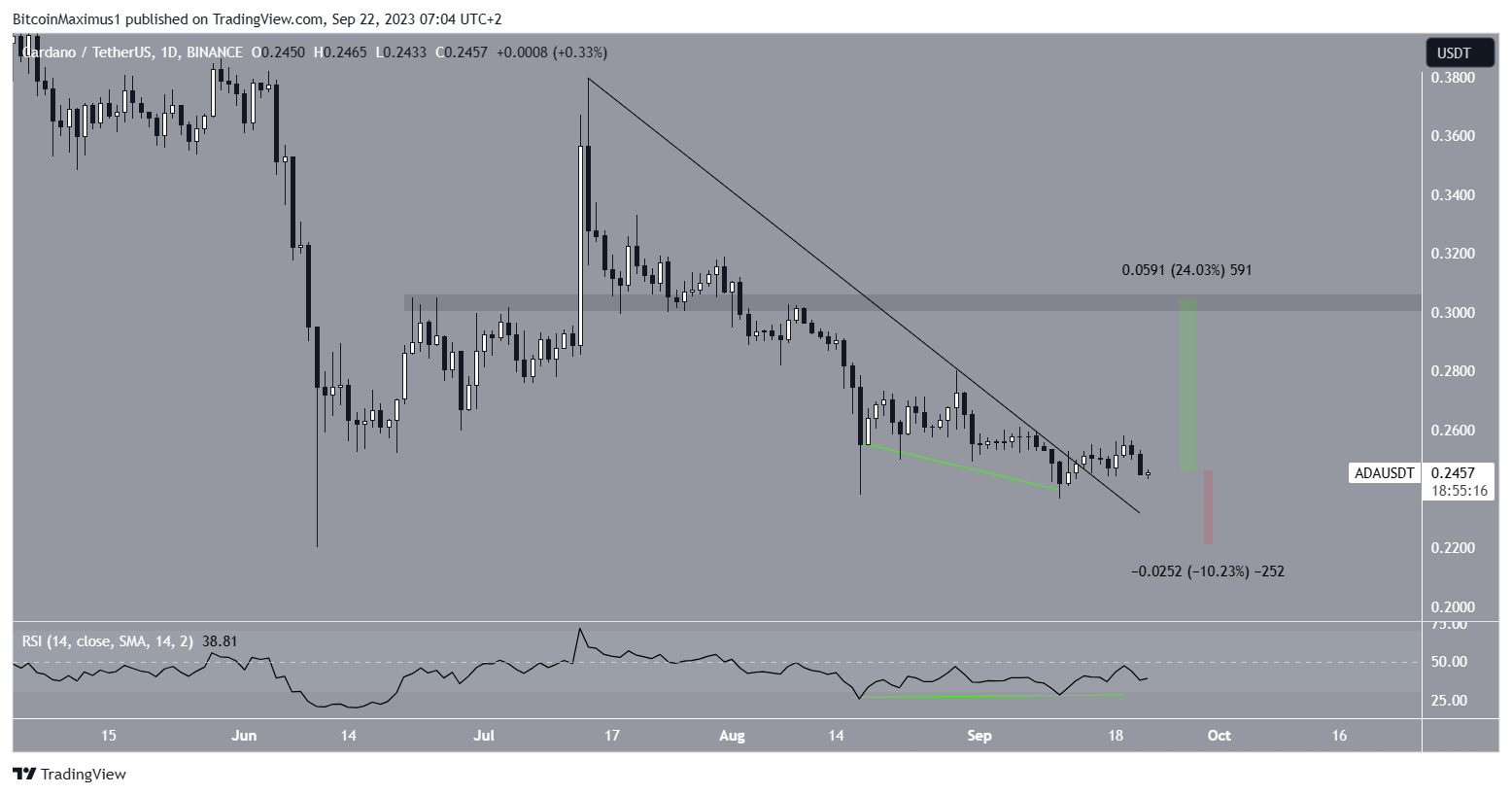 ADA/USDT Daily Chart. Source: TradingView
The cryptocurrency has increased since the second bottom and has seemingly broken out from the aforementioned descending resistance line. If the increase continues, the next closest resistance will be at $0.30, nearly 25% above the current price.
On the other hand, if the upward movement fails to commence, ADA can fall by 10% towards its yearly lows at $0.22.
ADA Price Struggles Against Bitcoin
While the ADA/USD chart offers a bullish ADA price prediction, the price is still struggling against BTC. This is especially evident when looking at the price action, which shows a descending triangle. The descending triangle is considered a bearish pattern, meaning that it leads to breakdowns most of the time.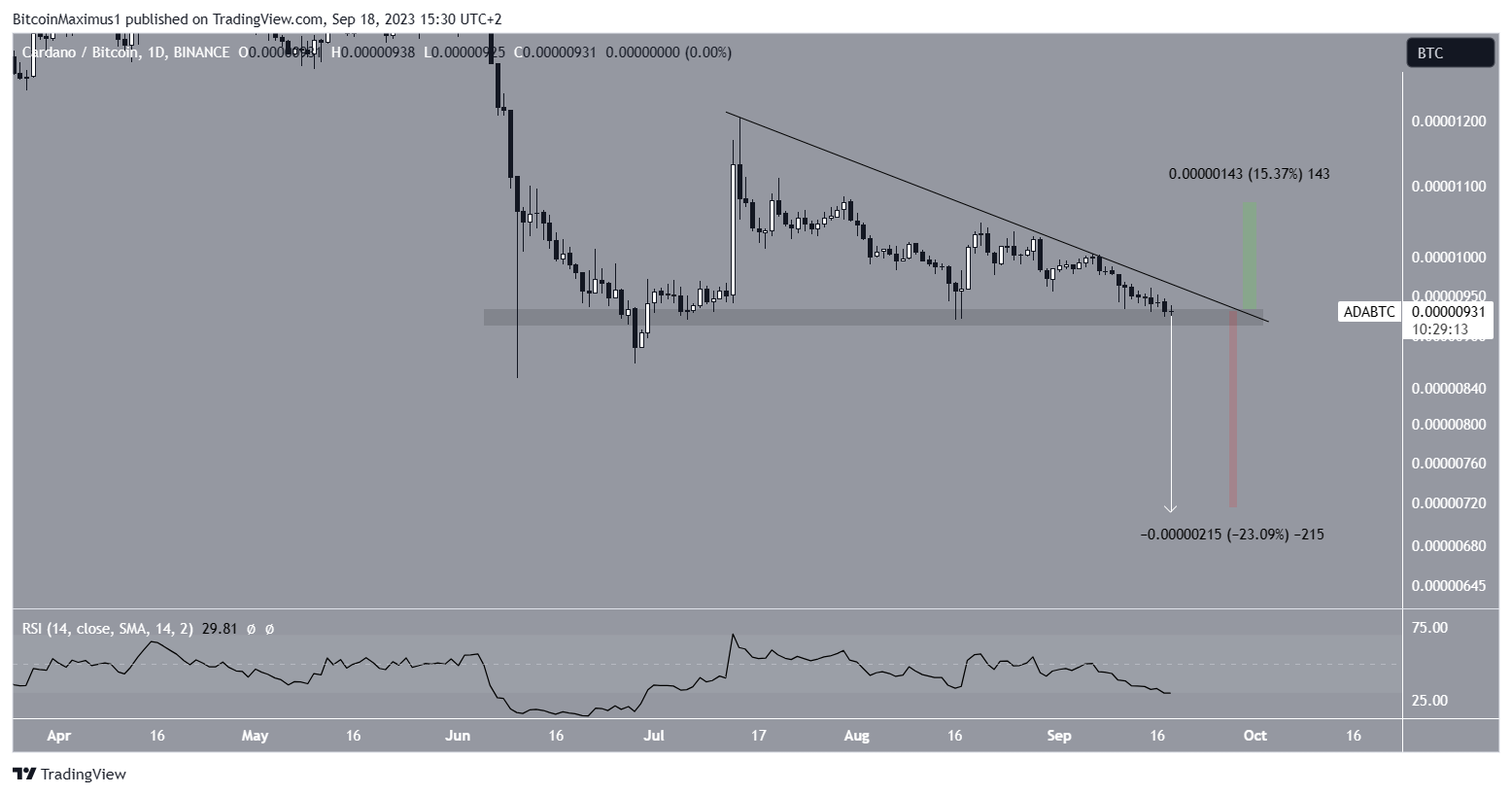 ADA/BTC Daily Chart. Source: TradingView
Moreover, the daily RSI is bearish. The indicator is below 50 and falling, both considered signs of a bearish trend.
A breakdown that travels the entire height of the triangle (white) will take the price to 700 satoshis, a decrease of 23%. On the other hand, a breakout can lead to a 15% increase to the next resistance at 1100 satoshis. Currently, this seems unlikely.
To conclude, the ADA price prediction is bullish against USD but bearish against BTC. A 25% increase is likely in the former while a 23% drop is expected in the latter.
For BeInCrypto's latest crypto market analysis, click here.