Back to the list
Is MINA a good buy in November 2021?
invezz.com
27 October 2021 21:27, UTC
Reading time: ~3 m
---
MINA/USD has weakened from the recent highs above $6, registered on 14th September, below $4, and the current price stands at $4.5.
World's lightest blockchain
Mina is the world's lightest blockchain, powered by participants, and it is important to say that anyone can connect peer-to-peer and quickly sync and verify the chain.
Mina connects crypto to the real world and makes large computations efficient and cost-effective. Developers can leverage information in computing to change real-world problems without compromising the privacy of users' sensitive data.
Many blockchain protocols are heavy; they require intermediaries to run nodes, while the entire Mina blockchain is about 22kb1, the size of a couple of tweets. Mina is truly decentralized, so anyone who's syncing the chain is also validating transactions like a full node and can take part in proof-of-stake consensus.
Participants can also access strong censorship resistance and secure the blockchain, which will stay accessible even as it scales. Mina dedicates lots of effort to provide the simplest possible experience for clients who may have no familiarity with cryptos, while the native token of this blockchain is the MINA token.
Mina has one of the largest and most active communities of any project launched in the last two years, and it is continuously working on new features, which are very important for the ecosystem. The team of Mina added:
The Mina community is filled with talented individuals and teams continuously working to grow the protocol and community. Mina will be awarding new grants to those whose contributions were critical to Mina's growth and made an impact on the greater community in the last few months.
Despite this, there is a level of uncertainty surrounding this project; Mina is still under active development, APIs are still evolving, and its success mainly depends on its strategy to expand its market influence.
Technically looking, MINA remains under pressure, and if you decide to buy this cryptocurrency in November 2021, you should use a "stop-loss" order because the risk remains high.
Current support stands at $4
The cryptocurrency market is losing its value this Wednesday; Bitcoin's price went below $60000, and the price of MINA can weaken from the current price levels if the negative trend continues.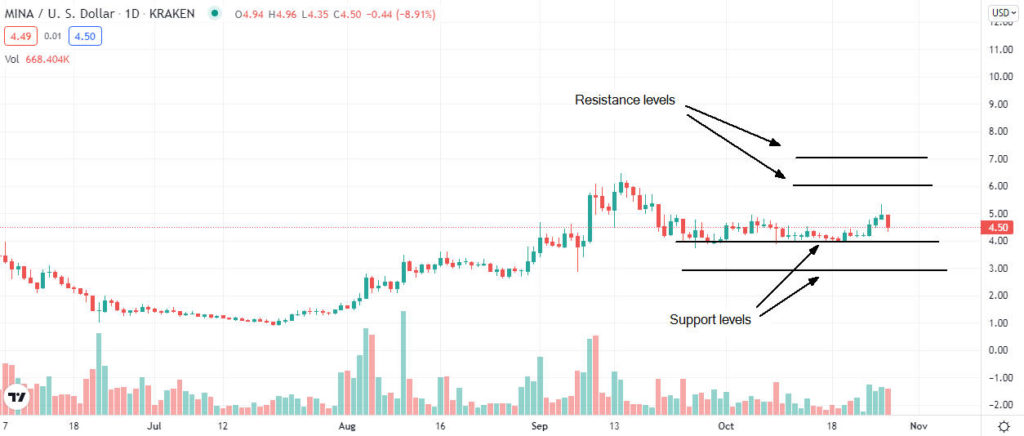 MINA is currently trading very close to the current support level at $4, and if the price breaks it, the next target could be at $3.5.
On the other side, if the price jumps above $6 resistance, the next target could be around $7, but traders should use "stop-loss" and "take profit" orders when opening their positions because the risk remains high.
Summary
Mina is the world's lightest blockchain for programmable payments, apps, permissionless privacy, and more, governed by its participants and secured cryptographically. MINA is currently trading above the current support level that stands at $4 but technically looking, it still remains under pressure.
---
Source
---
Back to the list