Back to the list
CRV Technical Analysis: Mystery, Prospects and the Target of $8
cryptoknowmics.com
14 October 2021 12:39, UTC
Reading time: ~3 m
---
Prolonged consolidation of the CRV price on a weekly timeframe adds some intrigue to market participants. The most interesting thing is that the probability of continuing such a global consolidation until the end of the year is as high as possible. Such accumulation of positions can give CRV investors a powerful growth impulse with the first global target of $5.4. However, the main prospect of continued growth is in the range of $8. Depending on how strong the BTC price correction will be, the overall form of CRV market consolidation may look different. In the case of a deep Bitcoin correction, there is a 30% chance of the CRV price fall and a $2 test. In this case, sellers will test the bottom trend line of the global triangle, which buyers have been keeping since December 2020.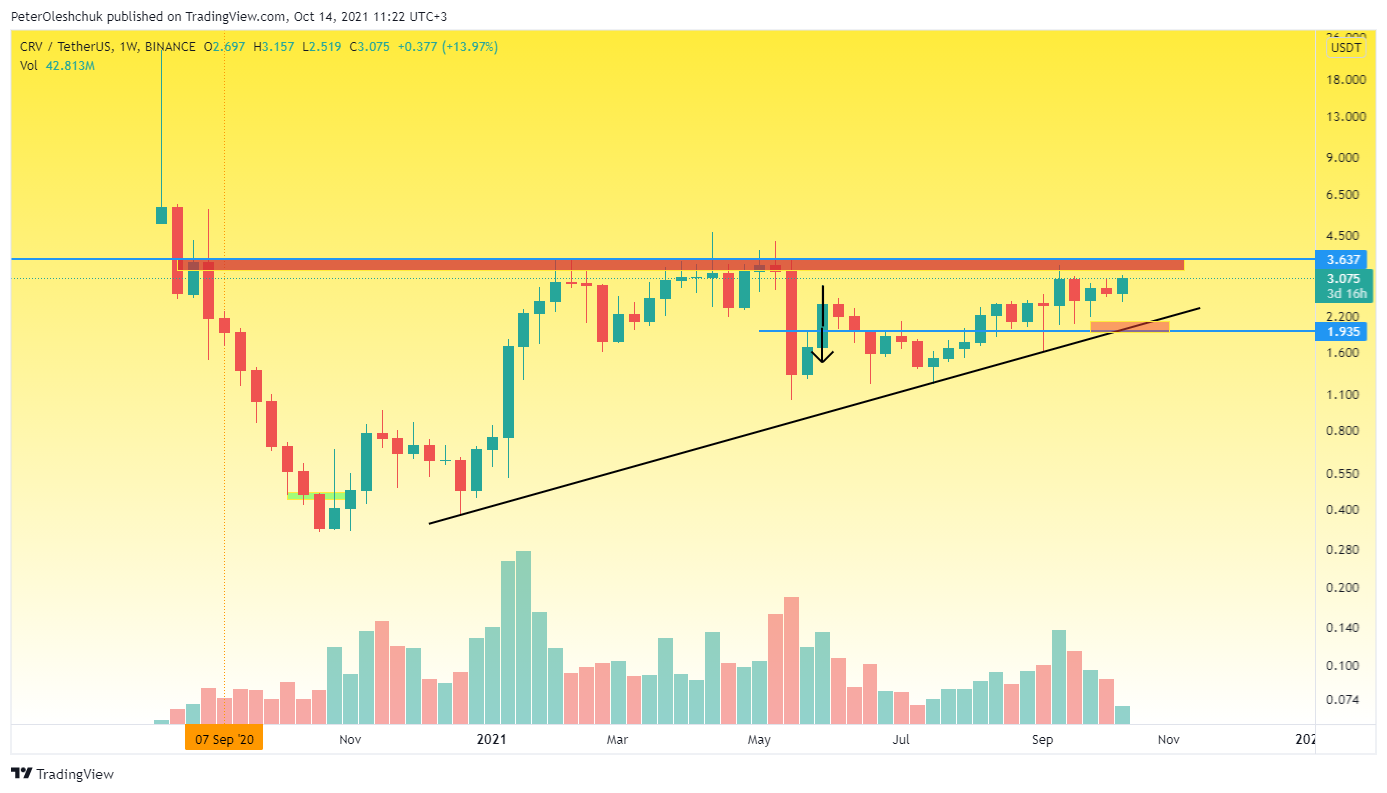 https://www.tradingview.com/x/dkEjeDt7/
If you analyze all the meetings of the CRV price with this trend line, you can see how aggressively the price bounced. Therefore, long-term investment in the CRV market to buy cryptocurrency is just around $2. But, a slight correction of the Bitcoin market will allow the CRV price to fall only to $2.46. It is from this point that a new growth wave can begin in the event of a positive scenario in the CRV market.
Technical Analysis of CRV on the Daily Timeframe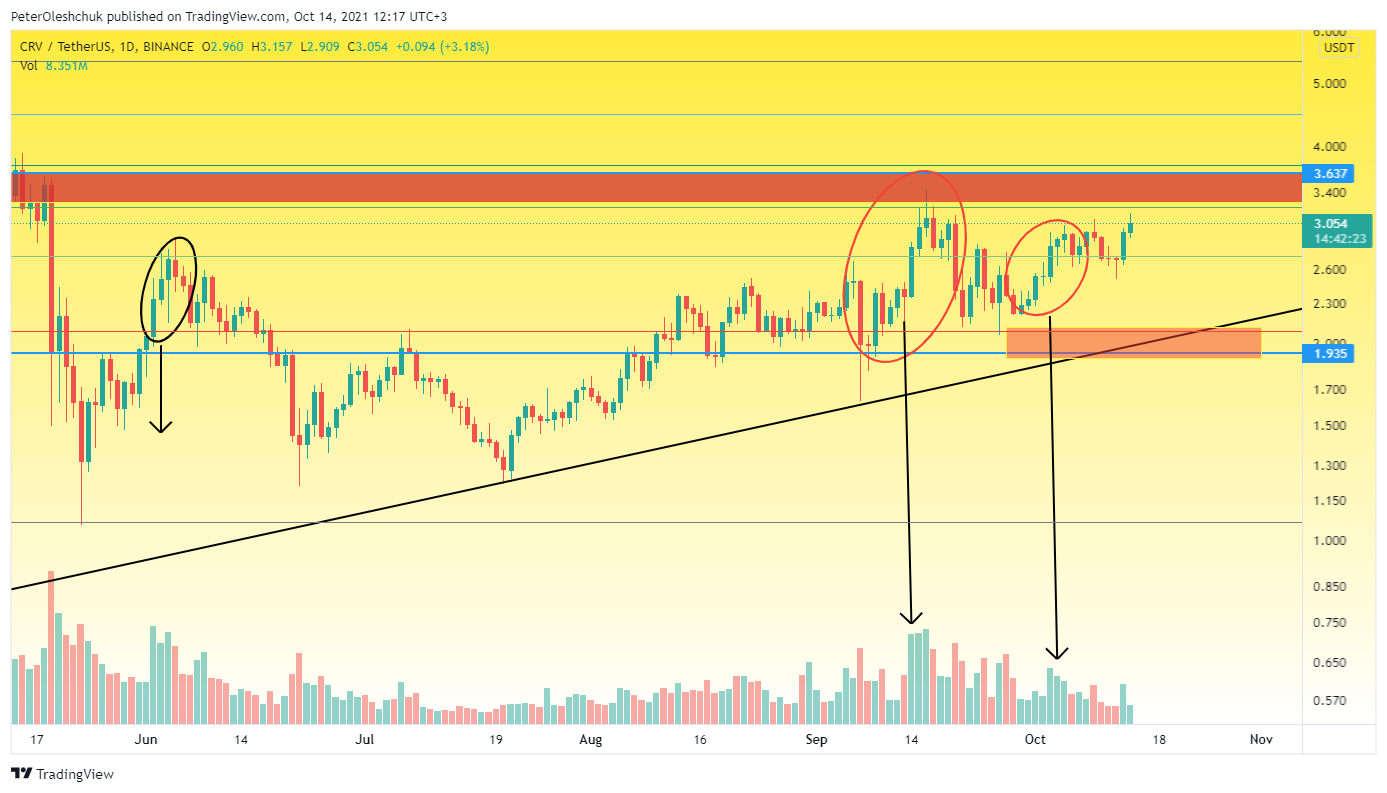 https://www.tradingview.com/x/rdrYUsu1/
Analyzing the dynamics of the CRV price movement on the daily timeframe, we noticed a decrease in investors' interest in cryptocurrency. If in the period from 10 to 16 September, trading volumes when buyers tried to take the range of $3.3-$3.6 were relatively high, now the price increase is happening by inertia. And the nature of price growth has become more sluggish and resembles the last convulsions before the local fall wave. The local critical point after which the initiative will pass to the sellers is the mark of $2.7. Taking control of this mark, sellers will start putting pressure on the price with the first target of $2.46.
The CRVBTC Price Completes the Fall Wave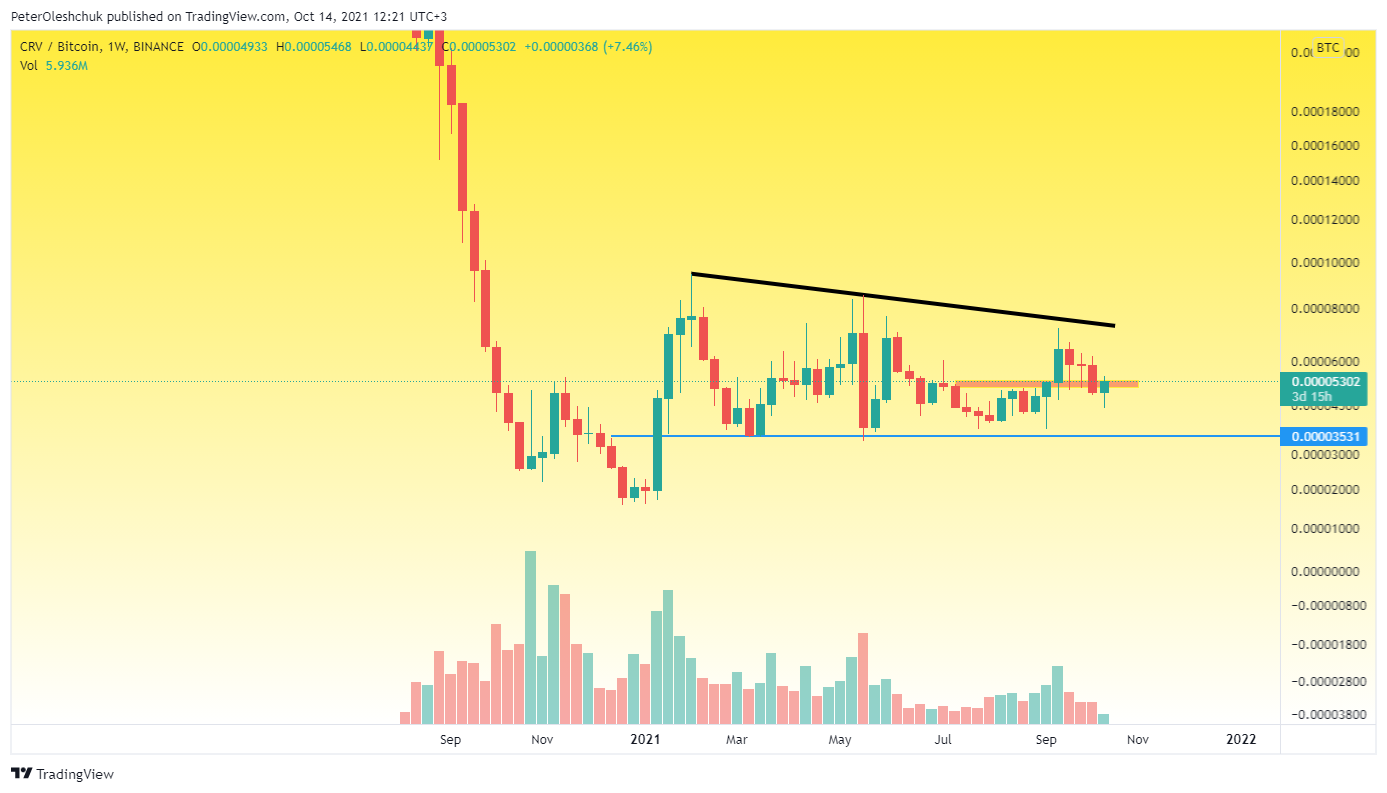 https://www.tradingview.com/x/2cj3G5tR/
Starting from 13 September, sellers in the CRVBTC market organized a local fall wave as part of global consolidation. This event takes place at low volumes and indicates the frivolity of sellers' plans to update the lows. A critical point for buyers and a great place to buy CRV is at 0.00000353. CRVBTC has already jumped twice from this price mark. In the case of successful retention of this mark, the next growth wave is likely to break consolidation up and test the mark of 0.00011. Let's see how quickly buyers will be able to implement this scenario.
---
Source
---
Back to the list