Back to the list
Crypto Weekly Roundup: Looming Altcoin Season To Save Solana From More Blood?
cryptodaily.co.uk
12 October 2021 00:31, UTC
Reading time: ~4 m
---
SOLANA ON A BRINK OF A DEEPER CORRECTION?

Over the last seven days the Solana Network's native token SOL (SOL/USD) has decreased in value by whooping 16.7% and it was worryingly one of the poorest weekly results out of all the top 100 cryptocurrencies during this period. According to coinmarketcap.com only Tezos (XTZ/USD), Avalanche (AVAX/USD), Cosmos (ATOM/USD) and OMG Network (OMG/USD) posted greater weekly losses (-19.9%, -20.3%, -18.1% and -17.3% respectively). While the Fear & Greed Index in crypto has been slowly switching from Neutral (54/100 at the beginning of last week) to Greed (71/100 as of today) indicating an improvement in the level of confidence in the market direction, the same cannot be said about mood within the Solana's community. Scanning through comments in a few SOL-related facebook groups and on Twitter tells us that there has been lots of disappointment, regret and even anger and generally those online communities are not happy places right now, a complete 180 degree change from the way they were only like 5-6 weeks ago when the coin was on a tear and breaking its ATH every 3-4 days like a crypto champ.

So what was the reason behind this mediocre performance in terms of price action lately? Were there any bad news, failures, hiccups or anything that could explain the situation where BTC (BTC/USD) was doing great and most alts were having a decent week, but not Solana? The only appropriate response to this has got to be: no, actually we did receive some amazing news and updates regarding the Solana Network this month alone:
Paysafe added SOL to a list of crypto assets available to account holders. You can not buy into it on Paysafe's two vastly popular payment platforms – Skrill & Neteller (more details here).
- in a tweet from 1st Oct Solana team announced that the total value of NFTs stored on the blockchain hit a cool $1 Billion.
- Sol. Network has been improving their interoperability with other blockchains, the latest addition being the SOL-ETH bridge. This opens up a host of possibilities to transfer value and projects from other ecosystems into Solana's one.
- Greyscale investment in Solana was just announced recently and that will inevitably become a long-term catalyst for the price to keep appreciating over time.
- SOL remains the market leader in terms of percentage of all circulating supply staked (77%). This eventually should become the greatest factor for the supply/demand ratio. Long-term rocket fuel if you will.


TECHNICAL ANALYSIS

We can see above that fundamentally SOL (SOL/USD) remains an exceptionally strong crypto that's constantly developing and invariably attracting an increasing amount of institutional interest. Let's move on to the charts to find out whether we can get any positives on that front as well. Solana is currently trading at $142 having lost two of three all-important moving averages over the recent week. The only meaningful pattern worth drawing for the time being seems to be a symmetrical triangle (with multiple touches especially on the lower trendline of it – figure in thick orange), that SOL is attempting to break to the downside as I'm writing these words. By the time you read this piece, the decisive movement might already have materialized. Right now Solana is looking on the brink of losing support of the last moving average in my chart, the EMA 200.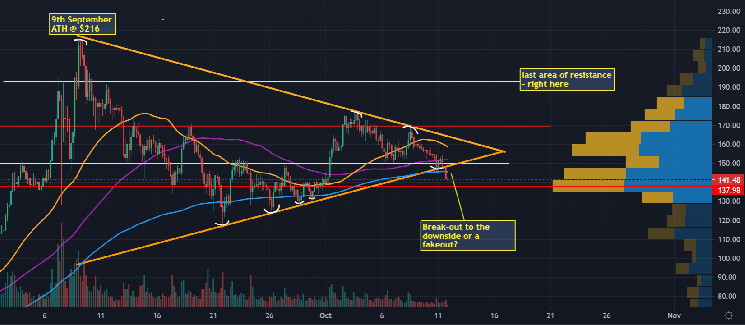 If we do end up getting a confirmation of that loss, a bigger retracement would be the most likely scenario in my humble opinion. If it turns out to be a fake-out and SOL bounces off the 200 EMA, the coin will still have to deal with the 100 MA and eventually the 50 MA - if we are to have another shot at breaking out of the triangle to the upside. A potential move like this from there should take Solana's value all the way up to the $169-170 mark (thin red line). The volume of resistance is likely to decrease the higher the price climbs and ultimately once we break above the $192-194 area – the exciting price discovery phase with a new ATH extremely probable (current ATH at $216 since 9th Oct). Although, Solana has just had a bearish cross on MACD, not a good sign whatsoever. TA is looking pretty grim and that's just the way things are in this moment.

FINALE

To sum it all up: SOL is still fundamentally a great project with outstanding technology and a top team behind it. Although the present sentiment for the blockchain seems to be all doom & gloom over the recent week, this is predominantly caused by ''sour grapes'' on social media from people who have bought in the asset due to FOMO (fear of missing out) last month during Solana's explosive growth of value and they have been the most vocal about their negative feelings but truth be told, they only have themselves to blame for investing when no investment should be made. Let this be a valuable lesson. Never FOMO IN. As for the coin itself – it persists in my mind as one of the best long term holds and I will be looking to finally get my hands on some if a deeper correction takes place.
---
Source
---
Back to the list