Back to the list
Economist Reveals Reason XRP, ZEC Are the Worst Performing Assets In 2019
todaysgazette.com
18 September 2019 09:50, UTC
Reading time: ~3 m
---
The depressing situation of XRP and ZEC in the market has flared a sentiment from economic analyst Alex Kruger from an analytical perspective.
The year 2019 has been quite glooming for XRP and some other cryptocurrencies, but the dire situation of the remittance guru token has driven more attention than any other digital currency in the market.
Contrarily, the privacy oriented cryptocurrency ZEC, which has somewhat been in the same shoes, has only managed to get little notice from people especially those who have no dough invested in it. This is probably due to its position in the market table and its popularity.
The concern for XRP's performance has exacerbated to the level of causing ruckus in the crypto community. In spite of the clear cut expression made by Ripple that it has no hand in the plight, enthusiasts of the token still have the San Fransisco based company blamed for the token's performance.
Economist Alex Kruger, after measuring the inflation rate of cryptocurrency on View Base, a platform that offers traders crypto analysis, affirmed that ZEC and XRP's performance in the year 2019 is far from being encouraging.
While asserting that the dire situation of XRP and ZEC are being caused by inflation, the prominent trader who bagged MBA at the Colombian Business School revealed the connection between poor market performance of some altcoins and high inflation figures.
Kruger said the uncensored pouring in of XRP and ZEC into the market has been a major factor underpinning their market trend, tagging them the worst performing coin in the year 2019.
Alex Kruger said ZEC and XRP are 25% and 30% down respectively against the US Dollar this year. According to the data captioned by the analyst, it was observed that ZEC and XRP had the highest inflation rate among the deciphered assets.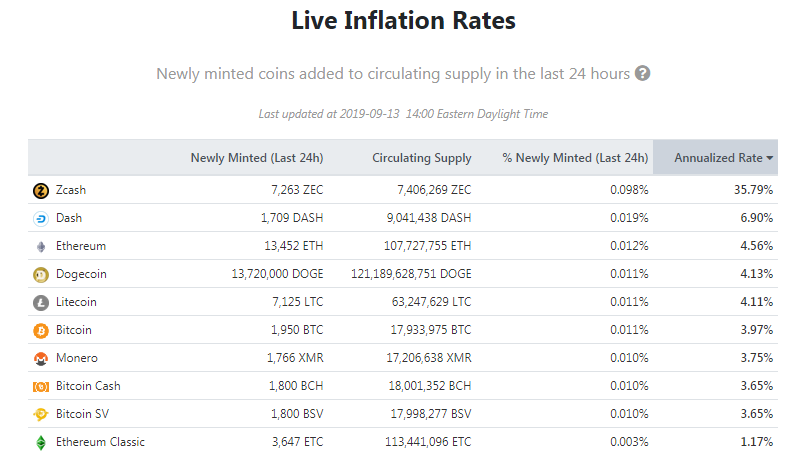 Image Credit: Twitter
XRP presented 27.89% inflation and ZEC recorded 35.79 year to date inflation rate. The report added that over 7,200 ZEC tokens were being minted in the last 24 hours, per the date of the report.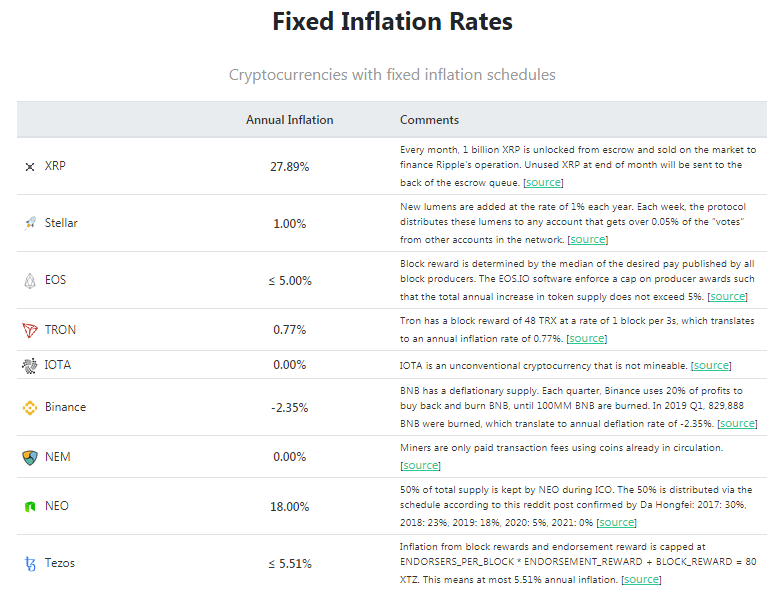 Image Credit: Twitter
For quite some time, complaints from XRP community has been that Ripple is dumping the price of the token via its huge over-the-counter sellout at reduced priced rate for institutional investors.
Every quarter, 1 billion XRP is released into the ecosystem by Ripple. During the previous week, 100 million XRP (circa $26 million) was allegedly transferred to Jed McCaleb, the cofounder of Ripple.
Alex Kruger further averred that the high inflation rate amongst altcoins has been a major reason Bitcoin is outshining its contemporaries, taking a larger share of the market.
Bitcoin which has seen over 300% rise in 2019 has an inflation rate of 3.97%.
Crypto inflation rates, as measured by @viewbasecom.

There is a disproportionate percentage of $ZEC and $XRP pouring into the market. No wonder these tokens are the worst performers of 2019, down 25% and 30% in dollar terms, respectively, in a year $BTC is up 2.7x. pic.twitter.com/NsNqykkVvK

— Alex Krüger (@krugermacro) September 13, 2019
---
Source
---
Back to the list