Back to the list
FLOW Technical Analysis: Price Forms Bearish Pattern
cryptoknowmics.com
04 October 2021 19:40, UTC
Reading time: ~2 m
---
FLOW token price faces opposition near the $20 mark. However, the increase in buying pressure after the trendline breakout may soon drive the prices higher.
Flow is a Blockchain designed for mainstream adoption. It is the only blockchain to incorporate usability improvements in the protocol layer. Flow is being used by top developers and major brands around the globe to create new experiences using top-tier content.
Dapper Labs is the creator of Flow blockchain, Cryptokitties, and Dapper. Dapper Labs was founded in 2018 and use blockchain technology to offer new forms of digital engagement for users all over the globe.
Let us now look at the technical analysis of FLOW cryptocurrency.   
Past Performance of FLOW
On 6th September, FLOW coin price found supply near the $26 mark. Thus, resulting in a price fall of more than 40% in the next few days. However, the supply zone near the $15 mark results in the formation of a V-shaped recovery.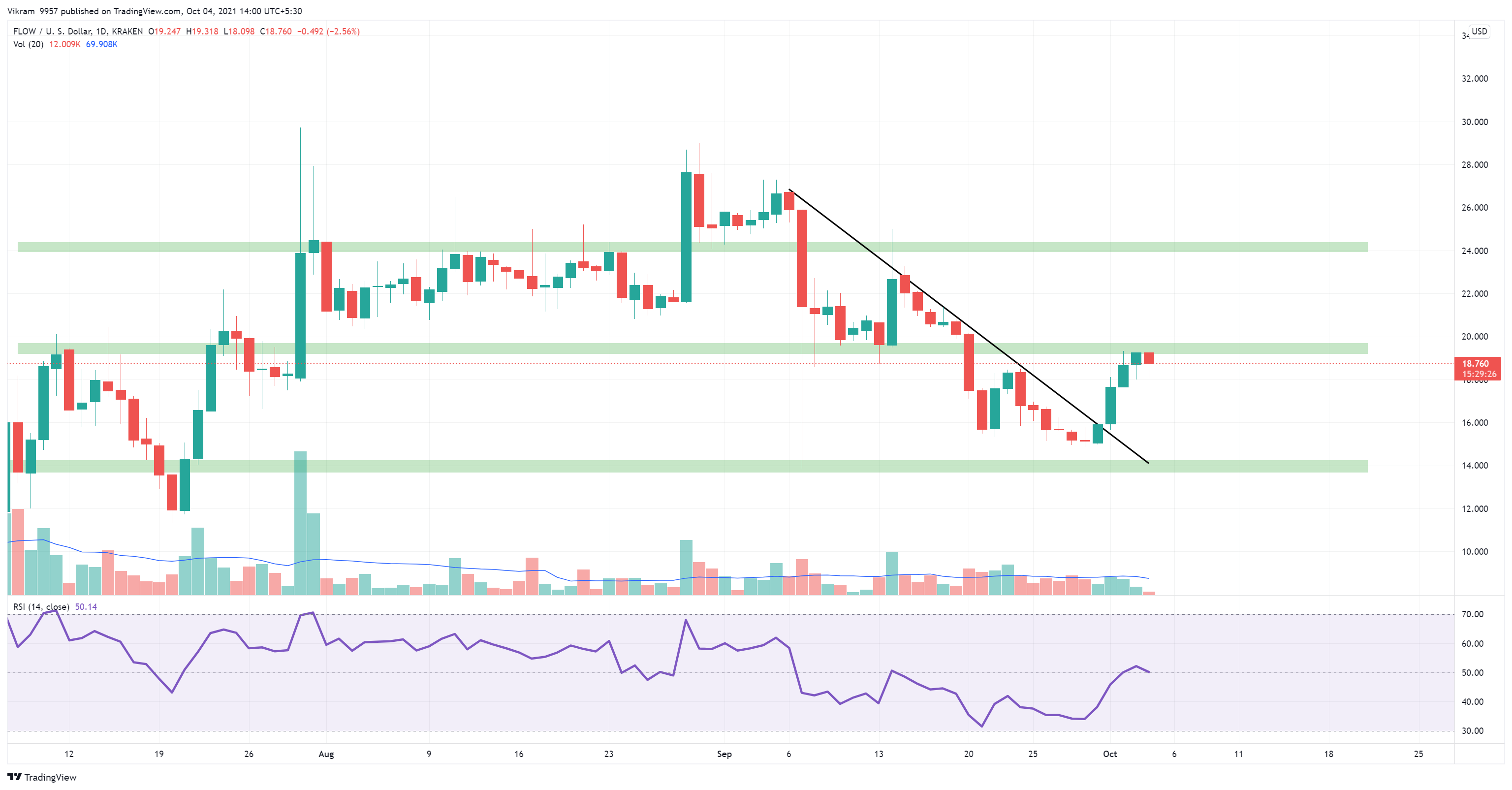 FLOW Technical Analysis
At the time of writing, FLOW cryptocurrency is at $18.82. Additionally, it has experienced a rise of 0.47% in the past 24 hours. In addition, the intraday trading volume of the coin fell by 29%, indicating a fall in the number of buyers.
The price action indicates the breakout of a solid resistance trendline in the 4-hour chart. The price may find support near the $15 horizontal level. On the flip side, the bullish breakout of $20 may find opposition at $25.
The coin price trades below all the crucial Exponential Moving Averages in the 4-hour chart. Moreover, the 50 and 200 days EMA maintain the bearish alignment.
The MACD and signal lines are below the zero mark on the daily chart. However, the rising bullish histograms lead to a bullish crossover. Thus, generating a buy signal.
The RSI slope moves slightly above the central line in the 4-hour chart. In addition, the slope shows a reversal from the 30% mark. 
Upcoming Trend
FLOW Token's technical analysis indicates that the price is at a very crucial stage. The breakout of the $20 resistance zone can lead to a bull run.
Furthermore, the MACD indicator and RSI indicator generate strong buying indications. 
---
Source
---
Back to the list