Ripple (XRP) is the best-performing top 10 crypto assets of the last seven days after it gained more than 21% during the period, according to BeInCrypto data.
According to Lunar Crash data, the positive price performance is corroborated by its soaring social metrics. The data aggregator noted that when the market and social performance are combined, XRP emerged as the number one ranking digital asset, outperforming all other cryptocurrencies it tracks.
XRP Social Mentions Soar
Per Lunar Crash, XRP's social volume reached 5,967, while its social engagements were 14.9 million over the last 24 hours. Its weekly performance showed that its social engagement rose 105.9% to 245.57 million, and its mentions grew 26.4% to 80,720.
During the period, XRP had up to 3,440 unique social contributors per hour for the token. Many within the XRP community actively pushed the token on social media as they believed that its parent company Ripple would win its case against the U.S. SEC.

Ripple XRP Social Metrics (Source: Lunar Crush)
Ripple recently submitted a new filing for its fair notice defense. The filing referenced the decision of Judge Michael Wiles of the U.S. Bankruptcy Court for the Southern District of New York in his ruling on SEC objections in the Voyager bankruptcy case.
SEC Case Affecting Price?
Additionally, the crypto project appears to be winning more crypto stakeholders. In a March 21 tweet, Messari founder Ryan Selkis said he considers the SEC case against XRP an overreach. He noted that the project was fulfilling a market need, as is evident in the growing number of accounts on its XRP Ledger.
Meanwhile, there is no certainty about when the case will be determined. A recent Fox Business report said the verdict could be pivotal for the crypto industry.
XRP Outperforms Bitcoin
Over the past week, XRP gained 21%, outperforming other top digital currencies like Bitcoin, Cardano, and Dogecoin, which gained 2.18%, 5.09%, and 0.67%, respectively.
In the last 24 hours alone, XRP's value increased 3.63% to $0.46, pushing its market capitalization to $23.6 billion, according to BeInCrypto data.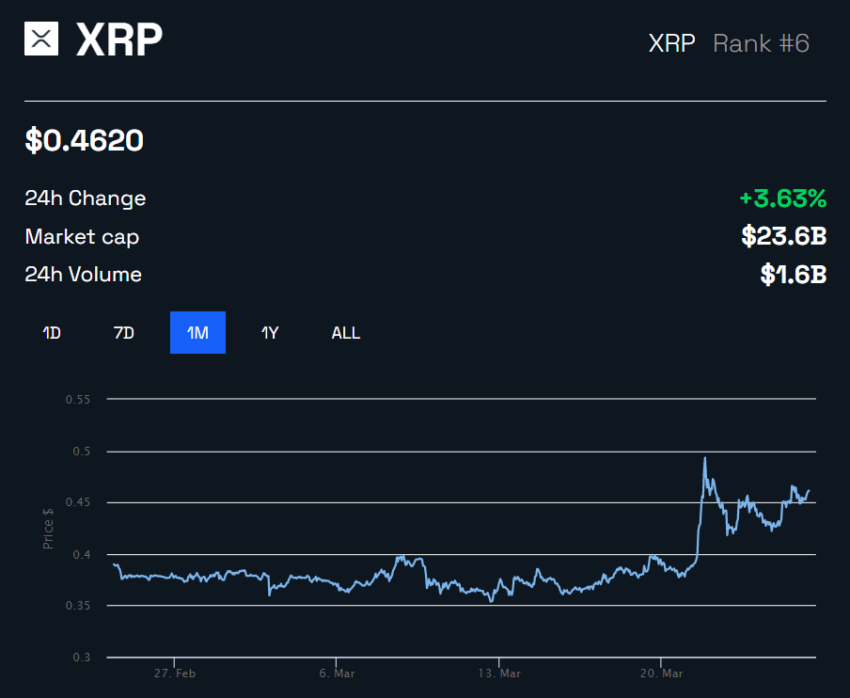 XRP Price Performance (Source: BeInCrypto)
Meanwhile, XRP Scan data showed that XRPL processed an average of over 1 million transactions in the last seven days. During the period, the network averaged over 2000 new addresses daily.