Billionaire Chamath Palihapitiya is issuing a warning to investors, saying that the fundamentals of the US stock market are starting to look shaky.
In a new All-In Podcast episode, Palihapitiya, who nailed the market meltdown last year, shares a chart from Bloomberg that shows the wide disparity between earnings and cash flows among S&P 500 companies.
According to the Social Capital CEO, the gap between the two fundamental metrics is at its widest point in about three decades.
"If you focus on the period of 2020 to 2024, what you see is the white line, which is net income adjusted for depreciation and amortization, and the blue line is cash flows from operation. So what does that mean? This the best 500 companies in the world.
The white line is what you tell Wall Street in terms of what you make on paper. The blue line is what actually appears in the bank account. So why could there be a gap between what you tell somebody you made… versus what's in the bank? Well the reason is because there's all kinds of accounting tricks that you can use…
Right now, we have the worst earnings situation, so the worst gap between what we're telling people versus what is actually in the bank account that we've had for 30 years since 1990. So it just brings into focus the fact that we may be in the last few innings of trying to make sure this all looks okay."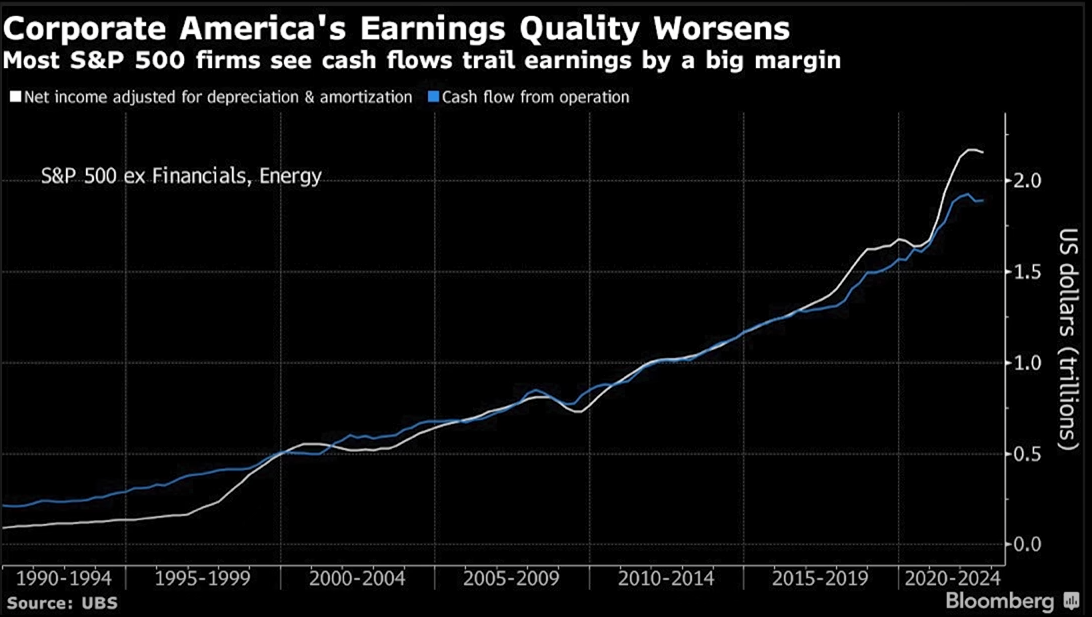 Source: All-In Podcast
According to the billionaire venture capitalist, the weak cash flows of S&P 500 companies could suggest that a stock market meltdown is on the horizon.
"One faction of the investing world who thinks that this earnings recession is actually at hand would be kind of right and then what they would say is that once we all realize that these earnings are fake and you reset down 15%, that's when you get to the mid-3,000 [points] in the S&P 500…
I don't know if that's true or not but there's more and more evidence that would support that the way that they see the world could be credible."
At time of writing, the S&P 500 is trading for 4045.65 points.