Back to the list
No Demand for "Highly Speculative" Altcoins: Analyst
www.newsbtc.com
19 August 2019 20:30, UTC
Reading time: ~3 m
---
Thousands of spinoffs of the world's leading cryptocurrency Bitcoin are expanding into the void, according to market analyst Josh Rager.
The Bloockroots.com co-founder on Sunday said the demand for "highly speculative" alternative cryptocurrencies, or altcoins, is falling. The analyst noted that institutional investors now look at bitcoin, the first cryptocurrency, as their preferred choice of investment. At the same time, altcoins receive attention typically from highly-active traders within the entire cryptocurrency market.
"Outside of trading majority of altcoins aren't worth holding," Rager said on his Telegram channel. "More and more come out into this already illiquid market every week."
He added that, for large investors, an altcoin equipped with higher-grade technology, team, and even community remains unattractive. Excerpts from his statement:
"There is no demand [for] highly speculative assets such as the majority of altcoins. Regardless of how awesome the tech, team, community, if large players and institutions aren't interested in an asset it's not a good sign."
Altcoins Dip
Altcoin projects typically attempt to solve the underlying problems of Bitcoin. Litecoin, one of the first known cryptocurrency projects, did it by twisting the bitcoin's code to introduce faster transaction processing. At the same time, Ethereum became an entirely different blockchain by facilitating peer-to-peer contracts and applications via its currency Ether. Bitcoin, on the other hand, started as a peer-to-peer payment system supported by a token of the same name.
Choose your altcoins wisely

The tech can be awesome
The team can be the top of class
The community can be an army

But in the end…

The market decides the monetary value of your altcoin assets

Not the tech, team, or community https://t.co/tyPYI598LL

— Josh Rager 📈 (@Josh_Rager) August 18, 2019
Investors who missed the Bitcoin's supersonic price rallies during the first six years of its existence looked at altcoin projects for its similar opportunities. While some did return massive profits, a majority of them – more than 90 percent – turned out to be either failures or frauds. The growing mistrust in the new altcoin projects diverged investors' interest into a handful of altcoin projects.
But given a recent boom in the popularity of bitcoin, even excellent altcoin projects are finding it hard to impress investors outside the cryptocurrency space.
Fleeing to Safety
MVDALC, an index which tracks the performance of top hundred cryptocurrencies by market cap, noted that bitcoin and other ninety-nine projects registered about 114 percent in year-to-date gains as of the press time. Meanwhile, the mid-cap and small-cap coin posted a dwarfed 7 percent and 18 percent YTD profits.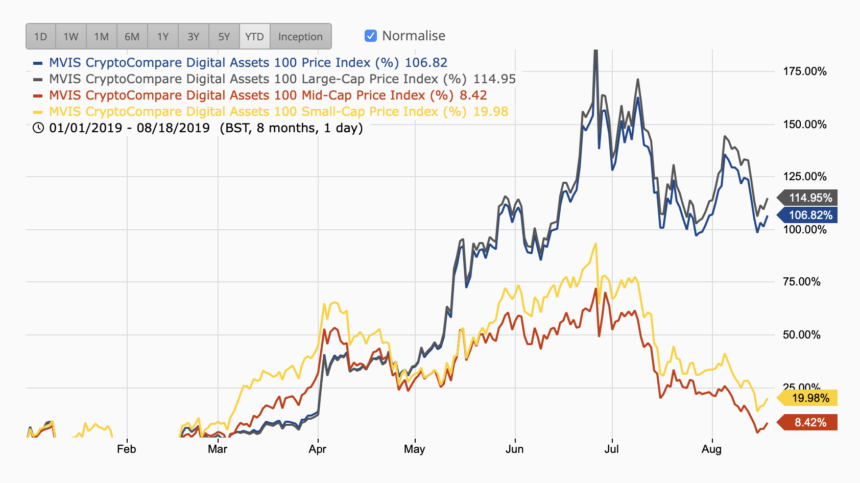 Large Cap Cryptocurrencies Returning Better Profits than that by Mid- and Small-Cap | Image Credits: MVIS
"If 98 percent of [altcoins] went to crap, the 2 percent would leave around 50 to go on to [actually] be the outliers that end up returning," said noted trader Cantering Clark. "Since this day last year – Total Alts in circulation increased by 65 percent [and] Total Alt-Market Capitalization dropped by 22 percent."
Rager supported Clark's analyst and recommended investors to choose their altcoins wisely.
Bitcoin's cryptocurrency market dominance surged to its YTD high of circa 70 percent this July. At it's yearly worst, it was close to 50, according to data provided by CoinMarketCap.com
---
Source
---
Back to the list