Back to the list
Tellor (TRB) and Band Protocol (BAND) Technical Analysis: Prices Boxed in Narrow Ranges
cryptoknowmics.com
14 September 2021 12:26, UTC
Reading time: ~2 m
---
Tellor and Band Protocol bulls are exhausted, unable to unwind last week's losses. TRB and BAND have clear support at $40 and $7, respectively.
Tellor (TRB)
Tellor, the oracle provider on Ethereum, links smart contracts with verified data using TRB as the internal currency.
Past Performance of TRB
As per the TRB technical analysis on the daily chart, prices are volatile.
TRB crypto is down three percent, but still trending inside the September 7 bear candlestick at the time of writing.
Technically, this skews price action in favor of sellers.
Day-Ahead and What to Expect
The TRB token is generally bullish.
Moreover, the failure of Tellor crypto bears to follow through on last week's losses cements buyer confidence.
In the days ahead, how TRB coin prices react at $55 and around $40—September 7 trade range would determine the coin's newfound trajectory.
Tellor Technical Analysis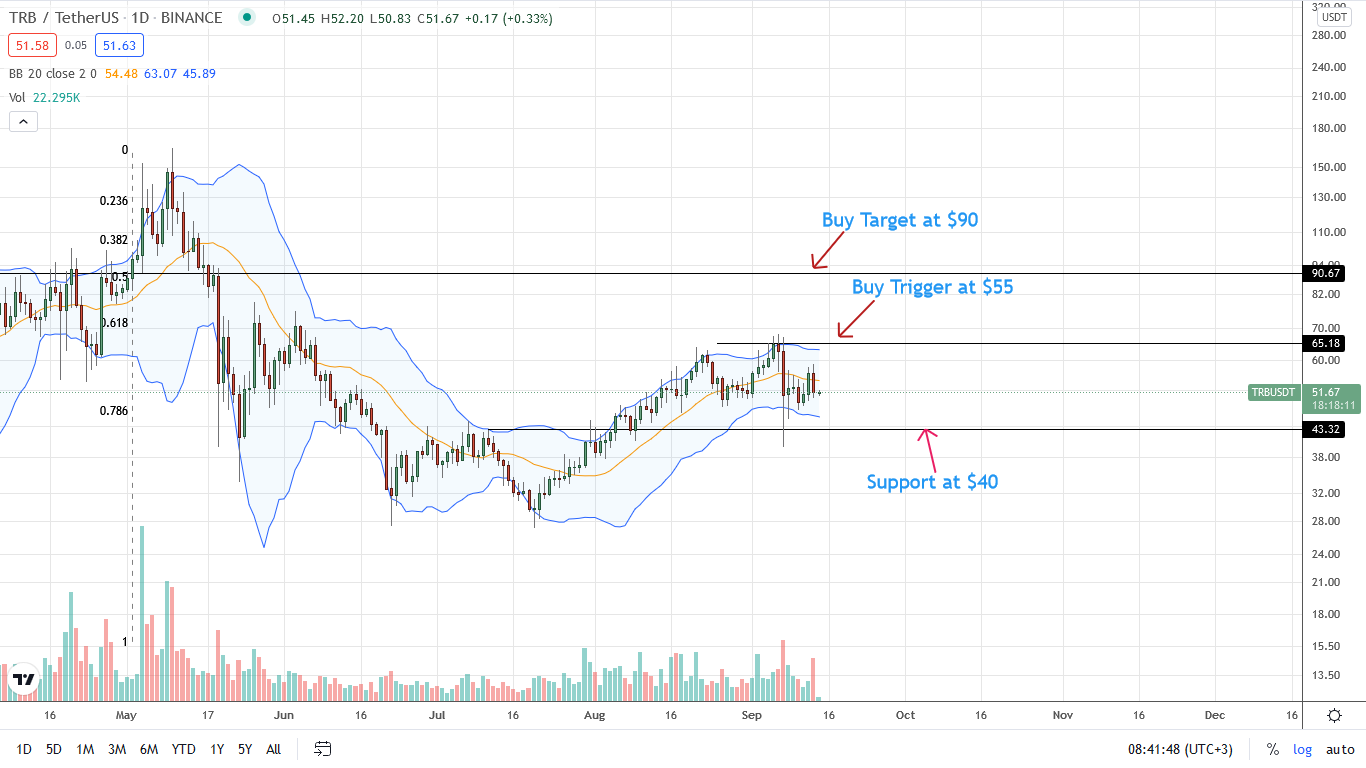 The TRB token is within a $15 range, technically bullish from a top-down analysis.
Even so, Tellor token sellers might take charge in confirmation of September 7 losses if there is a high-volume dip below $40.
As such, risk-averse traders could wait for trend definition either above $55 or below $40.
A close above $55 could see TRB coin float back to $90 in confirmation of August 2021 buying pressure.
Band Protocol (BAND)
The oracle provider connects smart contracts with tamper-proof data using BAND as the main currency.
Past Performance of BAND
The BAND crypto is under pressure, stable versus the USD on the last trading day.
From the BAND technical analysis in the daily chart, the September 7 bear bar anchors the immediate term price action.
Accordingly, the reaction of BAND in the weeks ahead depends on the response at last week's support and resistance levels.
Day-Ahead and What to Expect
The uptrend is valid, but there are pockets of weakness further compounded by the weakness of September 7.
Aggressive traders might unload on pullbacks within last week's trade range.
Meanwhile, steep losses below $7 would signal the beginning of what might turn out to be a protracted retracement from $11.
Band Protocol Technical Analysis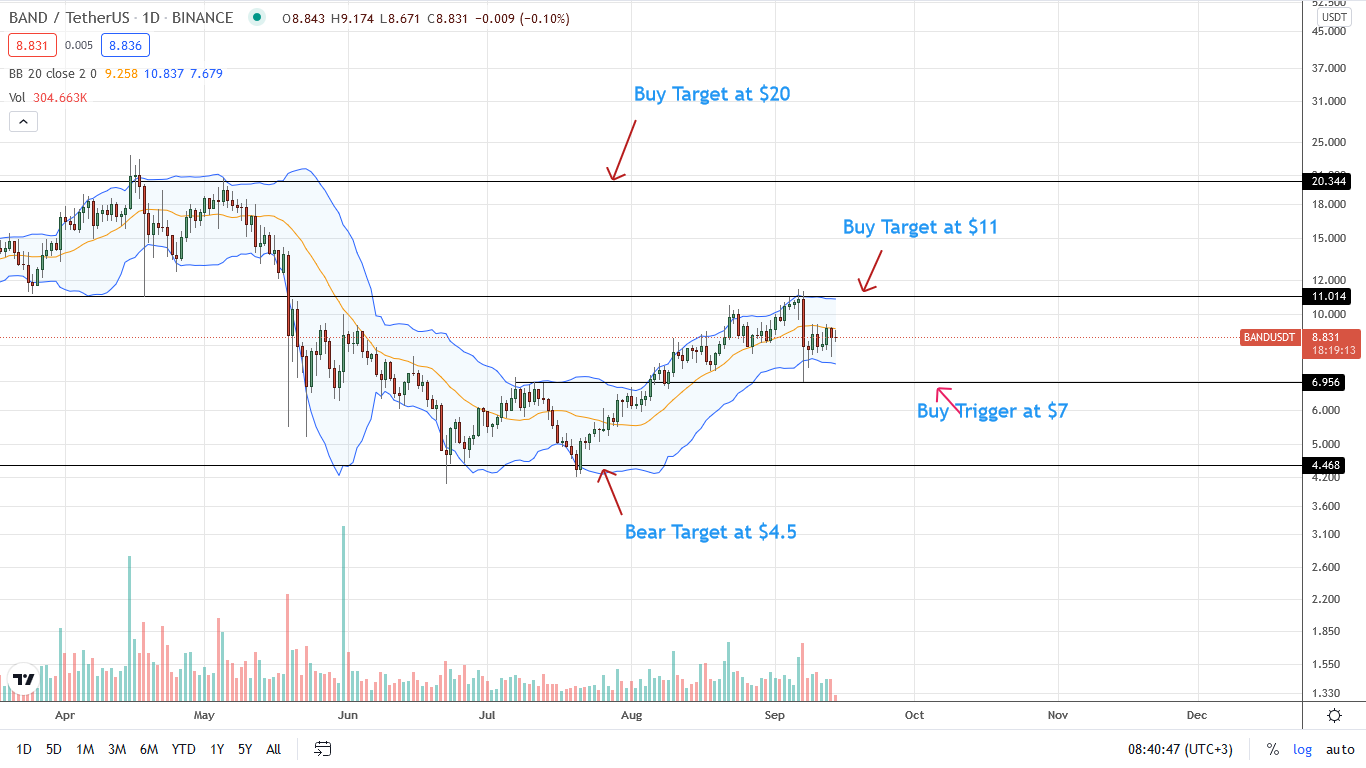 The Band Protocol bulls are confident.
However, BAND token prices range inside a $4 zone with caps at $11 and $7, respectively.
Technical candlestick arrangement favors sellers.
Thus, every high might offer unloading opportunities for sellers angling for $7 in the short term.
A sharp rally above $11 would nullify sellers of last week, a launching pad for $20 in the medium term.
---
Source
---
Back to the list