Back to the list
Coinbase Research: 'The United States of Crypto'
www.cryptoglobe.com
01 July 2019 06:00, UTC
Reading time: ~3 m
---
According to the latest research by Coinbase, crypto awareness has continued to grow in the United States, with "58 percent of Americans say they've heard of Bitcoin."
One of the most shocking things about Coinbase's findings is that by looking at data from Google Trends, they found that in 2019, in the U.S., there was on average more weekly search interest in the cryptocurrency "Bitcoin" than for A-list celebrity "Kim Kardashian."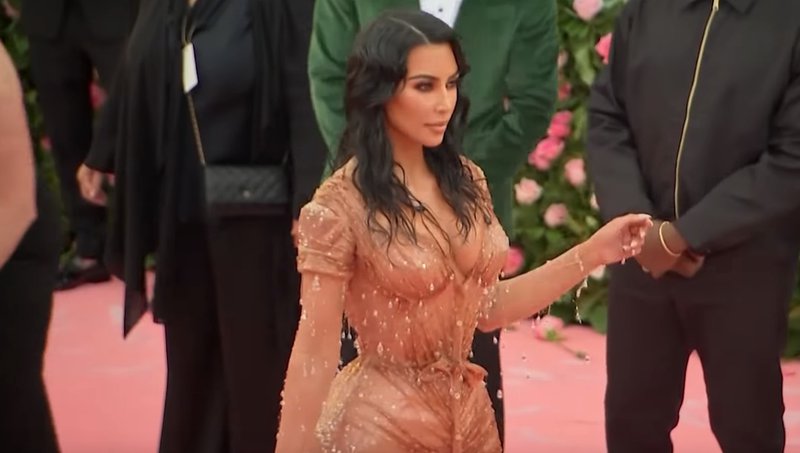 As you can see in the chart below, when it comes to Google search interest, on average, "Bitcoin" has been beating "Kim Kardashian" all year, and in fact by a landslide here in the second half of June 2019. In fact, for the past seven-day period (i.e. 23‒29 June), Google is estimating that there have been 5X more searches for Bitcoin than for Kim Kardashian, which makes sense because during this period 58 percent of Americans have heard of Bitcoin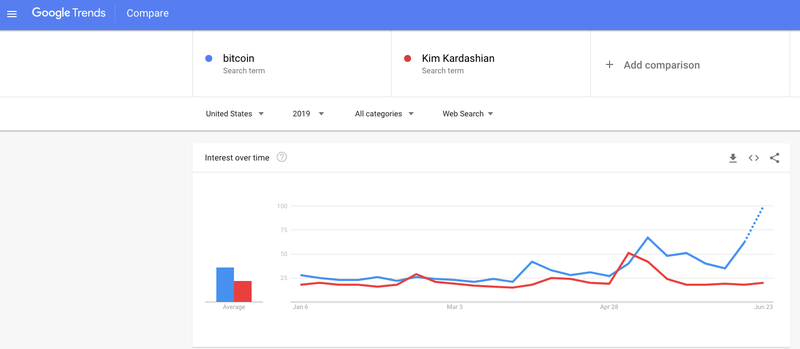 The report from Coinbase Research says that "t's not just the reality TV star," and that "Americans typed 'Bitcoin' into Google more times last year than they searched for a range of headline-making phrases, from 'royal wedding' to 'election results'," and they take this to mean that "Bitcoin is going mainstream in America."
If you are wondering about the source of the data referenced by Coinbase Research in its report, it should be noted that it "comes either from public sources, from research data derived from Coinbase user activity, which is reported in anonymized and aggregate form only, and from research conducted on behalf of Coinbase by YouGov (this study was "conducted in December 2018 and included 2,000 U.S. internet users over the age of 18 in the general population").
Here are some of the key findings of the Coinbase Research team:
"58 percent of Americans have heard of Bitcoin." Christopher, a 26-year-old man from New Jersey said: "The most appealing thing about crypto and Bitcoin to me is the idea of a worldwide currency — that it can cross borders without having to factor in exchange rates or high transfer fees or long delays."
"Across the country, 37 percent of Americans — without being prompted with a list of options — proactively name Bitcoin in response to a query about cryptocurrencies." However, in some states, such as Wisconsin and Uta, this number goes up to 57%.
The five states with the highest level of crypto ownership were California, New Jersey, Washington, New York, and Colorado: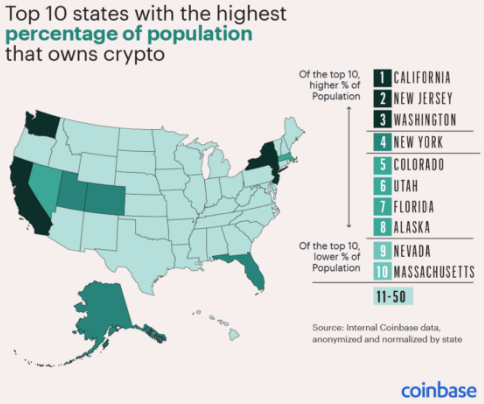 The major drivers of interest seem to be the "investment opportunity presented by cryptocurrency", self-education, and the "opportunity to experience new technology as it is emerging". For example, Todd, a 49-year-old IT supervisor from Northern Virgina, said: "A lot of the best opportunities in the stock market are only available to accredited investors, which is a tiny part of the American population. Cryptocurrency is available to everyone."
"As interest increases, states are increasingly enacting legislation to address crypto and blockchain." (As of this month, "more than 70 percent of U.S. States have enacted regulations that account for cryptocurrency or blockchain technology.") 
"Upwards of 15% of Americans are 'somewhat' or 'very' likely' to buy Bitcoin or some other cryptocurrency in the near future."
For the past 12 months, Nevada, Hawaii, California, Washington, and New York were the states with the highest number of Google searches for Bitcoin.
Featured Image Credit: Photo via Pixabay.com.  
---
Source
---
Back to the list