Back to the list
Good News For Crypto If China Lifts Zero-Covid Policy; XRP Could See Rise
coinedition.com
29 November 2022 14:34, UTC
Reading time: ~2 m
---
Ripple (XRP) is struggling to flip a crucial support into resistance, but if successful, it could trigger a quick price increase for the crypto. It is important to keep in mind that the current lack of volatility in the crypto market makes it almost impossible for the crypto to do so on its own.
On the bright side, there might be some light at the end of the tunnel for XRP. There are reports that a news conference will be held in Beijing by the Joint Prevention and Control Mechanism of the State Council in China. Many believe that China might announce lifting its zero-Covid policy.
This could be good news for the crypto space as this development could ease tensions among those investors that moved to safe-haven assets after protests broke out in China. In addition to this, the announcement could provide a bullish push for risk-on markets, including cryptocurrencies.
As mentioned before, XRP has been having some trouble with breaking through the $0.400 resistance, but this announcement could provide XRP with the much-needed volatility to trigger a successful breakout.
If this is the case, it could be possible for the XRP price to go as high as $0.510, which is a 30% upswing for the token.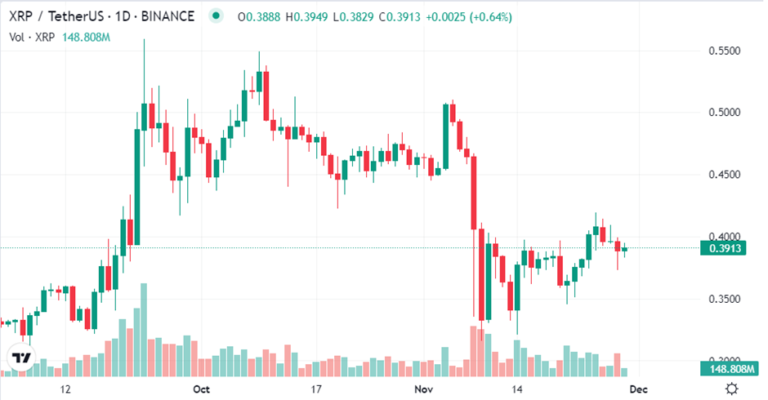 XRP / TetherUS 1D (Source: CoinMarketCap)
According to CoinMarketCap, XRP is currently trading at $0.3914 after a 2.55% increase in price over the last 24 hours. The crypto is also in the green by more than 10% over the last seven days.
Disclaimer: The views and opinions, as well as all the information shared in this price analysis, are published in good faith. Readers must do their own research and due diligence. Any action taken by the reader is strictly at their own risk. Coin Edition and its affiliates will not be held liable for any direct or indirect damage or loss.
---
Source
---
Back to the list