Back to the list
Market Wrap: Bitcoin Enters September Slowdown; Cardano's ADA at New High
www.coindesk.com
02 September 2021 21:05, UTC
Reading time: ~4 m
---
Bitcoin pulled back from the $50,000 resistance level on Thursday as overbought signals appeared on intraday charts. BTC was trading around $49,200 at press time and is up about 2% over the past 24 hours, compared to a 4% rise in Cardano's ADA, which reached an all-time high of $3.09 before falling below $3.
Analysts expect limited upside for bitcoin as it enters a seasonally weak period. On average, bitcoin returns are typically negative in September. Returns in November, however, tend to be relatively high.
"Bitcoin is still above the 50-day and 200-day moving averages, indicating the positive trend is still in place, but the movement is slow," Lukas Enzersdorfer-Konrad, chief product officer at Bitpanda, wrote in an email to CoinDesk.
Instead, traders have shifted attention to alternative coins, which have outperformed bitcoin over the past month. However, some technical measures suggest the relative performance of these altcoins could weaken later this month.
Bitcoin (BTC), $49,295, +2.2%

Ether (ETH), $3,782, +1.4%

10-year Treasury yield closed at 1.287%
Historically weak September
"There is no love lost between bitcoin investors and the ninth month of the year," FundStrat, a global investment advisory firm, wrote in a Thursday newsletter.
September appears to be the only month in which BTC has experienced a negative average return. "Based on the chart below, we can also see that the patterns in monthly returns roughly match the seasonality we experienced the past 12 months, with price increases in late-fall to early-winter followed by an all-time high in April," FundStrat wrote.
Additionally, BTC drawdowns in September, or the percentage decline from peak to trough, has extended a four-year streak.
On a brighter note, bitcoin returns are typically strong after September, especially in November. "Even if bitcoin continues to mirror its historical seasonality, October through December could present an opportunity for outperformance," FundStrat wrote.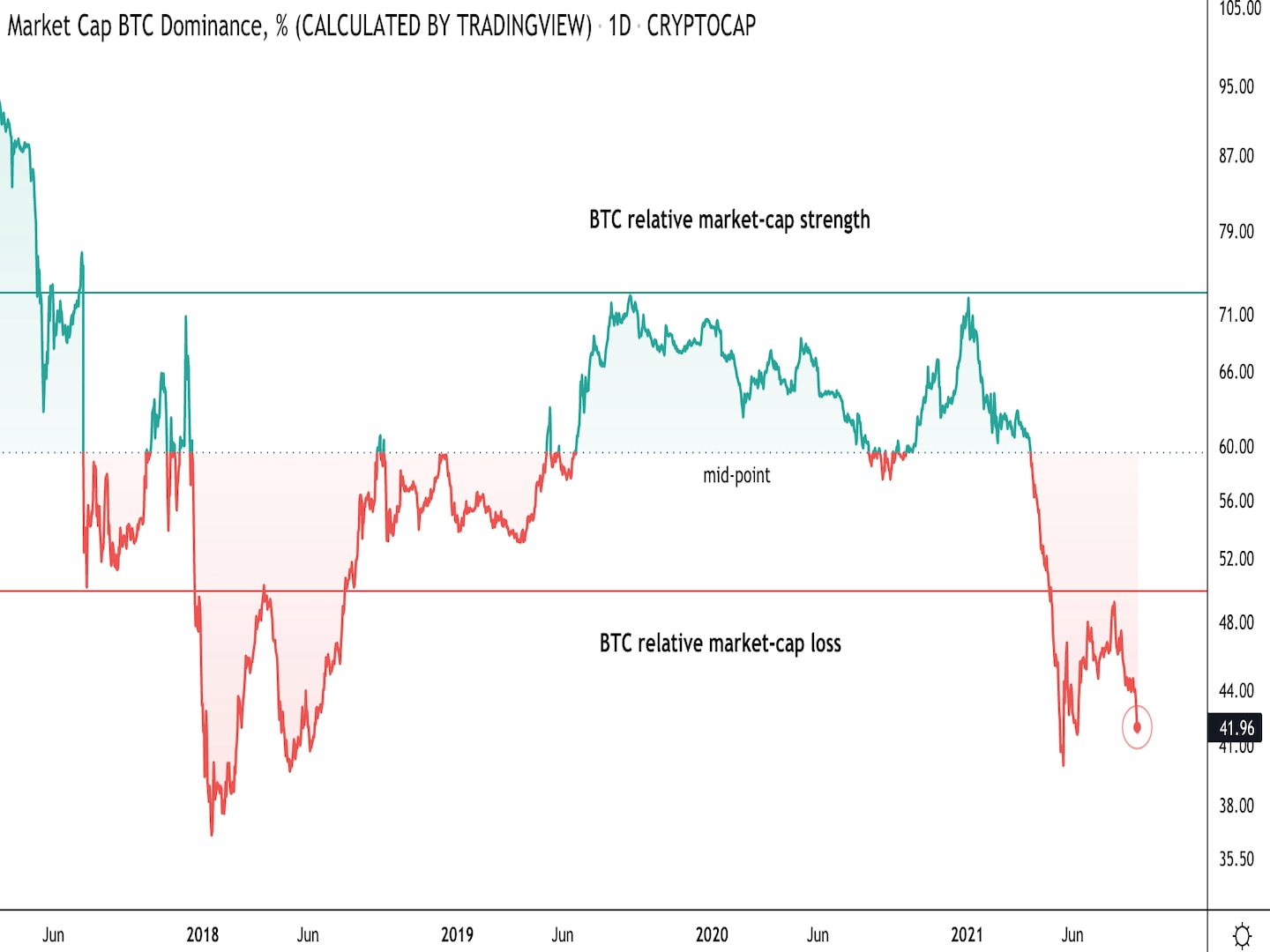 ETH used for NFT purchases
There is more ether leaving exchanges than bitcoin, possibly due to the resurgence of non-fungible token (NFT) activities.
"This shouldn't come as a surprise at a time where the Ethereum ecosystem is creating a plethora of on-chain destinations for ETH outside the confines of centralized exchanges," Glassnode wrote in a blog post.
Recently, traders have been using their ETH to buy NFTs and yield-generating decentralized finance (DeFi) tokens. "Meanwhile, bitcoin on exchanges remains mostly flat, as few incentives exist for deploying the assets outside centralized exchanges or cold storage," Glassnode wrote.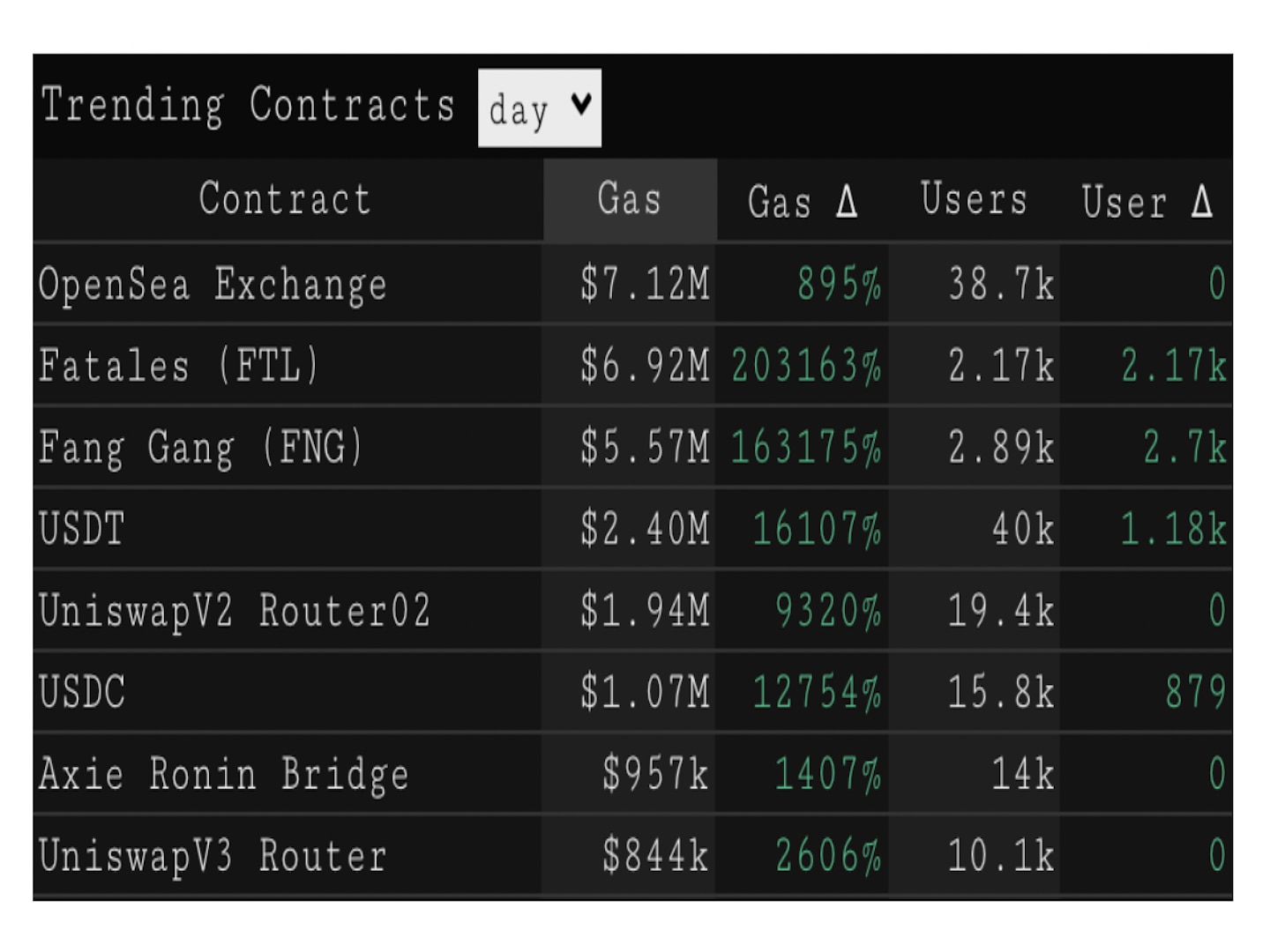 Cardano's ADA token surged more than 7% Thursday to an all-time high over $3 as the project's lead developer announced that smart-contracts functionality had been activated on a test network, bringing the blockchain a step closer to competition with Ethereum.
The ADA price rose as high as $3.09 before slipping to around $2.97 as of press time.
The latest rally came as lead developer IOHK, headed by Charles Hoskinson, tweeted that the Cardano test network had successfully deployed smart-contracts capability, and that the focus would now turn to the "Alonzo" upgrade of the main network, "still on track for deployment on Sept. 12."
Cardano is currently the third-largest cryptocurrency by market cap ($93.7 billion), behind rivals bitcoin ($934 billion) and Ethereum's ether ($439 billion). The ADA token has soared 1,583% this year, versus 69% for bitcoin and 417% for ether.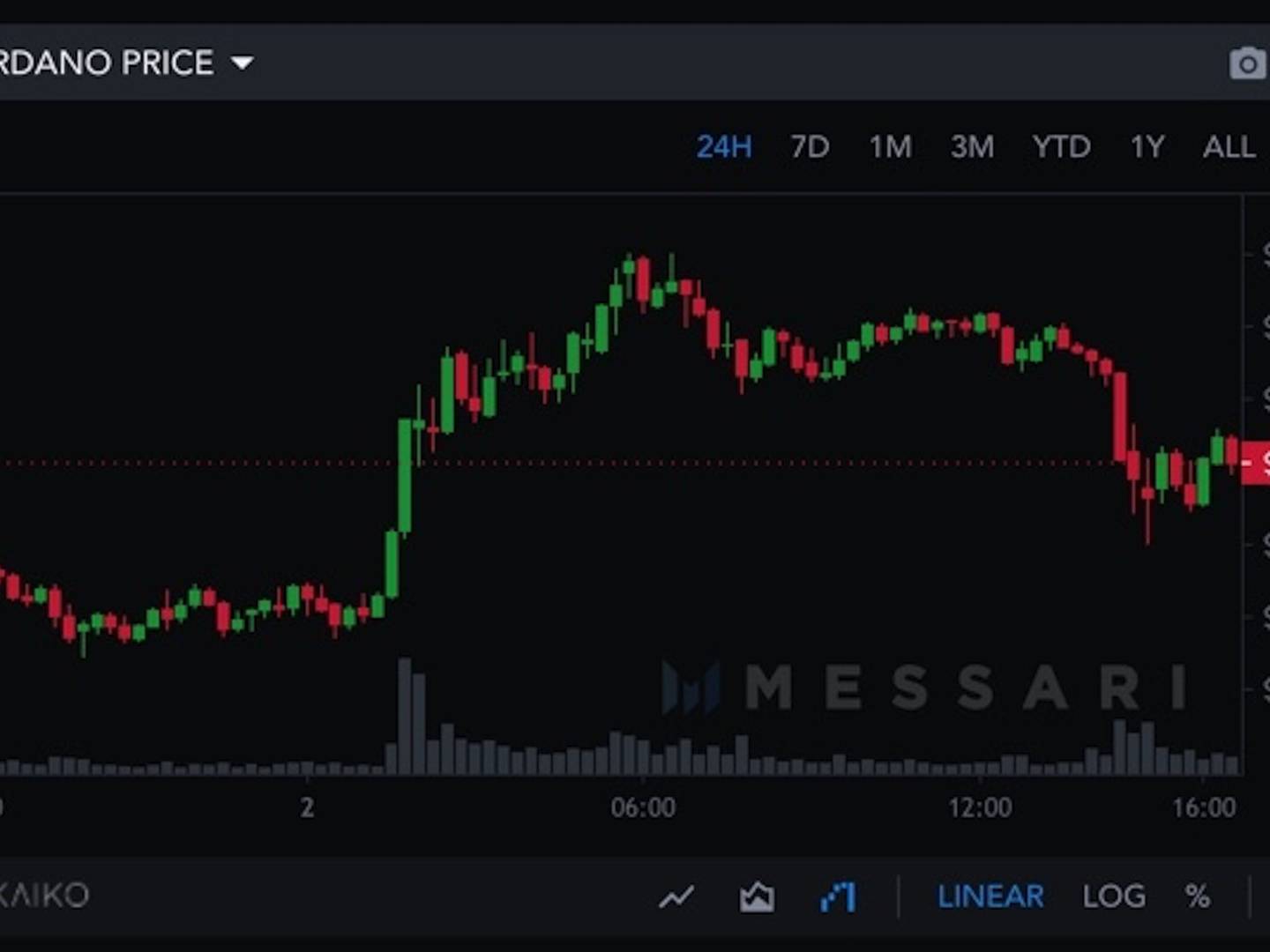 FTX's FTT token hits all-time high: The crypto exchange FTX led by Sam Bankman-Fried saw its native FTT token soar to fresh highs of nearly $70 on Thursday. The U.S.-based arm of the exchange announced earlier this week that it would be acquiring LedgerX, an options and futures trading platform regulated by the Commodity Futures Trading Commission.

HaloDAO partners with DeFi protocol Balancer to build custom Automatic Market-Maker (AMM): HaloDAO, a stablecoin-focused DeFi project, has partnered with decentralized exchange (DEX) Balancer to facilitate swaps and yield generation for non-USD stablecoins. HaloDAO plans to create a custom automated market maker (AMM) to enhance stablecoin foreign exchange, creating markets like BTC/XSGD and ETH/THKD, among others. "The integration with Balancer v2 enables HaloDAO to complete several elements of its vision in one fell swoop," said HaloDAO co-founder Jun Ming in a press release. "We want to create a full stack ecosystem for local stablecoins, and this means creating enough liquidity so that users could swap from local stablecoins into cryptocurrencies, or back."
Binance.US Could Go Public in 3 Years, CEO Zhao Says: Report

Stablecoins Are 'Pretending' to Be Currencies: ECB's Lagarde

UXD Raises $3M to Bring Algorithmic Stablecoins to Solana

Central Bank Digital Currencies to Be Tested in BIS Experiment
Most digital assets in the CoinDesk 20 ended higher.
Notable winners of 21:00 UTC (4:00 p.m. ET):
Cardano (ADA): $2.97, +4.7%

Ripple (XRP): $1.26, +4.1%
Aave (AAVE): $399.71, -2.4%
---
Source
---
Back to the list
Similar news