Back to the list
Bitcoin Shoots Above $50,000 as Funds Start Recording "Modest" Inflows, Ether's Inflation Rate on a Downtrend
bitcoinexchangeguide.com
02 September 2021 17:13, UTC
Reading time: ~3 m
---
Bitcoin has hit $50,000 yet again. The leading cryptocurrency went as high as $50,350 on Coinbase today, a level last seen on August 23rd and before that May 15. Confidence is returning in the second leg of the bull market as bitcoin recovered sharply from its July low of around $28k. "Purely from a TA basis, it looks like if $50 goes (it prob will), $58k will be on deck in no time. Then it's a battle for new ATHs and potentially beyond," said Travis Kling, who's running Ikigai Fund. The price appreciation, more importantly, has come during a period of the lowest spot volume in the last year, which has been due to seasonality. Kling added,
"The biggest risk to this scenario playing out is increased tapering fears. That was a much bigger concern pre-Jackson Hole. But Powell seems content to punt on tapering at least until YE. If we print strong jobs numbers in the coming months, there's risk that timeline moves up."
https://twitter.com/cmsholdings/status/1412395553682595840 The price action turned positive as Bitcoin fund flows finally stabilized and even recorded inflows, though modest, for two consecutive days, according to ByteTree data. Transaction counts are picking up from low levels as well, up from 1.35 million in early July to now approaching 1.75 million. Additionally, "miners inventories have now peaked, and they are selling again. This is normally bullish as it implies the market is strong enough to take the pressure," noted Charlie Morris of ByteTree. While Bitcoin (BTC) finally made a big move, Ethereum (ETH) has been leading the market this time around. The second-largest cryptocurrency rallied high at nearly $3,845 late on Wednesday, a level last seen on May 16, just four days after hitting ATH at $4,380. Since July 20 low, Ether has soared 122% in value. ETHBTC also surged to roughly 0.0785, not seen since May 19th, after breaking out of a multi-year long-term wedge. https://twitter.com/CoinbaseInsto/status/1433378697680130052 All of this has been while ETH perpetual record low funding rates leading to optimism that this breakout can run even higher. However, according to Loomdart, popular crypto trader, it might be time to deleverage here as "think a lot of catch up leverage stepped in yesterday to kinda hope other L1 strength can be matched, think we go higher eventually regardless, but yeah not bad place to tp," he said. Amidst the rising price and continued NFT mania, average gas fees on the network have risen past 136 Gwei, which is leading to more burns. 170,000 ETH worth $545 mln has been burned since EIP 1559 was implemented on August 5. OpenSea's contracts alone contributed to 30.67% of all ETH burned (~27k ETH), followed by Uniswap V2 and V3 contracts contributing 20.44%.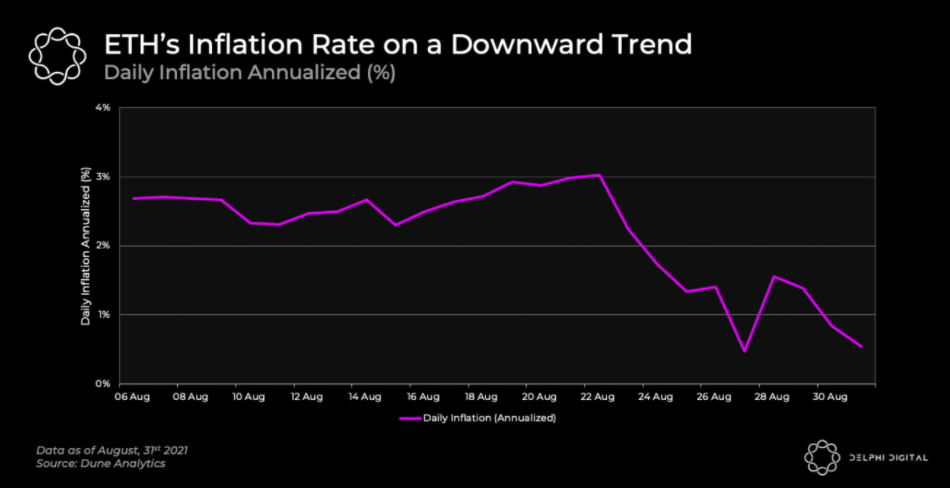 This increasing amount of ETH getting burned has resulted in Ether's annualized daily inflation falling to 1%, from ~3% before EIP-1559 activation. This week's data revealed sub 1% inflation rates, hovering around 0.6% annual inflation, which is significant. "Although it's unlikely that this sustains until the PoS merge, EIP-1559's impact on ETH's inflation is the equivalent of two BTC halvings (using 3% as pre-London inflation)," noted Delphi Digital. 
---
Source
---
Back to the list
Similar news