There is a specific goal during the last two trading months on the COMP market - to take control of the $550-$600 range. So far, control over the key range has been taken by sellers, who in May 2021 made great efforts to achieve the desired. Analyzing the weekly timeframe, we see that buyers are very unlucky with winning a liquidity zone of $550-$600: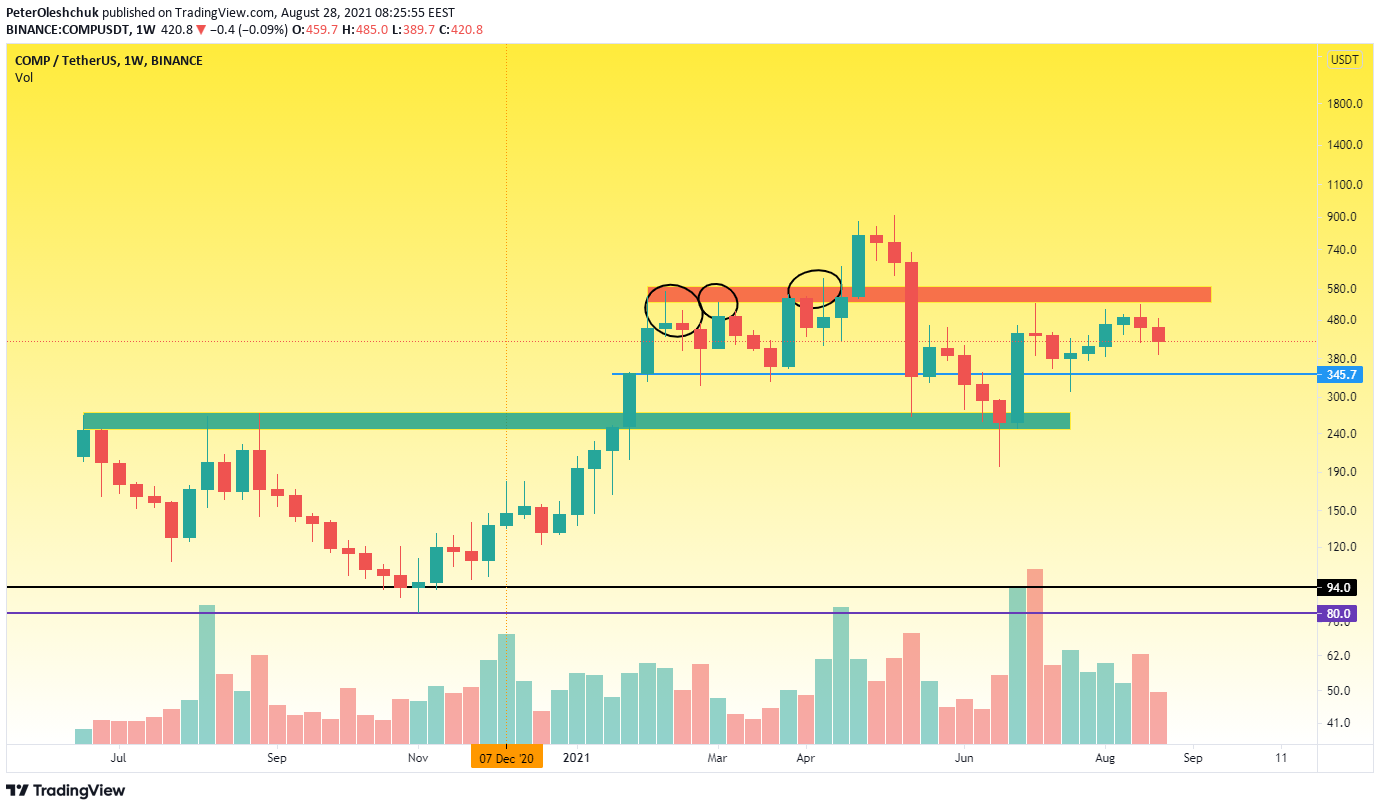 https://www.tradingview.com/x/PUMqqSls/
In history, we see that in the period from February to April, buyers made more than one attempt to break the critical range up. Using high trading volumes in the last days of April, buyers managed to raise the price above the range of $550-$600.
However, the control of this liquidity zone by buyers did not last long. At the moment, the situation is repeated and buyers have already made 2 attempts to break this range. The current formation is likely to end with a price shot up.
Though, to implement this positive scenario, buyers need to keep the price above $346. In addition, the next growth wave should break the range of $550-$600 at high volumes. Otherwise, sellers in the next fall wave will storm the range of $250-$270, where will decide the fate of the COMP cryptocurrency in the coming months.
Technical Analysis Of COMP On A Daily Timeframe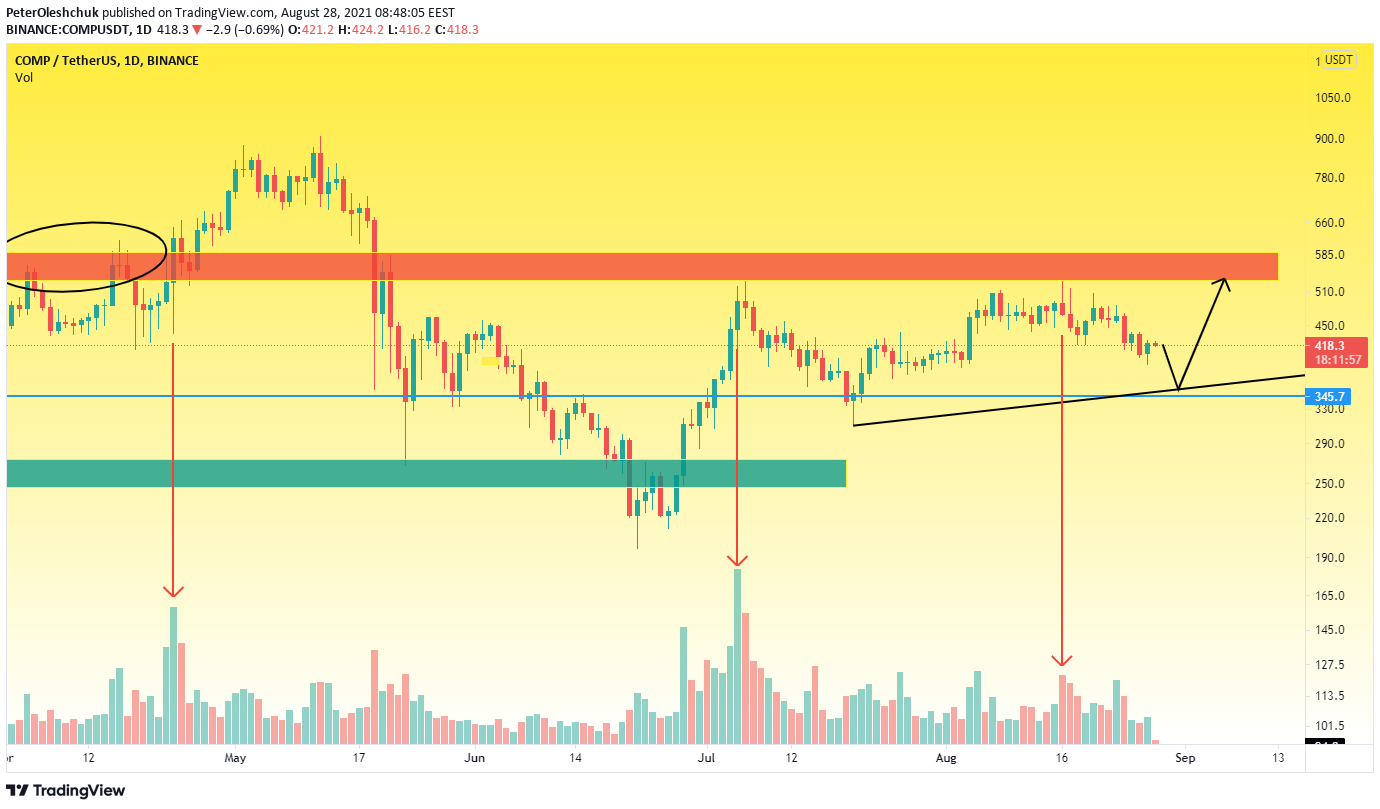 https://www.tradingview.com/x/4Gn3ILJI/
Analyzing daily candles, we found confirmation that the COMP market is continuing to consolidate in the form of a triangle in order to break it up. If we pay attention to the trading volumes on 23 April and compare them with the volumes on 5 July, it is safe to say that they are the same. But in April, sellers on such volumes managed to break the range of $550-$600 up, and in July only the test succeeded.
In addition, under the second attempt to break the $550-$600 range, we see slight aggression of sellers, which does not lead to active action and a sharp price fall. This situation can be interpreted as follows: buyers felt resistance and decided to buy off sellers in the consolidation triangle. This tactic will pave the way for continued growth and allow us to see a new impulse in the COMP market.
COMPBTC Price Has The Prospect Of The Fall By Another 20%
The last point above the scene of the global consolidation triangle will put the COMPBTC chart: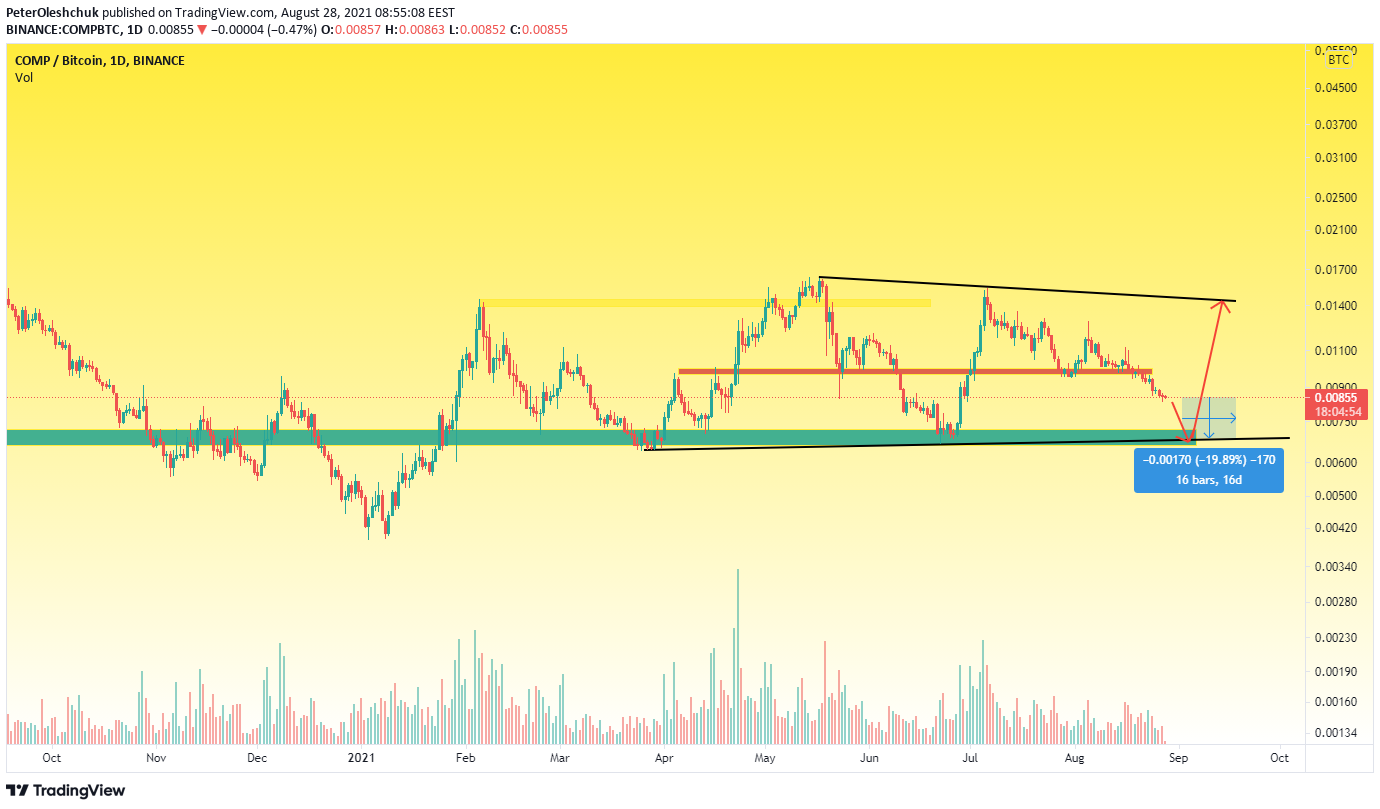 https://www.tradingview.com/x/tYcdxST1/
Starting from May 2021, market participants are trading the price in a large 130% range. At the moment, in the daily timeframe, the COMPBTC price is confidently moving to its lower limit at low consolidation volumes. Therefore, even on the Bitcoin growth, the COMPUSDT price behaves passively. At the moment it is better to be patient with the COMP market.