Avalanche is an open-source platform for decentralized applications and enterprise blockchain deployments in a highly scalable, interoperable ecosystem. It enables the participation of millions of independent blockchain validators as full block producers through the entire Ethereum development toolkit and confirms transactions in under one second. With over 1,000 nodes, the testnet broke the world record for most active nodes. Let us look at the technical analysis of AVAX.
Past Performance
The current price of AVAX is $48.66. In the last 24 hours, the price has risen by 9.26%. In the last week, there is a remarkable increase in the price by 140.36%.
On August 18, Avalanche protocol announced Avalanche Rush, an incentive program designed to introduce more assets and applications to its growing DeFi ecosystem. This has been one of the reasons there is an astounding upsurge in the price.
Another reason for the bullish growth seen in Avalanche over the past few weeks is the release of the Avalanche Bridge (AB) on July 29. With this "next-generation cross-chain bridging technology," assets can be transferred between the Avalanche and Ethereum networks.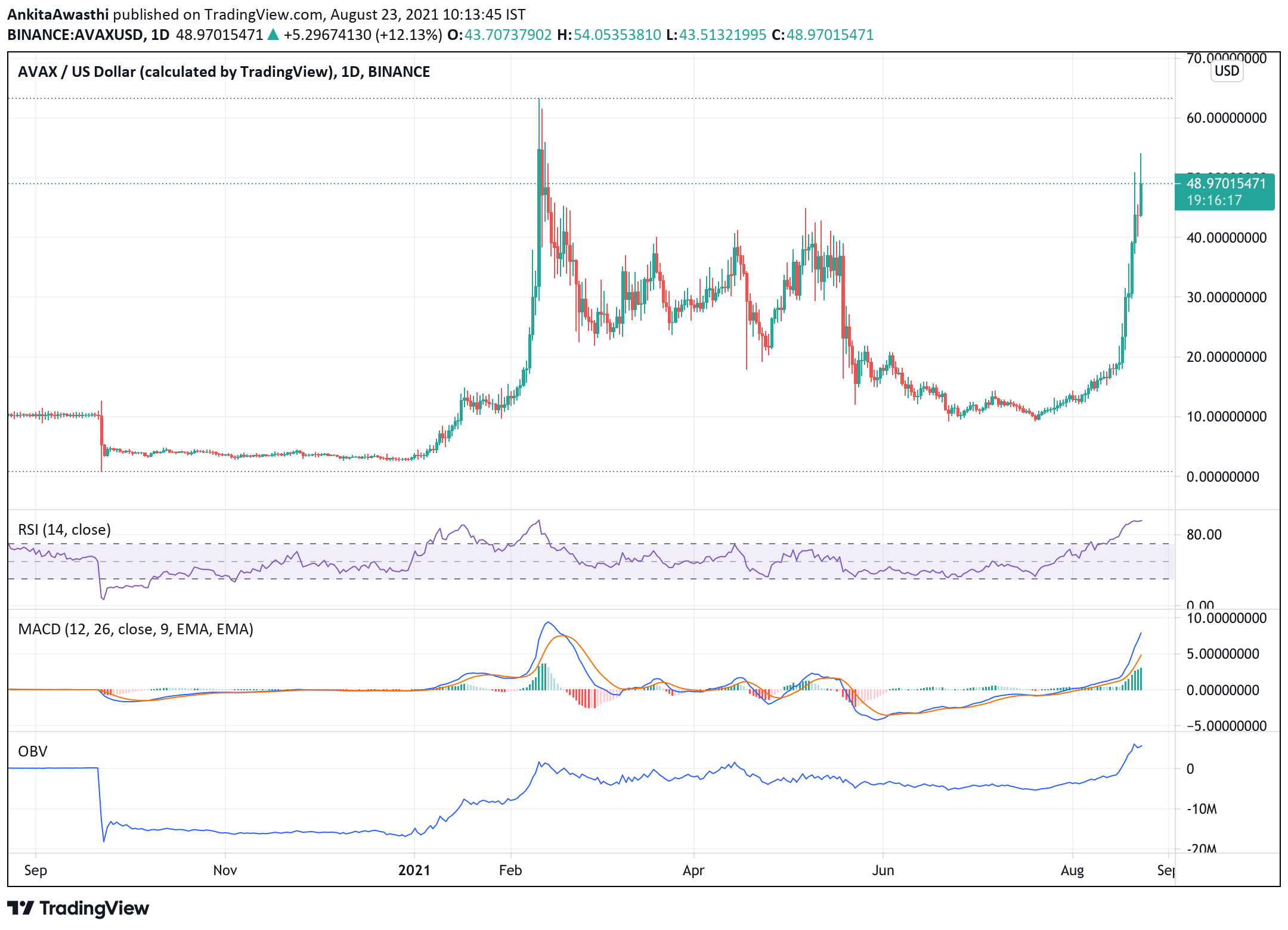 https://www.tradingview.com/x/VKhqCLtN/
AVAX Technical Analysis
Currently, the RSI is in the overbought region and on the mark of 95.89%. After the support level of 69.93%, the RSI entered the overbought region, indicating very high buying pressure for the AVAX.
MACD and EMA lines are above the zero range, indicating a positive market and suggesting a buy on this. We can see the lines are upward sloping, suggesting the buying pressures are high on this horizon.
On the daily chart, the OBV is upward sloping, though there is a slight dip, but it has recovered and is again rallying. Suggesting that investors are gaining interest in AVAX.
Day-Ahead and Tomorrow
The AVAX price is above the pivot point of $43.1, and the resistance levels are formed at $51.72, and $60.72. Therefore, traders can go long after the price breaks this level.