Back to the list
Fantom (FTM) and bZx Protocol (BZRX) Technical Analysis: Moving with Strength
cryptoknowmics.com
17 August 2021 12:32, UTC
Reading time: ~3 m
---
Fantom and bZX Protocol prices are solid. FTM/USD is solid above $0.25, while BZRX/USDT looks likely to break $0.40 in a buy trend continuation pattern targeting $1.
Fantom (FTM)
The DAG protocol, whose consensus algorithm was built from scratch, uses FTM as an internal currency. The platform offers DeFi services to projects.
Past Performance of FTM
FTM coin bulls are pouring out in their multitudes, pushing prices to new H2 2021 territories.
As Fantom crypto prices bottom up, its expansion is changing the fortune of traders entering on pullbacks.
FTM is up nine percent when writing, tearing up above crucial resistance levels—now support—as glanced from price action in the daily chart.
Day-Ahead and What to Expect
Fantom crypto buyers are galloping higher as per FTM technical analysis in the daily chart.
With increasing momentum fueled by expanding participation levels, FTM/USDT is in a bullish breakout pattern.
The FTM crypto token is bullish from this development as long as the middle BB is the immediate support line. The primary target is at $1.
FTM/USDT Technical Analysis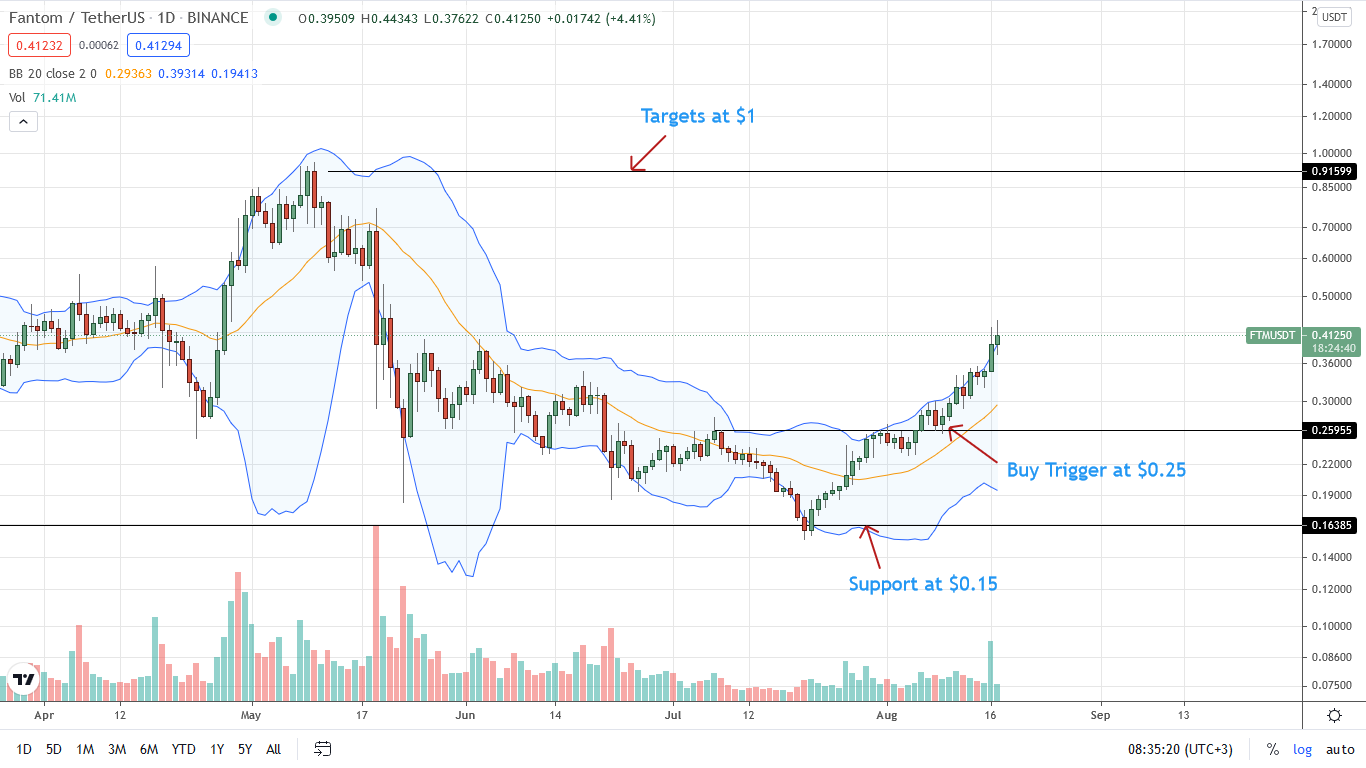 The uptrend is clear, and FTM/USDT is bullish.
FTM bull bars are banding along the upper BB in a double bullish breakout pattern above the middle BB and $0.25, subsequently confirming gains of late July.
For ambitious buyers, every low may offer entries with immediate targets at $1 for FTM.
bZx Protocol (BZRX)
The DEX is stained with hacks. However, its trading front for lending and borrowing tokens, Fulcrum, is popular. The BZRX is the platform's governance token.
Past Performance of BZRX
BZRX, like the rest of the crypto scene, is motoring higher, fueled by sufficient trading volumes and general market optimism.
For the first time in over three months, BZRX is retesting $0.40.
Considering the level of participation, BZRX token buyers are likely to overcome this level.
At the time of writing, BZRX is up three percent on the last trading day.
Day-Ahead and What to Expect
The BZRX crypto token remains in an uptrend, adding to its previous gains in a buy trend continuation.
At the current phase, BZRX must surge above $0.40 and June 2021 high for affirmation of gains of the last three weeks.
A solid close above $0.40 could see BZRX tear to $1 in the medium term.
BZRX/USDT Technical Analysis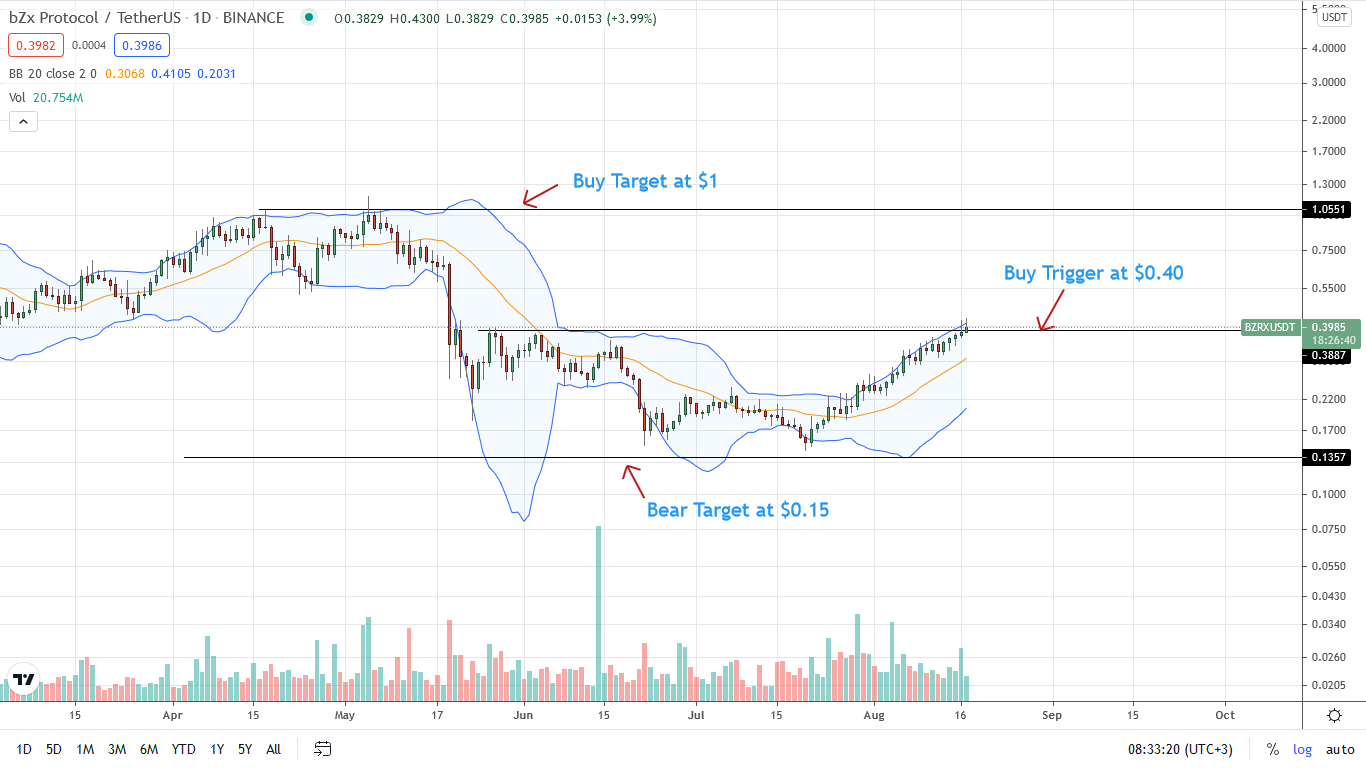 However, the token is at a critical resistance level as per the BZRX technical analysis.
There must be a sharp close above this mark for trend continuation, which might force patience.
Notice that a sharp retracement from the spot level could pour down cold water on determined buyers.
Even so, a firm close above $0.40 could spark a wave of demand, lifting BZRX towards $1 in the medium term.
---
Source
---
Back to the list