Back to the list
CELO Technical Analysis: Will This Reversal Break The Bearish Triangle?
cryptoknowmics.com
14 October 2022 12:55, UTC
Reading time: ~2 m
---
The CELO technical analysis shows a long-term bearish trend reversing from the $0.72 support level teasing a bullish breakout of the descending triangle. The CELO price action displays a bear trend under the influence of a declining trendline and the 50-day EMA in the daily chart. However, the recent bull cycle in the triangle pattern forms a morning star pattern teasing a breakout. So, is this a perfect buying opportunity for CELO?
Key Points:
The CELO price action shows a highly influential bearish trendline in the daily chart.  

The reversal at $0.72 signals the start of a new bull cycle. 

The intraday trading volume in The CELO is $16.59 Million.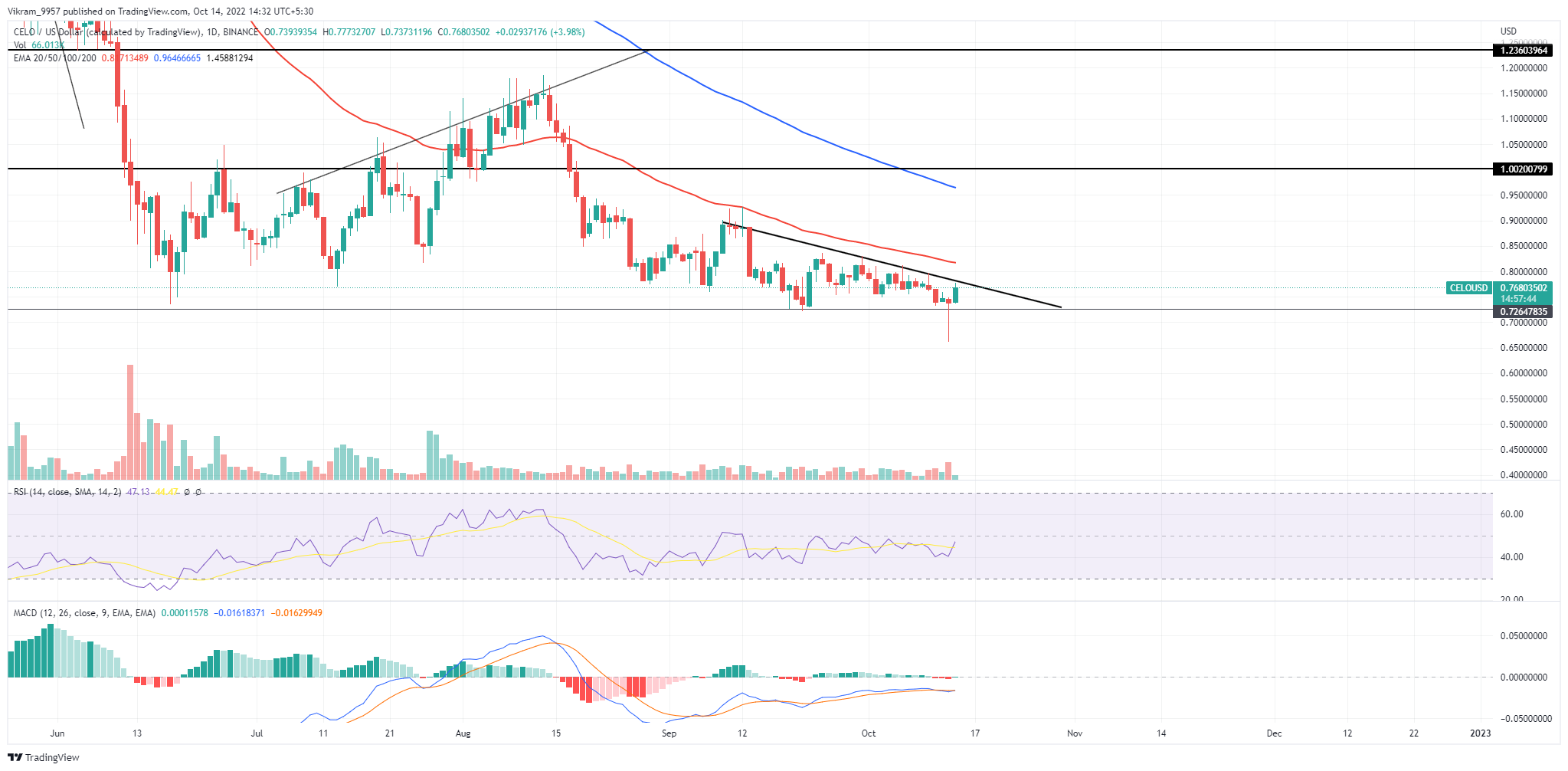 Source-Tradingview
CELO Technical Analysis
The CELO price action maintains a declining trend after the bearish breakout of the $1 psychological support level generating a bearish triangle. Additionally, the market value has declined by 18% in the influence of the resistance trendline.  The 50-day EMA moves along with the resistance trendline, reflecting a solid underlying bearishness. Currently, the price action displays a morning star pattern forming at the base level of the triangle pattern teasing the potential bullish breakout. Furthermore, the 3.6% intraday jump with a spike in the trading volume supports the bullish breakout possibility. Therefore, if the buying pressure sustains, the CELO prices will breach the resistance trendline to reach the psychological mark of $1.   Conversely, the bullish failure to start the bull cycle will inevitably break the $0.72 support level, leading to a fall to $0.65. 
Technical Indicator 
The RSI slope projects a sideways trend struggling to rise above the halfway line reflecting a constant underlying bullish struggle. Moreover, as the bearish histograms decline, the MACD and signal lines give a bullish crossover.   Therefore, the technical indicators highlight a reversal possibility as the market recovers. As a result, the CELO technical analysis signals a buying opportunity at the bullish breakout. Resistance levels- $0.85 and $1 Support levels-  $0.72 and $0.65
---
Source
---
Back to the list