Back to the list
Russia Invading Ukrain Spikes Eastern Europe's Crypto Market: Chainalysis - Crypto Economy
crypto-economy.com
13 October 2022 07:07, UTC
Reading time: ~3 m
---
Based on the Chainalysis report, east Europe's Crypto market is exceptionally active, with spikes over the past year, largely due to the Russia-Ukraine war, which is the main driver of this market's activity.
What is the Effect?
There is an estimated $630.9 billion in value that has been deposited on-chain between July 2021 and June 2022 in eastern European countries, making it the fifth-largest cryptocurrency market in the world. During the period that has been studied, just over 10% of global transaction activity has taken place.
Over the last few years, the relative role of Eastern Europe in the larger, worldwide crypto ecosystem has remained surprisingly consistent, generally hovering around 10%. The volatility has been more pronounced in other regions, on the other hand. 
The event of the Russian invasion of Ukraine in February 2022 has undoubtedly been the biggest news story in Eastern Europe this past year. A war has been going on ever since then, which continues to this day. Cryptocurrency has been impacted by the war in both countries in a wide variety of ways, including practically every aspect of life. 
Immediately after the War of Independence broke out, the United States and several other countries began imposing sanctions on Russian oligarchs, as well as other individuals tied to President Putin's government, as part of the retaliation.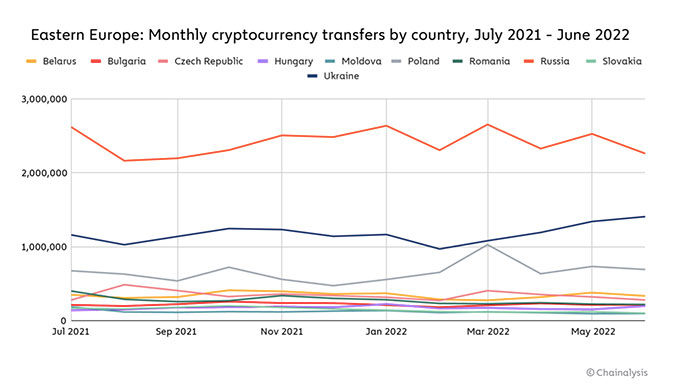 As a result of Chainalysis' research, it appears that cryptocurrency markets likely aren't liquid enough to support mass-scale, systematic evasions of sanctions on a mass scale.
There are a variety of issues facing both countries at the moment as they deal with their respective economies, and taking a look at transactions as a whole might not be the best place to find the most telling trends. It is important to note that the majority of that transaction activity is made up of crypto-to-crypto trades – in an emergency scenario or a potential hyperinflation scenario.
However, it is anticipated that people will spend more time protecting or moving their fiat assets. In order to measure at least some of what is happening, we can make use of order book data from two of the exchanges that have exchange volumes denominated in these currencies: Binance and LocalBitcoins, which accept both Russian rubles and Ukrainian hryvnias.
There are many questions that may need to be answered regarding how to make sanctions against countries like Russia more effective if crypto-for-import schemes were introduced. Despite this, there is one area where crypto has played a very positive role for the Ukrainian cause during this war, and that is in the donations that have been made to the Ukrainian cause during this time of need.
There has been a large donation of over $65 million in humanitarian assistance donated by cryptocurrency users since the beginning of the war, demonstrating the power of cryptocurrency to unite people across national borders and to support common causes across the world.
---
Source
---
Back to the list