Back to the list
Price Point: Bitcoin Stays Above $20K as US Stock Futures Drop After 2 Days of Big Gains
www.coindesk.com
05 October 2022 13:08, UTC
Reading time: ~2 m
---
This article originally appeared in First Mover, CoinDesk's daily newsletter putting the latest moves in crypto markets in context. Subscribe to get it in your inbox every day.
Bitcoin (BTC) managed to remain above $20,000 overnight as risk appetite appeared to improve. The world's largest cryptocurrency by market value was up by around 1% on the day. U.S. stock futures fell after major indexes clocked in their biggest two-day point and percentage gains in more than two years. European stocks also fell.
The rally in traditional markets picked up on Tuesday following the release of weaker-than-expected U.S. labor market data.
Meme-based token dogecoin gained 5% on the day as Tesla CEO and dogecoin proponent Elon Musk said he will buy Twitter for the price originally agreed to. Twitter's shares surged to 22% on the news. Meanwhile, XRP rose 3%, and ether (ETH) was down slightly on the day.
In the news, Fidelity's new Ethereum Index Fund will offer clients access to ether. The fund has raised about $5 million since sales started on Sept. 26, according to a filing with the U.S. Securities and Exchange Commission. The minimum investment is $50,000.
Crypto lender Celsius Network co-founder and Chief Strategy Officer S. Daniel Leon resigned on Tuesday. He is the latest executive to depart the company after now-former CEO Alex Mashinsky announced his departure last week
CoinDesk's Sam Reynolds reported that the move of Starry Night Capital's NFTs (non-fungible tokens) to a Gnosis Safe wallet was Three Arrows Capital's liquidators taking control of the digital assets, a filing from Teneo confirmed. Teneo is Three Arrrows' liquidator.
Biggest Gainers
| Asset | Ticker | Returns | DACS Sector |
| --- | --- | --- | --- |
| Radicle | RAD | +7.27% | Computing |
| NEAR Protocol | NEAR | +1.7% | Smart Contract Platform |
| Zcash | ZEC | +0.98% | Currency |
Biggest Losers
| Asset | Ticker | Returns | DACS Sector |
| --- | --- | --- | --- |
| SHIBA INU | SHIB | -9.09% | Currency |
| LCX | LCX | -4.76% | Currency |
| Render Token | RNDR | -4.58% | Computing |
Sector classifications are provided via the Digital Asset Classification Standard (DACS), developed by CoinDesk Indices to provide a reliable, comprehensive and standardized classification system for digital assets. The CoinDesk Market Index (CMI) is a broad-based index designed to measure the market capitalization weighted performance of the digital asset market subject to minimum trading and exchange eligibility requirements.
October Gains in Bitcoin Erase September's Loss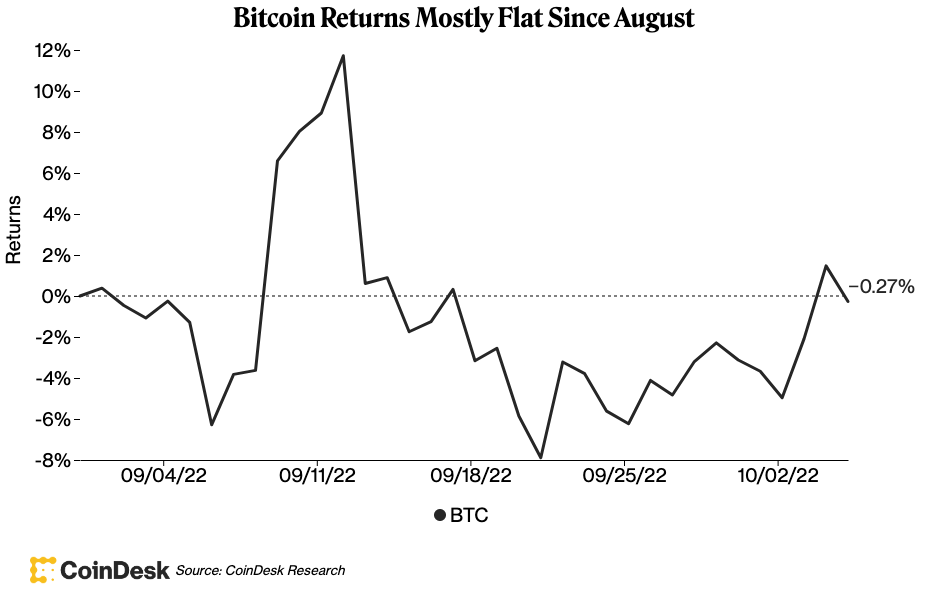 Chart of bitcoin's returns since end of August show how October's gains have erased September's losses. (CoinDesk)
Despite ample turmoil in financial markets over the past couple months, bitcoin has stayed remarkably resilient.
Bitcoin slid 2.5% in September.

So far in October, the largest cryptocurrency has climbed 3.2%.
---
Source
---
Back to the list