Back to the list
DOGE Technical Analysis: The Mark of $0.44 Is Patiently Waiting
cryptoknowmics.com
10 August 2021 10:33, UTC
Reading time: ~2 m
---
What to expect from a fairly old crypto project like DOGE in the near future? Few coins can boast of their trading history since 2014. And even more so, an increase of 312,000% in 5 years. Despite the high manipulation by Elon Musk in the past and the above facts, DOGE today is among the top 10 cryptocurrencies in terms of trading volumes according to CoinMarketCap. The main question is whether buyers still have the strength to continue the coin growth, given the latest hyper-powerful growth wave?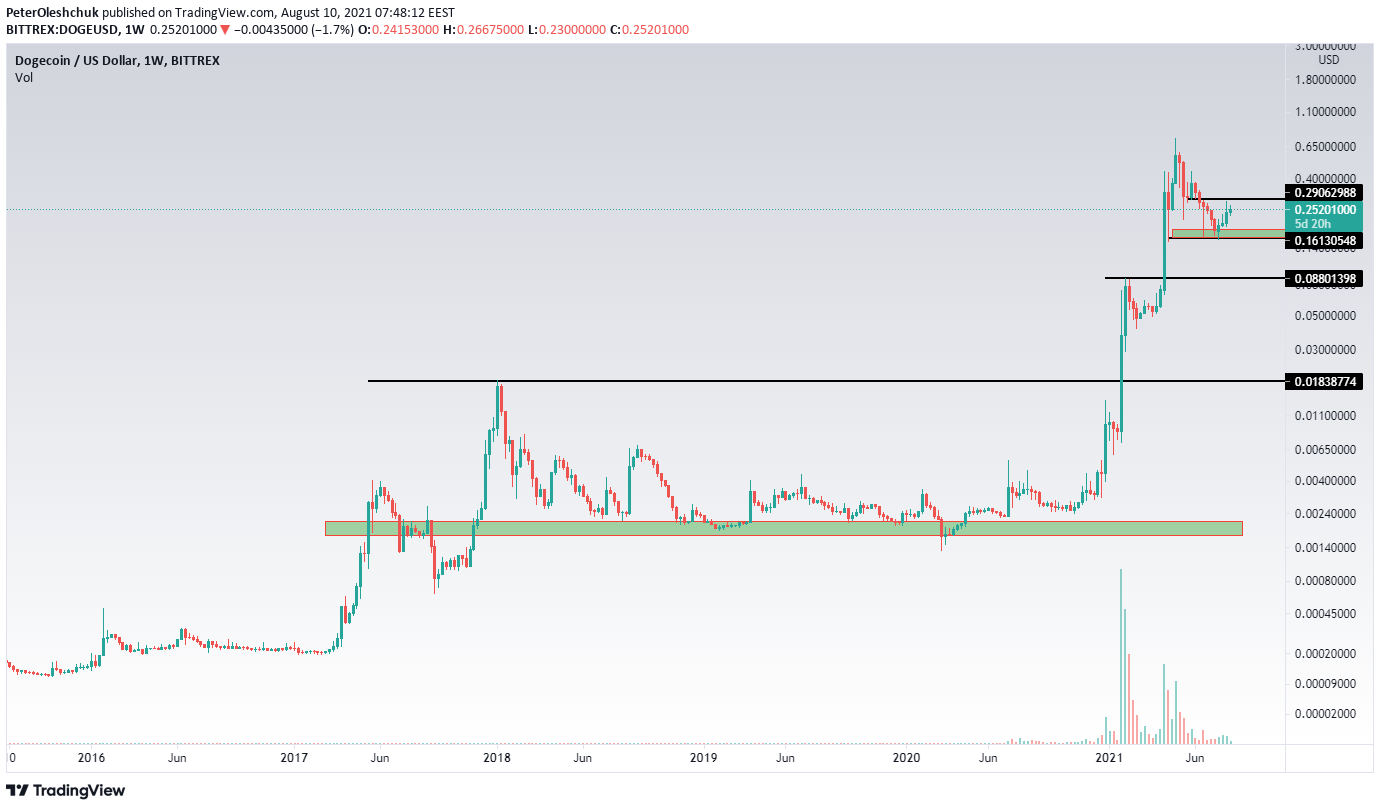 https://www.tradingview.com/x/64IhaeKf/
Global Consolidation in the DOGE Market May Continue
The 80% correction of the DOGE price, which began in May, significantly reduced investors' interest in the project. Even the current local growth wave occurs at low volumes. If we analyze the entire history of the DOGE price movement, we can confidently say that consolidation is its middle name. At the moment, the DOGE price is in the range of $0.16-$0.30. The middle consolidation line and the local liquidity zone are at $23.1. In a positive scenario, buyers should break the mark of $0.3 within this attack and continue to grow to $0.42. Though at the moment, this is the maximum target that buyers can do without correction.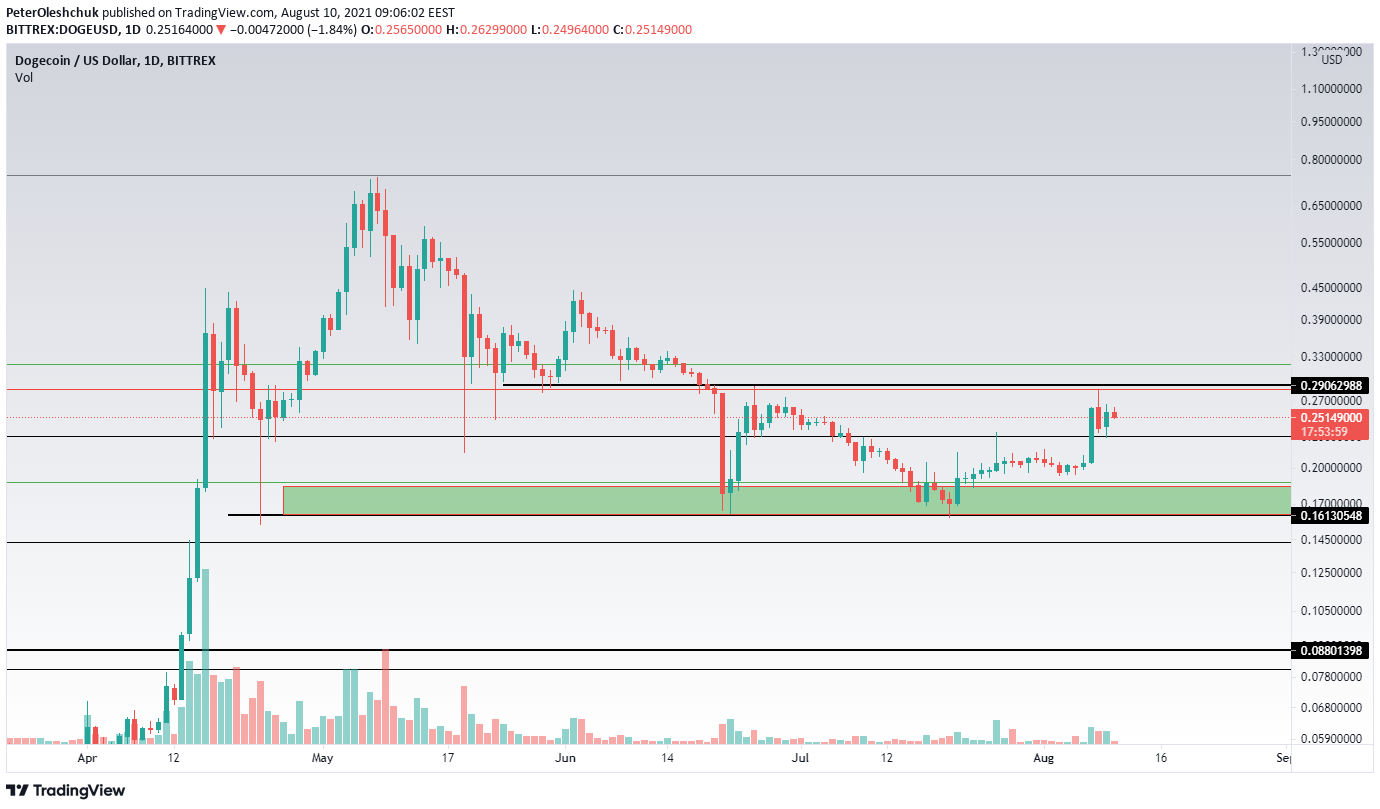 https://www.tradingview.com/x/pRBf1Oe4/
DOGE Technical Analysis on the Daily Timeframe
Analyzing the DOGE chart on the daily timeframe, we see that the first attempt of buyers to break the mark of $0.3 ended in a sharp response from sellers and a test for the strength of the mark of $0.23. After making sure that the mark of $0.23 was under control, buyers began to form new forces in the consolidation, which lasts on the 4th day. If we see a new growth wave to $0.3, which will be sluggish and at low volumes — it is much safer to fix our positions in the range of $0.28-$0.3. However, the sharp momentum of the DOGE price will indicate serious intentions of buyers to continue growth with the target of $0.42.
Looking at the DOGEBTC chart, we conclude that the chance of a breakdown of $0.3 and continued growth is much higher: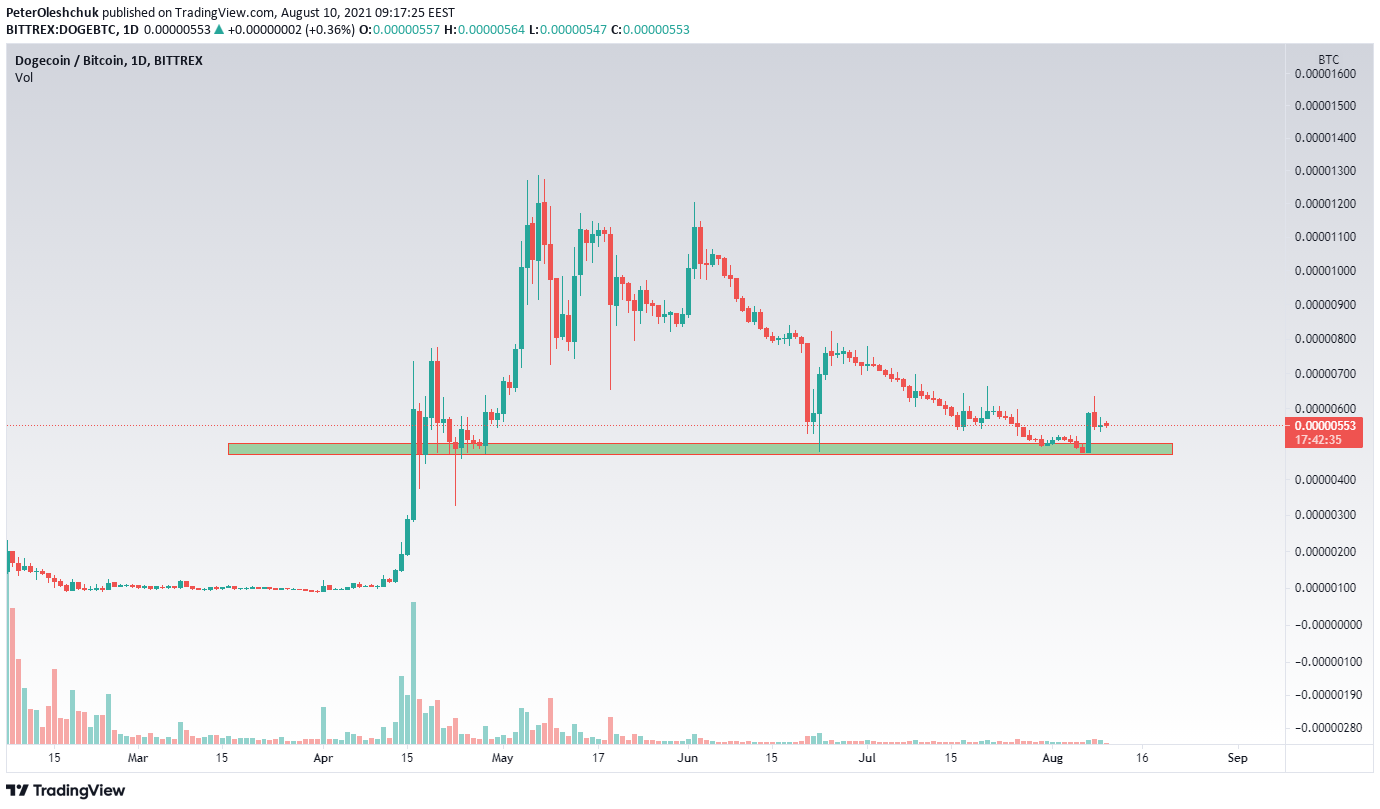 https://www.tradingview.com/x/AXghX1Q8/
The DOGEBTC price has reached an important level, where a new impulse began. In addition, the prospect of DOGEBTC price growth reaches 40%. If the BTC market does not give us another sharp collapse and at least stops in consolidation — DOGE buyers are implementing a positive scenario.
---
Source
---
Back to the list